Note: The Battle of Tunnel Hill re-enactment has been canceled due to flooding at the venue.
The Moon River Music Festival, the Brew Skies Beer Festival and the Battle of Tunnel Hill re-enactment are among the weekend's entertainment highlights.
ARTS
› Hetzel Art Studios & Gallery, 2240 Spring Place Road, Cleveland, Tenn., is hosting a solo exhibition, "Sky Dancers," by local artist Sandy Brown through the end of the month. A reception is scheduled 2-6 p.m. Saturday, with an artist talk at 4 p.m. 423-641-1308.
› Museum Center at Five Points, 200 E. Inman St., Cleveland, Tenn., will present a walking tour of historic churches in downtown Cleveland at 1 p.m. Saturday. The guided tour is free with same-day admission, $5 otherwise. museumcenter.org.
FAITH
› Five Stones Church, named for the five stones the shepherd boy David pulled from a riverbed to confront the giant Goliath, will launch at 10 a.m. Sunday at East Brainerd Elementary School, 7660 Goodwin Road. Tom and Debra Watson will lead the church, which includes a nursery, children's church and inspirational teaching for adults among its ministries. fivestonesfamily.com.
(READ MORE: Patriot Day observances around Chattanooga)
FILM
› Chattanooga Jewish Film Festival continues with "A Kaddish for Bernie Madoff," available virtually through noon Friday. Starting Sunday, "The Levys of Monticello," a documentary about the family that bought and preserved Thomas Jefferson's home after his death in 1826, will be available for virtual viewing through noon Sept. 16. The film may be viewed in person at 7:15 p.m. Monday at the Jewish Cultural Center, 5461 N. Terrace. Cost is $12. Register for either viewing option. A recorded interview with the director, Steve Pressman, also is available. jewishchattanooga.com.
MUSIC
› NoonTunes, a free fall concert series, kicks off at noon Thursday at Miller Plaza, 850 Market St. The first featured musician is Swayyvo, a hip-hop artist and saxophone player you may remember from his Tennessee Valley Federal Credit Union commercials. Can't make it downtown? The series will stream live on Facebook and air at 7 p.m. Fridays on WUTC-FM 88.1. rivercitycompany.com.
› Singer Songwriter Series, a monthly offering at the McLemore, 32 Clubhouse Lane in Rising Fawn, Ga., continues at 6 p.m. Thursday with the duo Buxton Hughes (Sarah Buxton and Jedd Hughes). Tickets are $55. themclemore.com.
› Songbirds, 35 Station St., has three shows scheduled. Thursday features Grammy-nominated folk singer Mary Gauthier, with support from her life partner, Jaimee Harris. The show starts at 7 p.m. Tickets are $30. Friday brings Paul Thorn, whose style is a mix of blues, country and rock. The show starts at 7 p.m. Tickets are $30. Saturday features roots rock band Robert Jon & The Wreck at 7 p.m. Tickets are $15 in advance, $20 day of show. songbirdsfoundation.org.
› The Signal, 1810 Chestnut St., has three shows on the calendar, including the official before and after parties for the Moon River Music Festival. The fun starts with two acts in costume: rockers Here Come the Mummies, with support from Saxsquatch, at 8 p.m. Thursday. Tickets are $30 (the $60 upper deck is sold out). Friday features the Moon River pre- party with indie band Futurebirds, with The Wild Feathers opening. Tickets are $30-$60. Saturday is the Moon River after-party with indie pop band Valley at 10 p.m., supported by Moody Joody. Tickets are $20-$40. thesignaltn.com.
› Lee University will dedicate the Danny Murray Recording Studio at 7 p.m. Saturday with a reunion concert by current and former members of the prestigious a cappella group he founded and directs, Voices of Lee, in Pangle Hall, 340 Church St. NE on the Cleveland, Tenn., campus. A gourmet buffet, reception and ribbon-cutting will follow outside the new studio at the intersection of Church Street and Central Avenue. Admission is free, but tickets are required. eventbrite.com.
› Moon River Music Festival returns to Coolidge Park, 150 River St., this weekend with more than 20 artists from multiple genres in the lineup. Headliners are rock band The National on Saturday and soul singer Leon Bridges on Sunday. The hosts are Americana band Drew Holcomb & The Neighbors. Gates open at noon both days. Tickets are $120 for one day, $200 for both; VIP and Coolidge Club upgrades are available. moonriverfestival.com.
Photo Gallery
Moon River Music Festival coming up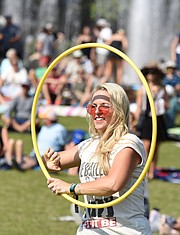 › The Caverns, 555 Charlie Roberts Road, Pelham, Tenn., has two shows this weekend. The I Love the '90s Tour will let fans kick it with rappers Vanilla Ice, Coolio, Rob Base, Tone Loc, Young MC and R&B group All 4 One at 5 p.m. CDT Saturday in the outdoor amphitheater. Tickets are $52-$72. Space-rock band Spiritualized will perform underground at 4 p.m. Sunday, with Nikki Lane opening. Tickets are $49. thecaverns.com.
› Seniors Got Talent, a variety show featuring performers 62 to 90 years old, starts at 7 p.m. Tuesday in the University of Tennessee at Chattanooga's Fine Arts Center, 752 Vine St. The show will feature 10 acts offering music, dance and poetry for a chance to win the $500 grand prize or People's Choice Award ($1 per vote for the nonprofit Morning Pointe Foundation). Tickets are $25. utc.edu.
OUT & ABOUT
› Wine pop-up: Easy Bistro & Bar, 801 Chestnut St., will host a visit Thursday by Cushing Donelan, who handles marketing and sales for Donelan Wines, a boutique winery in Sonoma, California. The restaurant will feature several Donelan wines at special prices by the glass and bottle from 4 p.m. until its 9 p.m. closing. easybistro.com.
› National Treasures: Party at Point Park, scheduled 5:30-8:30 p.m. Thursday at Point Park, 110 Point Park Road, Lookout Mountain, has limited tickets remaining. The benefit for National Park Partners includes music by the New Dismembered Tennesseans, a barbecue dinner (vegetarian options) and professionally made keepsake photos at Umbrella Rock, which is accessible only for this event once a year. $100 single, $175 couple. partyatpointpark.com.
› Warehouse sale: Boys & Girls Clubs of Chattanooga will benefit from a warehouse sale of Jeffan furniture and decor this weekend. Hours are 3-7 p.m. Friday, 10 a.m.-2 p.m. Saturday at 420 Workman Road. The larger the group arriving, the larger the discount: 20% for parties of two adult shoppers, increasing in 10% increments up to 50% discounts for parties of five. The Boys & Girls Clubs will receive half of all sales proceeds. Cash and credit cards will be accepted. Merchandise must be taken at time of purchase. Volunteers will be on hand to assist shoppers. bgccha.org.
› The Comedy Catch, 29 Station St., welcomes Jamie Kilstein, former co-host of the internet talk radio show "Citizen Radio," this weekend. Shows start at 7:30 and 9:45 p.m. Friday and Saturday. Tickets are $17-$19. thecomedycatch.com.
› Brew Skies Beer Festival, the fall edition of a spring event that took place amid the plunging temperatures of a late-season snowstorm, starts at 1 p.m. Saturday at AT&T Field, 201 Power Alley. Twenty wines have been added to the 70-plus beers on tap from across the South and Germany. Attendees also will find food vendors, live music, keg tappings and an Okoberfest costume contest. Tickets are $45 general admission; $20 for the designated driver; $75 for upgrades, including early admission at noon: $100 for a VIP Room with a buffet. Proceeds benefit the projects of the Chattanooga Breakfast Rotary Club, which include an all-inclusive playground at Rivermont Elementary School. brewskiesfest.com.
› V-Dubbin, a Volkswagen-only cruise-in, is 4-9 p.m. Saturday in downtown Chickamauga, Ga., near Droop Scoops, 120 Gordon St., and Phil's Prime Time Pizza, 122 Gordon St. Admission is free for this first-time event. tinyurl.com/vdubbinchickamauga.
› All White Affair, People Staff Inc.'s fourth annual celebration of small businesses, organizations and community leaders, starts at 8 p.m. Saturday at the Chattanooga Convention Center, 1 Carter Plaza. This year's honorees are Denita Strickland of Serenity Childcare and Rock & Roll Hall of Famer Willie Kitchens Jr. Red-carpet entry begins at 7 p.m. The evening includes finger foods, a cash bar and music by Stephy J. Moore, Sera Hill and Joey Sommerville. Tickets are $62. peoplestaffannualallwhite.com.
› The Battle of Tunnel Hill re-enactment has been canceled due to flooding at the venue. Battle of Tunnel Hill re-enactment takes place this weekend on an actual 1863 Civil War battle site in Tunnel Hill, Ga. Events are hosted by the Tunnel Hill Heritage Center and Museum, 215 Clisby Austin Road, which will be open for tours, along with the nearby Western & Atlantic Railroad Tunnel and the Clisby Austin House. Camps and sutlers selling memorabilia will help authenticate the experience. Events are scheduled 9 a.m.-4 p.m. Saturday and Sunday, with battle reenactments at 2 p.m. Tickets are $10 for ages 13 and older. battleoftunnelhill.com.
› Skyhoundz Championships, the world's largest competition series for disc-catching dogs, will have last-chance qualifiers and world championships in two categories next week at Camp Jordan, 323 Camp Jordan Parkway, East Ridge. The DiscDogathon and Xtreme Distance series will start last-chance qualifiers at 9 a.m. Monday. World championships are at 9 a.m. Tuesday for Xtreme Distance and 9 a.m. Wednesday for DiscDogathon. The third series, the Skyhoundz Classic, will follow Sept. 16-17 at Coolidge Park in Chattanooga. Admission is free for spectators. skyhoundz.com.
THEATER
› "Circuit Rider's Wife ... The Musical": Theater company Ripple Productions & Diversified Arts, 3264 Brainerd Road, launches this weekend with the Chattanooga premiere of a musical comedy about old-time religion in rural Appalachia in the early 1900s. The musical was originally developed and staged through Lee University by Jim Burns, who wrote the music and lyrics, including sacred harp music and a 19th-century mountain death song, and his wife, Kay Doris Burns, who loosely based the script on a book of the same name by Corra Harris. Showtime is at 7:30 p.m. Friday, Saturday and Sept. 16-17, 2:30 p.m. Sunday and Sept. 18. Tickets are $22. eventbrite.com.
SPECTATOR SPORTS
› Chattanooga Football Club, a National Independent Soccer Association men's professional team, will play the Los Angeles Force at 7:30 p.m. Saturday at Finley Stadium, 1826 Carter St. Tickets are $7-$16. chattanoogafc.com.
› Chattanooga Lookouts, the Class AA affiliate of the Cincinnati Reds, start a six-game home series against the Tennessee Smokies next week at AT&T Field, 201 Power Alley. Early promotions include buy-one, get-one general-admission tickets with a Food City ValuCard on Tuesday and a Chick-fil-A giveaway, delivered by app, on Wednesday. Dogs are welcome Wednesday for Dogs at the Diamond, which opens with a dog parade at 6:45 p.m. First pitch is at 7:15 p.m., weather permitting. Tickets are $6-$11; Wednesday's Pooch Passes cost $5. lookouts.com.
Find more events, and add your own, at ChattanoogaNow.com. See a longer calendar of events in Sunday's Times Free Press.
Contact Lisa Denton at ldenton@timesfreepress.com or 423-757-6281.