Brainerd High School is no longer considered a "priority" school, meaning it is not among the bottom 5% of schools statewide, according to state data released Monday.
"Brainerd High School exiting the priority list is an example of how connecting with our students and a focus on academic press and personalization can impact the outcomes of our students," Hamilton County Schools Deputy Superintendent Sonia Stewart said in a news release. "Brainerd is a very proud community that has rallied around its high school to provide support in a variety of ways, all of which help build the foundation for greater success in the future."
Meanwhile, two other Hamilton County public schools were added to the priority list -- East Lake Academy of Fine Arts and Hamilton County Virtual School -- bringing the county's total to eight. And 13 schools received a "reward" status, meaning they demonstrated high levels of performance and academic growth. Fifteen others were identified as needing targeted support, meaning either a certain student demographic is underperforming or the school is underperforming in a certain subject area.
(READ MORE: Hamilton County Schools unveils state's first elementary-integrated Fab Labs)
"We are pleased to see the continued growth of students in Hamilton County," Superintendent Justin Robertson said in a news release. "However, as we have said throughout the analysis of 2021-22 test data, there is much work left for us to do. We will continue our efforts to better connect with our students so we can provide them with the supports they need to thrive."
Tennessee's accountability system evaluates K-8 schools based on four indicators: Tennessee Comprehensive Assessment Program assessments, academic growth over time, rates at which students are chronically absent and performance on the English language proficiency assessment. In addition to these indicators, high schools are evaluated on graduation rate and ready graduate rate, or the rate at which students graduate while also having achieved milestones associated with college and career readiness.
Photo Gallery
Brainerd High School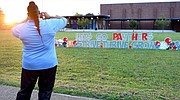 (READ MORE: The majority of tests taken by Hamilton County students show failing scores in one or more subjects)
Schools in the bottom 5% are designated as priority schools and receive additional federal funding on a per-pupil basis, state officials said in an email. Though amounts have yet to be finalized, the total allocation for priority schools statewide is approximately $18 million, officials said.
The district's reward schools are:
-- Bess T. Shepherd Elementary.
-- Big Ridge Elementary.
-- Chattanooga Girls Leadership Academy.
-- Chattanooga High School Center for Creative Arts.
-- Chattanooga School for Arts and Sciences Upper.
-- Hamilton County Collegiate High at Chattanooga State.
-- Hixson Elementary.
-- Lookout Mountain Elementary.
-- Lookout Valley Elementary.
-- STEM School Chattanooga.
-- Thrasher Elementary.
-- Westview Elementary.
-- Woodmore Elementary.
The district's priority schools are:
-- Calvin Donaldson Environmental Science Academy.
-- Dalewood Middle.
-- East Lake Academy of Fine Arts.
-- Hamilton County Virtual School.
-- Hardy Elementary.
-- Orchard Knob Elementary.
-- Orchard Knob Middle.
-- The Howard School.
Overall, the district received an accountability status of "satisfactory" out of five possible designations: exemplary, advancing, satisfactory, marginal and in need of improvement.
(READ MORE: Tennessee report shows slow academic growth for Hamilton County students)
"When digging into educational data, there's a lot of different measures, a lot of different ways that you can look at, determine the performance of the school overall because we do collect so much data," Hamilton County Schools Chief Strategy Officer Shannon Moody said in a phone call. "And so, when we're looking at the district accountability measure, you're taking multiple measures into play."
Robertson said there's more work to do.
"Our focus will continue to be on providing opportunities and access across all grade levels throughout the district to move the achievement and growth needles in a positive direction for all students," he said in a news release.
Contact Carmen Nesbitt at cnesbitt@timesfreepress.com or 423-757-6327. Follow her on Twitter @carmen_nesbitt.