Dr. Rink Murray was a young doctor still in training when his wife called to share the news: After years of fertility treatment and failed attempts, she was pregnant, and her doctor said the baby looked normal.
Then the nurse tapped the doctor's shoulder. He scanned closer and took another look. Even though there was a heartbeat, the fertilized egg had implanted outside of her uterus, a condition called an ectopic pregnancy.
There is currently no scientific or medical way to save an ectopic pregnancy. It can be life-threatening if not treated, and major internal bleeding occurs. The safest, standard medical care is to promptly terminate the pregnancy using medication or surgery. So, his wife got a shot of methotrexate -- a chemotherapy drug that's frequently used to induce abortion for early ectopic pregnancies -- and went home.
Murray was working at the hospital that night when he got another call. His wife was in excruciating pain. The pregnancy had ruptured, and she was hemorrhaging. She was rushed to the hospital and underwent surgery in less than two hours but lost a significant amount of blood and almost died in the process.
"That forever changed the way I look at any kind of pregnancy loss," Murray recounted in a YouTube video detailing the incident. "As hard as that experience was, it was probably good for me as a doctor to go through something like that. It certainly helps me understand what my patients are going through."
Photo Gallery
Tennessee Reproductive Medicine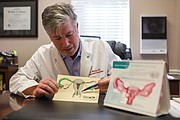 Murray is now a reproductive endocrinologist, a surgical subspecialty of obstetrics and gynecology that treats patients who are struggling to conceive or carry pregnancies -- a profession he gravitated toward because of his and his wife's own experiences.
He knows, both personally and professionally, how quickly a pregnancy can turn into a medical emergency. That's why Murray is among many Chattanooga physicians who specialize in treating pregnant women and their unborn children saying that ambiguities in Tennessee's new "trigger law," which went into effect on Aug. 25, are creating a cloud of uncertainty, confusion and fear over their profession and putting patients at risk.
The law passed in 2019 but was dormant until June 2022, when the U.S. Supreme Court struck down the constitutional right to abortion in a case called Dobbs v. Jackson, placing authority over abortion laws in the hands of states.
Many states had similar "trigger" laws on the books, set to go into effect with the Supreme Court ruling. But Tennessee's is one of the most restrictive in the nation.
The law, called the Human Life Protection Act, deems any action to terminate a pregnancy a felony punishable up to 15 years in prison, unless it's to remove a dead fetus or in cases in which a baby is delivered prematurely to increase the child's chance of survival.
No exceptions
There are no exceptions, but the law allows a physician to present an "affirmative" defense -- meaning the burden of proof is on the clinician -- in cases in which an abortion was necessary in order to prevent death or irreparable harm to the mother. Mental health is explicitly excluded as a harm that can be considered.
Some things about the law are clear. Providers can't terminate pregnancies simply because they're unwanted. Abortions also can't be performed in the case of rape, incest or if the patient is suicidal. If the fetus is developing abnormally and unlikely to survive, the mother must carry the child to term or travel to another state where it's legal to end the pregnancy.
But a major gray area centers around how prosecutors will view abortions for ectopic pregnancies when there's a heartbeat, because the law defines pregnancy as "having a living unborn child within her body," rather than "within the uterus."
By definition, ectopics are pregnancies that occur outside of the uterus. It's estimated that one in 50 pregnancies are ectopic, and most occur in the fallopian tubes, the pathway between the ovaries and uterus. The longstanding medical consensus has been to terminate those pregnancies without delay because it's impossible to know if and when the condition will turn from stable to deadly.
Another concern is how dire a patient's condition must be before providers feel they have enough evidence to defend their actions should they face criminal charges.
For example, Murray said a patient might be five or six weeks into pregnancy, but there's nothing showing up in the uterus on ultrasound and her hormone levels are high -- meaning she probably has an ectopic pregnancy. Traditionally, the safe thing to do would be to give methotrexate to resolve the ectopic pregnancy without surgery.
"There's a lot of ectopics you can't see on ultrasound, but if you can't see it, you can't prove it doesn't have a heartbeat," Murray said. "The way the law is written, you have to prove your innocence, so my worry is that will delay someone getting treatment."
Dr. Jessica Scotchie, Murray's partner at Tennessee Reproductive Medicine, said the law has created a situation in which some Chattanooga providers are sending patients to other states for care.
"The talk in Chattanooga now is 'maybe we need to send these patients to Atlanta,'" Scotchie said. "Can you imagine being told, 'We can treat you here with this medication for your ectopic pregnancy -- or if you need surgery, surgery -- but we're going to instead have you go to Atlanta, because of fear that we can face criminal prosecution for interrupting an ectopic pregnancy that if we don't interrupt, can kill you.'"
Some providers are afraid to treat ectopic pregnancies unless the woman is bleeding internally, meaning that pregnancy is ruptured and her life is in immediate danger.
"Women will be harmed from this, and -- as a result of having to potentially wait to receive treatment until their life is in danger -- be subjected to more surgery, more loss of their reproductive organs, hemorrhage, transfusion and loss of future fertility," Scotchie said.
Doctor's dilemma
Not long before the new law was enacted, Dr. Patricia McLelland, an OB-GYN at Galen Medical Group, said she saw a patient with an ectopic pregnancy. Although there was no internal bleeding on the ultrasound and she appeared stable, McLelland sent the patient straight to surgery and was operating on her within an hour and a half.
By that point, the patient already had a liter of blood in her belly, McLelland said.
"It's considered an emergency procedure, and anything you're doing to limit taking care of that is life-threatening," she said.
Ambiguities in the law have left providers "between a rock and a hard place," because inaction could result in a malpractice lawsuit and action could result in criminal prosecution, McLelland said.
The general consensus is that physicians "probably" won't be charged for treating ectopics, but since the law is new there's no legal precedent.
"I've had people just kind of brush it off and say, 'Well, of course nobody would ever prosecute a doctor for an ectopic.' That's all well and good if you're not the person who's wondering and who could have a class C felony," McLelland said. "It could mean prison, which is absolutely life-changing."
Though there have been numerous meetings with attorneys and other local leaders around the issue, McLelland said no one has come up with a definitive answer about treatment for ectopic pregnancies.
"Whatever somebody's hope was with this law, there's some holes that need to be addressed before there is a death or before somebody is inadvertently getting charged," McLelland said. "If there is a punishment that is severe -- which I think most people would agree that this is severe -- it has to be clear."
Scotchie said she "can't believe" Tennessee doctors are in this situation.
"We have to make a decision between the possibility of criminal prosecution if we treat versus malpractice if we withhold life-saving treatment," she said. "I don't think the public has any idea that the new Human Life Protection Act has these implications for their access to care in Tennessee."
Other situations
It's not just care for ectopic pregnancies that's been impacted by the new legal landscape.
Dr. Joseph Kipikasa, a maternal-fetal medicine specialist at Regional Obstetrical Consultants in Chattanooga, cares for patients with complex medical issues -- such as cancer, seizure disorders, heart conditions, kidney disease, severe diabetes and autoimmune diseases -- that make pregnancy more dangerous for themselves and their child.
"There's a whole laundry list of conditions that pregnancy significantly increases their risk for complications -- and unfortunately, even death -- just because of the stress of the pregnancy," he said, noting that certain heart conditions can increase a pregnant woman's chance of dying by upwards of 20 to 30%.
Kipikasa also sees patients for whom there's a severe birth defect that will cause their baby to die shortly after delivery. Even in highly desired pregnancies, he said the emotional stress of carrying to term is more than some people can handle.
A major part of his job is to assess each individual situation, counsel the patient and present all the potential risks and options, including in some cases abortion. But patients who choose to go that route must now be referred to a state where the procedure is legal, which he said creates more potential hardship for patients.
"I'm hopeful that the legislators will recognize that there needs to be some exceptions in this statute that allow us to provide the care that is necessary for these patients without them having to go out of state or us facing criminal prosecution if we proceed," Kipikasa said. "That's a big, major thing that's hanging over our heads."
Possible tweaks
Some abortion opponents have said the fears about treating pregnancy complications are exaggerated.
Will Brewer, legislative liaison for Tennessee Right to Life, issued a statement last month saying, "A similar affirmative defense has existed in various pro-life laws in Ohio since 2011. Since then, 70 abortions have been performed to save the life of the mother and no doctor has been prosecuted.
"Nothing in this law prohibits the treatment of ectopic pregnancies or miscarriages. Further, this law explicitly states that women seeking abortions will not be prosecuted," Brewer said.
Still, in response to concerns from medical organizations and hospitals, state Sen. Rusty Crowe, a Johnson City-based Republican and chair of the Senate's Health and Welfare committee, suggested during a July meeting that lawmakers are considering tweaking the law "just to make sure we don't get our docs in a situation where they think they're doing the right thing and possibly they're not."
The General Assembly is scheduled to meet again in January 2023, and it would likely take until late spring for any change to be implemented.
Jamie Lawson, a spokesperson for Parkridge Health -- one of two Chattanooga hospital systems that provides obstetrics services -- said in an emailed statement, "This is a uniquely complex situation, and it will take time to assess the full effect it will have on health care providers."
"It will continue to be our practice to support and partner with licensed physicians who use their extensive training and experience to exercise their independent medical judgment to assess patients' needs and determine the course of treatment within applicable laws and regulations," he said.
Erlanger Health System officials sent a letter to employees and medical staff on Sept. 2 in an effort to offer legal guidance.
"Erlanger is in no way attempting to dictate care and treatment of your patients – our goal is to arm you with our current best judgment to enable you to defend your actions should criminal prosecution occur," the letter states.
"Depending on one's level of comfort, the most appropriate treatment may be to take the patient to surgery or to transfer the patient to an outside facility. The appropriate treatment may also be to observe the patient until her condition gets to the point that the provider is able to state definitively that the treatment is necessary to prevent death/serious risk of impairment," it goes on to say.
The letter also states the penalties for violating the trigger law "have much more significance and are not covered by insurance" when compared to malpractice claims.
Murray said ectopic patients should not be sent away because doctors cannot know when the patient's condition might take a turn for the worse.
"I've seen how quickly people can decompensate as a stable patient, and so if doctors are afraid to act because of possible criminal prosecution, it's gonna be horrible for some women," he said.
While he gets some comfort from the law's affirmative defense clause, Murray said having to defend even a winning case would be costly and harmful to staff and patients, because it's likely that a provider's license would be suspended until the situation is resolved.
In the meantime, Scotchie said it's the women who miss out on needed care even more so than the physicians who will suffer.
"This is standard-of-care medical treatment that we've used for decades to treat people with ectopic pregnancies before they actually rupture an internal organ," she said. "Now some will have to keep living their lives, waiting until they hit a point where they are doubled over in agony, in excruciating pain and they have to have emergency surgery."
Contact Elizabeth Fite at efite@timesfreepress.com or 423-757-6673. Follow her on Twitter @ecfite.