Six years after launching Red Owl Coffee in south Georgia, the Valdosta, Georgia owners of the growing business are expanding to Chattanooga with plans for not only more coffee outlets but ultimately to relocate its headquarters and at least some of its roasting facilities to the Scenic City.
"We love the outdoors and Chattanooga is well located for our business to grow," Will Paulo, the CEO of Red Owl Coffee, said during an interview last week at his adopted hometown. "I've studied Chattanooga for a couple of years and moved here five months ago and I'm excited about the possibilities here."
Paulo and his business partner, Jon Chancy, bought a former Einstein Bros. Bagels storefront on East Brainerd Road in April and are now renovating the 2,237-square-foot drive-thru restaurant as the first of at least four Red Owl Coffee outlets the pair plan to open in Chattanooga and Cleveland area over the next two to three years.
The first shop at 7737 East Brainerd Road should open in October and Paulo said he is scouting sites now for possible outlets in Hixson, East Ridge, Cleveland and Soddy-Daisy.
Photo Gallery
Red Owl Coffee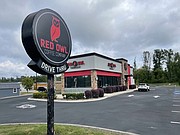 The Red Owl Coffee concept is also taking hold across parts of Georgia, Florida and soon Tennessee and Alabama with franchise locations now under development. Red Owl launched its franchise operations last October and sold out the available locations in south Georgia and North Florida in only five months.
From among 170 franchise applications received so far, only 16 have been awarded franchises for new Red Owl locations. Paulo said franchise agreements have been signed for 23 new Red Owl Coffee shops and the company is looking for more franchisees to add more units over time.
The first Red Owl Coffee location in Chattanooga will be a company-owned store and is within a block of both a Starbucks and a Dunkin' storefront and within a couple of miles of other coffee-oriented shops like Scooters, Lola Beans Coffee and Nestle Toll House Cafe, among others. But Paulo insists there is still a demand for coffee shops offering the best coffee with great friendly and fast service.
"We build our business on the belief that there is a better way to do coffee," he said. "You can have quality and service at the same place and that's what we have focused on ever since."
Paulo and Chancy are working to install equipment and the right training programs to ensure they meet their goals of great-tasting coffee, pastries and other food served by friendly and efficient workers. The average time from order to pickup at the window is under 2 minutes, Paulo said.
The new East Brainerd location is the biggest facility for the company so far and will help serve as a training facility for new employees.
"We have customers at our shops that visit us every day -- sometimes several times a day -- so we want to make sure they get good service and great coffee to keep them coming back," he said.
Working with master roaster Tom Johnson, co-owner Jon Chancy, who has spent 19 years now in the coffee business, Red Owl has developed what the owners believe are the best-tasting coffee options for most palates. Red Owl prices are comparable with other drive-through coffee retailers, but Paulo says he believes that Red Owl will distinguish itself by its coffee taste and customers service.
"It took three years of work and lots of feedback from our customers, but our taste profile is something that is easy, simple and soft," Chancy said. "You can either need coffee or want coffee. We think we've developed a blend that most people really want."
Paulo said customer service is equally key to Red Owl's success.
"When you as the customer order a coffee or a specialty drink you know what you're going to get is unique but consistent," Paulo said in a web post about the company. "From our baristas to coffee buyers, our people aren't learning on the job, they've been trained to the highest standards that have built the success of Red Owl. "
The company's motto is "a little taste of home from our hands to yours" and Paulo says he wants to be "like a warm blanket and a familiar friend."
The Red Owl name was a suggestion of Chancy's then 7-year-old daughter and both Paulo and Chancy seized on the name and quickly developed a logo using a coffee bean to form the body of the Red Owl.
Paulo said he decided to relocate the business headquarters from Valdosta to Chattanooga over the next couple of years to help be in a more central location for Red Owl's franchising growth.
"This is an area where we think we can get a lot of quality talent to help us grow, but this is also a place where we want to live," Paulo said.
Contact Dave Flessner at dflessner@timesfreepress.com or at 423-757-6340. Follow in Twitter at @Dflessner1