Red reigns.
But first it had to rally.
Facing a 10-point deficit early in the fourth quarter Friday night at home, second-ranked Baylor got two momentum-shifting plays from its defense and a quick-strike touchdown pass for a dramatic 31-27 Division II-AAA East/Middle Region win over third-ranked McCallie at Heywood Stadium.
The win snapped a run of six straight wins for the Blue Tornado — the three-time reigning state champions — in the series between Chattanooga rivals.
"It was ugly at times, but something great happened and we found a way to win," said Red Raiders first-year coach Erik Kimrey, whose team outscored McCallie 14-0 in the final quarter. "Our kids made stops when we had to make stops. Whether that was via a turnover or a stop, I'm just really proud of them."
(READ MORE: Final scores and photos from Friday night's Chattanooga-area high school football games)
Photo Gallery
Baylor vs. McCallie on Sept. 30, 2022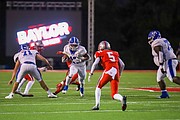 McCallie led throughout the first three quarters, with senior running back Tario Price scoring the game's first two touchdowns to give his team a 14-0 lead. Price, who rushed for 153 yards on 19 carries, added his third scoring run of the first half with just 40 seconds remaining to put the Blue Tornado (4-2, 1-2) ahead 20-10.
But then Baylor (6-0, 3-0) opened the second half with an impressive touchdown drive, capped by Whit Muschamp's 3-yard toss to Jack Shutters. McCallie answered with a short scoring run from quarterback Jay St. Hilaire to rebuild a 10-point advantage and forced a Bayor punt to regain possession to open the fourth quarter.
However, on the second play of the final period, St. Hilaire fumbled and Red Raiders defensive lineman Marceo Collins scooped the ball up and returned it 36 yards for a touchdown. On the ensuing McCallie possession, Ja'Von McMahen broke free for a long run, but Red Raiders defensive back Cameron Sparks punched the ball free from behind and it skidded through the end zone for a touchback, keeping the Baylor deficit at just three.
The Red Raiders then struck quickly to take their first lead when Muschamp connected with Amari Jefferson, who outran the pursuit for a 64-yard touchdown with 6:18 to play.
"I turned to catch it and saw that their inside defender came across me, so when I turned and saw open field, it was an amazing feeling," said Jefferson, who had six catches for 138 yards. "I knew I just had to finish the run and don't get caught. It was an amazing moment.
"This game just shows our resiliency. We're going to fight to the end for each other. The win means a lot because it's a big game, and this gives us another step toward where we want to be."
From there, the Baylor defense held McCallie on downs twice to seal the victory.
"We were up 10 with the ball in the fourth quarter, and they really hadn't stopped us," McCallie coach Ralph Potter said. "In a way that's kind of encouraging because we have a lot of new people on offense. We just have to stop making turnovers and mistakes in critical moments."
McCallie ran 21 more plays than Baylor and outgained the Red Raiders 432-332 total yards, but the only stat that mattered to everyone wearing red was the final margin and the end of the six-year streak.
Muschamp was 12-of-22 for 206 yards, and Sparks, only a sophomore, finished with three solo tackles, two assists and a tackle for loss to go with his game-changing forced fumble.
"They made some mistakes, we made some mistakes. I don't think either team played a very clean game," Kimrey said. "I think Amari is one of the best receivers in the country, and in a game like this you want to get your playmakers the ball and he made a big play.
"Our goals are just getting started. We weren't talking about just this game. We're talking about November. This is a big game, we're really proud of it, and they'll remember it the rest of their lives, but you play high school football to make a run in November, and that's what we're going to get back to work on Monday to try and do."
Contact Stephen Hargis at shargis@timesfreepress.com or 423-757-6293. Follow him on Twitter @StephenHargis.
Updated at 1 a.m. on Oct. 1, 2022, to correct that Ja'Von McMahen, not Tario Price, was the ball carrier on Cameron Sparks' forced fumble.