As national real estate investment companies continue to buy into Chattanooga's newer suburban apartments, Chattanooga real estate investor Robert Fisher sees plenty of opportunity in some of Chattanooga's oldest apartment and office buildings downtown.
The investment company Historic Holdings, organized by Fisher last month, acquired a half dozen apartment and commercial buildings near the Hamilton County Courthouse and the campus of the University of Tennessee at Chattanooga.
Fisher's group paid $17 million to acquire the downtown block on Fountain Square that contains the Hardwick Hogshead Apartments on the north end, built in 1912, and the Fitzgerald Apartments on the south end, raised in 1910. Historic Holdings also bought the Fort Wood Apartments on Vine Street, built in 1925, for $6.5 million and acquired Eight59 Flats, which dates back to 1908, for $3 million.
"We are thrilled to add these historic properties to our portfolio and continue to contribute to the preservation and revitalization of Chattanooga's architectural gems," Fisher said in an announcement of the purchase. "Each property holds a unique place in the city's history, and we are committed to maintaining their historical significance while providing exceptional living and commercial spaces for the community."
Fisher said the properties are nearly 97% occupied and the new owners hope to keep the existing tenants. Two of the properties are listed on the National Register of Historic Places.
New owners
The latest properties bought by Historic Holdings include:
— Hardwick Hogshead building was built in 1900 with 20,324 square feet at 600 Georgia Ave.
— Fitzgerald Apartments includes 23,144 square feet at 622 Georgia Ave. and was built in 1925.
— Fort Wood Apartments was built in 1925 on Vine Street to house workers at the Read House and includes 29,700 square feet.
— Eight59 Flats, a 6,166-square-foot apartment building at 859 McCallie Ave., was built in 1908.
—Two other commercial buildings on Georgia Avenue between the Hogshead and Fitzgerald buildings, built in 1920 and 1930, collectively contain 18,472 square feet and house Six18 Restaurant & Lounge and other commercial tenants.
Source: Hamilton County Assessor property records.
The biggest real estate purchases in Hamilton County over the past couple of years have come from national investment firms buying primarily suburban apartment complexes in the Chattanooga area. But Fisher said apartment demand remains robust in the central city.
"We're still bullish on downtown Chattanooga," Fisher said in a telephone interview Friday. "The downtowns in some bigger cities have been harder hit by the shift to more remote work, but we're still benefiting by the overall appeal of downtown and the migration here of many people and businesses."
SVN Second Story real estate management company, which owns and manages other offices and apartments downtown and across the Southeast, has been selected to manage the newly acquired properties.
"Fisher Bay's choice of location is perfect for us super-serving these properties as our offices are just two blocks away," Tiffanie Robinson, CEO of SVN Second Story, said in a statement.
Photo Gallery
Historic downtown buildings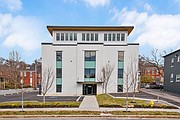 Historic Holdings bought the properties from Enclave Holdings, a private investment firm headquartered in Raleigh, North Carolina, that buys and sells multi-family properties in the Southeast. In 2018, Enclave Holdings paid $11 million to buy the downtown block on Fountain Square now being sold for $17 million, according to Hamilton County property records.
The acquisitions came after Fisher Bay previously purchased the historic Flatiron building in December and the Dome Building downtown in January. Fisher Bay is now invested in six properties on Georgia Avenue within four blocks.
"Chattanooga is going through a transformation, and urban growth downtown continues to be strong," Fisher said. "We love investing in this downtown historic corridor."
In addition to Fisher, the four other general partners in Historic Holdings include Dan LeVan and Bo Ferger of Fisher Bay and Perry Underwood, CEO of Choice Title in Ringgold, Georgia, and Saurabh Patel, a local convenience store business operator.
Contact Dave Flessner at dflessner@timesfreepress.com or 423-757-6340.