Kinslee McGowan's love of volleyball has already taken Cleveland's senior setter a long way, and she's not done yet.
She has committed to the University of North Alabama, but before following through on her college plans, she'll try to make her final high school season another personal and team success as the Lady Blue Raiders aim to repeat as TSSAA Class AAA state champions.
In 2022, they delivered on their potential by winning a program-record 49 matches, capped by a 3-0 sweep of Collierville for the title last October.
"Winning a state championship is something you will never forget," McGowan said. "My mom talks about hers all the time. People constantly tell you congratulations, even months after it happened. Especially winning state with my mom was really fun and sentimental. Hopefully we can go back-to-back in my last year here."
Cleveland volleyball coach Amy McGowan has seen her daughter thrive in the same sport in which she helped Bradley Central win back-to-back state titles in 1993-94 before going on to become a Clemson University basketball legend. Coach McGowan, too, comes from a family lineage of state champions as her late father Barkley Geren and mother Mabel Delay Geren won titles at Bradley Central in 1961-62.
"My mom would tell me, 'Your momma won a state, your daddy won a state, when are you going to win a state?'" Coach McGowan said. "To win state championships is such an awesome feeling. I was so glad for Kinslee to get to experience that. Now I am saying, 'If you are going to be as good as me, you are going to have to win it back-to-back.'"
Photo Gallery
Cleveland volleyball player Kinslee McGowan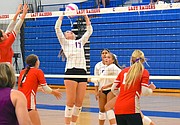 Kinslee has been the starting setter for the Lady Blue Raiders since her freshman season and has proven she can serve, pass, hit and defend at an extremely high level. She also appears calm on the court in the leadership role that goes with that position, clearly having a good time with teammates as she is often seen laughing as they work together.
"Honestly, I have never felt a ton of pressure as a setter because it has been preached to me since I was younger that you always need to have fun in the game," she said. "If you are not having fun, there is really no point in playing. When you are having fun and playing the game you love, everything else just flies out of the window. There has never been a time where I don't have fun playing and competing with my teammates."
McGowan's pinpoint passes were a big part of Cleveland's surge to the top last year.
Incredibly, the Lady Blue Raiders did not drop a single set in postseason play, and Coach McGowan did not have to use a timeout in the state tournament as her team rolled to one 3-0 victory after the other, with her daughter setting up the sister combination of star hitters Addison and Lauren Hurst for 34 of their 45 kills in the title match. McGowan finished the season with a state-best 1,256 assists to go along with a team-high 131 aces.
"Last year, I felt like Kinslee was the best setter in the state," Coach McGowan said. "But this year, I think she has grown as an all-around athlete even more. She is strong in every facet of the game. I don't say this really to anyone, but I believe she is the best all-around player in the state.
"Hitters get a lot of credit, but setters run the court, and Kinslee runs everything. You can ask any player on the court, and they will tell you the setter is the most important person in the game. They are the ones who help great hitters like Lauren or Addison get those perfect balls so they can capitalize."
The younger McGowan has shined on the national scene too, as she helped her K2 Volleyball club to a 15U national runner-up finish in 2021 playing alongside Lauren, who was the state's Gatorade high school volleyball player of the year last fall with 649 kills, 61 blocks and 354 digs in 54 matches.
In Wednesday's home opener, McGowan served three consecutive aces during the Lady Blue Raiders' 25-13, 25-20 win against Baylor, and they followed that with a close victory over East Hamilton, 21-25, 25-17, 25-23.
In her final prep season, McGowan wants to especially mentor her younger teammates so they'll be ready to keep Cleveland's rock-solid volleyball reputation going. It will be one more reason for her mom — and coach — to be proud of her.
"When I got into coaching volleyball, I had to grow a lot under Trish (Flowers) and really learn the ins and outs of the game," Coach McGowan said. "It has been awesome to grow as a coach and experience all I have with Kinslee since she was tiny. She always would come to the high school camps with us and want to play with those girls. It has been awesome to watch her grow to where she is now."
Contact Patrick MacCoon at pmaccoon@timesfreepress.com.
This story was updated on Oct. 20, 2023, to correct the years in which Amy McGowan won back-to-back state championships as a Bradley Central volleyball player to 1993-94.