The Chattanooga Mensa group features people from all walks of life. They include doctors, judges, engineers and military pilots, a number of whom are retired.
Although pursuing different vocations, they share a degree of intelligence that places them in the top 2% of the population and membership in a worldwide organization that recognizes their intellectual prowess.
Mensa was started in England in 1946 by barrister Roland Berrill and scientist/lawyer Dr. Lance Ware as a society that is non-political and free from all racial and religious distinction. Mensa is the Latin word for table, symbolizing a round table where race, nationality, age and social standing are insignificant. The organization has 145,000 members in some 90 countries. The only requirement for membership is placing within the upper 2% of the general population on an approved intelligence test properly administered and supervised.
The Chattanooga chapter was created in 1981. It currently has just under 100 active members who come from 14 counties in Southeast Tennessee and six in Northwest Georgia. They range in age from 12 to octogenarian. The median age is 52 to 53.
Boyd Patterson has held court with the Chattanooga chapter since the early 2000s, serving as local secretary (the equivalent of president) in the mid 2000s. In November, the 53-year-old Chattanooga resident was elected Hamilton County Criminal Court Judge Division 3.0.
That followed undergraduate and graduate degrees in psychology, work as a counselor for delinquent youth, a juris doctorate degree from Duquesne Law School and 22 years as a practicing attorney. Patterson's intellect and eclectic background make him a natural for Mensa.
"I enjoy hearing different perspectives," Patterson said. "I've heard some enlightening, creative perspectives on various things from people of different backgrounds. My perspective has expanded around Mensans. It's enriched my out-of-court life more than anything by offering well thought-out viewpoints."
Photo Gallery
Chattanooga Mensa members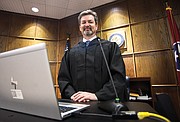 As local secretary, Patterson started meetings by asking members to write down a discussion topic. He then randomly drew a topic and facilitated discussions that lasted several minutes.
"Members suggested topics they were familiar with, resulting in some great conversations," Patterson said. "Topics included machine learning, politics, great sports teams, conspiracy theories... Everything was fair game."
There's a quiet confidence many members of Mensa possess, recognizing they're in a select group when it comes to intelligence. As such, when they get together, one might expect a highly charged, competitive environment to decide who's the smartest person in the room. Several members of Chattanooga Mensa challenge that perception.
"I recognize I'm smart," said Ernie Pierce, 83, a member of the Chattanooga chapter since 2003. "But I'm not the only smart person."
Pierce joined Mensa in 1997 while living in Nashville. "I wanted to see if I was as smart as I thought I was," said the Ringgold, Georgia, resident, who was an Air Force pilot during the Vietnam War era before embarking on a 30-year career with Liberty Mutual. "I did really well on the Mensa test."
Pierce said he enjoys talking to Mensa members. "It's stimulating being around them," said Pierce, noting he comes from an intelligent family -- his father and brother. "They can converse on just about anything. I went to our picnic and found the two to three hours to be enjoyable and entertaining."
Wilma Tucker started the Chattanooga chapter in 1976 with 24 members; prior to that, she said, it was an inactive group. Possessing a degree in history but discovering she didn't enjoy teaching, the Hixson resident worked with computers and owned a bookstore. She, like Pierce, doesn't flaunt her intelligence and Mensa membership.
"Mensans have that level of confidence where they don't have to prove their intelligence," said Tucker, who has become more active in Mensa over the past year. "They go beyond that and see what else they have in common."
Tucker said she's met some phenomenal women in Mensa, both locally and at regional meetings that draw members from Atlanta, Nashville and Knoxville. "They're brilliant, have a love of the language and a desire to help out in the community. The men are phenomenal, too. Most are trivia buffs. Being a member has been one of the top five experiences of my life."
There's also the feeling of family that Tucker drew on during one of the most difficult times in her life.
"They were supportive when my son died at 18," Tucker said.
One of the phenomenal women Tucker met in Mensa is Mary Duffy. The two have been friends for some 40 years.
Duffy was doing her residency as a family physician and didn't have time to date. She joined the Chattanooga chapter in the early '80s with the idea of meeting some "smart men." Although she met a wonderful man in Mensa, he went to law school, and they subsequently married other people. Duffy didn't part with Mensa, however, noting it provided a nice respite from her residency and offered a built in social life.
Retired as a physician and living in Chattanooga, Duffy remains a member of the local chapter.
"I enjoy getting together with like-minded people and having a good time," Duffy said. "There are people with lots of different ideas who aren't afraid to try new things. You can relax and be yourself."
Other members are newer to Mensa. While recognizing they were intelligent through school and work, they joined later in life when the opportunity presented itself. For Michael Logue, it came through music.
Playing French horn in a community band, Logue was encouraged by several bandmates who were Mensa members to take the Mensa test. He passed and subsequently joined the Chattanooga group in 2017. He now serves as local secretary.
"The biggest thing is you can talk about just anything," said the 65-year-old Ohio native who worked as a computer operator in the Air Force before moving to a 40-year plus career in IT. "You have like-minded, intelligent, well-read people. You never know what you're going to talk about."
The topics will become even more varied if Logue achieves his goal of energizing the chapter. "I want to make a better effort to get people involved," he said.
Kathy Whitaker also joined Chattanooga Mensa in 2017, as did her husband, Everett. Trained as a civil engineer, Kathy worked in the electric industry. Everett was a nuclear engineer. They met while working at the Tennessee Valley Authority and retired to the Chattanooga area.
These days, Kathy gets a charge not from work but through Mensa.
"I enjoy the social activities of the local group, particularly the special events like our annual picnic and our holiday gathering," Kathy said. "It's an opportunity to catch up with friends and share different perspectives on current events. I also love the weekly emails from Mensa with interesting articles about new studies and discoveries (Mensa Weekly Brainwaves) and the (almost) monthly printed magazine (Mensa Bulletin)."
Stephen Prudhomme, 66, joined the Chattanooga Mensa group in July 2022. He is a New Jersey native who served in Army military intelligence as a French translator. He earned a degree in journalism from Georgia State University and has written for a number of publications for nearly 40 years. He lives with his wife and son in Pikeville, Tennessee.