CLEVELAND, Tenn. -- On Monday at Lee University, rumors were spreading. Emma Wood heard through a friend. Andrew Fontanez heard on social media.
There was no planned event at the university chapel, yet students were gathering there in growing numbers, singing, praying over one another, and sharing in radiant spiritual moments.
Freshman Reagan Philbeck had heard about an ongoing revival at a university in Kentucky. She initially thought the Lee University gathering seemed admirable but doubted its authenticity.
"I thought it was an 'Oh, we're gonna be like them,' moment, she told a reporter at the university's student union Wednesday.
Her skepticism would not last. Late Monday evening, she was out in her pajamas seeking a bite at Subway, she recalled. Fellow students were running by toward the chapel, she said, and they coaxed her inside.
"The building was shaking," she said.
It was hot, and it smelled like body odor. People were praying on stage, leaning on the altar, marching in collective big circles around the space, she said. Energy swelled and ebbed. There was no apparent leader. It all seemed so spontaneous, she said, not like other more manufactured, if well-meaning, social events that the university sometimes put on.
Some students stayed deep into the morning. But Philbeck left around midnight and called to tell her parents what had transpired. She had never seen anything like it.
"The spirit was 100% moving in that place," she said.
More than 48 hours later, the students, and now some community members, were still praying and worshipping -- and school administration is trying to maintain a light touch, said Lee University President Mark Walker in his office Wednesday.
He said he understands that a collective spiritual outpouring by students is not something administrators can will into being. But he said the school -- which is leaving chapel doors open overnight and keeping the lights on while having staffers keep watch from a distance -- is trying to provide the conditions in which the phenomenon can, if God so desires, sustain itself.
Photo Gallery
Worship at Lee University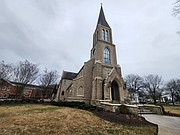 As of Wednesday, the institution was labeling this phenomenon a "student-led prayer vigil," Walker said. Revivals have taken place throughout church history -- including around Chattanooga -- and are understood as an ongoing move of God among a group of people that expands beyond the church into the community, in turn transforming it and the lives of its people, he said.
Walker said the ongoing chapel prayer event has revival aspects. But whether it is in fact a "revival" will depend on its longevity and ultimate impact.
Some have wondered whether the school would cancel class.
"The answer is no," Walker said. "God knows these students need to go to class."
(One student, who will go unidentified, told the Chattanooga Times Free Press he skipped class to go to the chapel.)
Similar prayer events are afoot elsewhere. A week ago at the evangelical Asbury University in Kentucky, a chapel service began -- and then it kept going for days and days. On Monday students at Lee University's Theology and Ministry School discussed this with their professor, Kevin Nordby, and proposed praying about it in the chapel, Walker said.
Rumors spread. Fontanez, a junior at the school from Erwin, Tennessee, who grew up in the Pentecostal Assemblies of God, got word of a growing phenomenon in the chapel Monday afternoon, on the social media app Yik Yak.
"I'm like, 'That's odd, because no one ever goes in there except for liturgical chapel,'" he said.
Monday evening he joined a flood of students going inside. Energy was high. Some spoke in tongues, he said. Fontanez said his best friend died about a year ago, and his family is struggling financially. He's felt down recently. That Monday evening he went to the altar and got on his knees and people prayed over him.
"It felt like something in me just burst inside," he said before turning to enter the chapel once more Wednesday afternoon. "It was just this fire in my heart that I couldn't contain."
Inside at that moment was freshman soccer player Noah Eaton, praying, tapping his Birkenstock sandals, singing. He'd been at the chapel until 3 a.m. the previous two nights, he said later, and said he'd be back. Two buddies from Florida, hearing word of a revival, were driving up to Cleveland, he said, their ETA midnight.
By evening Wednesday, the chapel would be once again packed -- well over a hundred people and more were streaming in -- and there was talk of how long the spiritual outpouring would last.
A few hours prior in the afternoon, about 40 people were keeping the vigil. A student knelt face down, crying and murmuring as two friends rubbed her back and prayed over her. A guy in a stylish long, white hoodie walked around, hands raised. One woman approached the stage to play the keys. As the music began, someone in the pews read from Corinthians loud enough for all to hear. Someone broke in singing, and the energy rose as more joined in. Many of the assembled poured toward the front and cast their hands skyward or prostrated themselves on the ground. Then the music quieted. Whispers and prayers. A man said "Jesus, Jesus, Jesus."
Throughout the student union later that afternoon, students like Riley Eige and Philbeck excitedly discussed the ongoing phenomenon in the building, known as stone chapel. One prior evening, students were confessing about racism, sexism, ways the church has hurt people, Eige said. He senses great potential for new conversations to take place, new ways of being together to emerge.
Eige grew up Pentecostal and unlike his friend Philbeck, he's attended lots of revivals.
"This is the most powerful," he said.
Church can be so performance-based, he said, a big production oriented around a person or a band. Here, there's less show, he said.
"And everyone's more focused on God."
Contact Andrew Schwartz at aschwartz@timesfreepress.com or 423-757-6431.