This story was updated to state that Liberty Tower is one of downtown Chattanooga's tallest office buildings.
_____
Prior to the outbreak of COVID-19, the app development firm Skuid occupied three floors of Liberty Tower, one of downtown Chattanooga's tallest office buildings.
When the pandemic forced the growing tech startup to shift its staff to at-home work, Skuid also moved its headquarters into a different, more flexible co-working space operated by the Society of Work. Like many office companies, Skuid has adapted its approach to work and become a remote-first organization.
Last week, Skuid moved yet again into Chattanooga's newest co-working space on the North Shore in the former Chattanooga Printing & Engraving building on Somerville Avenue just off Cherokee Boulevard.
"We really wanted something with a lot of natural light and open, flexible space for collaboration and having free parking available at this site, too, really made it ideal," Carley Hansen, the people operations manager at Skuid, said in a telephone interview.
Skuid has leased three of the 58 offices in the new development, known as Somer Station, and Skuid expects up to 30 or more of its employees will use the complex at different times, including portions of open, flexible space available for members of Somer Station.
The flexible and open offices in Somer Station are being run by the Society of Work, which operates a similar co-working site in the Edney Innovation Center downtown. The new co-working office at Somer Station includes 58 offices, along with conference rooms, open meeting areas, a kitchen, phone booths and shared amenities like printers, Wi-Fi access and event space.
Tenants in the co-working space buy memberships to access facilities, in addition to some private offices leased on six-month terms by particular companies and organizations. Somer Station also offers free parking for tenants and members.
"This offers companies a more flexible approach to their office and meeting needs and gives them a chance to grow and collaborate while still having the flexibility for remote and hybrid work," said Kelly Fitzgerald, the owner of Society of Work who started the co-working office concept a decade ago.
The offices are located next to 22 furnished apartments built next door at Somer Station by SVN Second Story Property Management, which operates a similar co-living Tomorrow Building at Georgia Avenue and Patten Parkway.
"We are focused on providing our members with the best workplace experience in a collaborative environment," Fitzgerald said in an announcement of the opening of the new space. "Being next door and working in partnership with The Tomorrow Building will strengthen the community and connections that are so important to who we are as a business."
Photo Gallery
Somer Station in Chattanooga's North Shore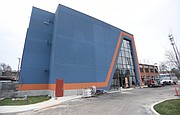 The live-work concept represents an investment of more than $17 million on 2.5 acres between Cherokee Boulevard and Somerville Avenue, according to developer Matt McGauley of FTC Development, one of the partners in the project.
"Our hope is that people will live in the Tomorrow Building and be Society of Work members as well," he said in an interview last year describing the new complex.
The developers of the new complex, which was organized under the limited real estate partnership Soto LLC, bought the 31,680-square-foot former Chattanooga Printing & Engraving building two years ago for $2.4 million and have renovated the original 1920 building for offices leased by the Society of Work. Next door to the renovated office space, 15,000 square feet of apartment space has been built to be operated by SVN Second Story under the Tomorrow Building brand.
The Tomorrow Building already offers 39 studios downtown at Patten Parkway and is adding 22 units at Somer Station, said Tiffanie Robinson, founder of the apartment living model started six years ago. The new Tomorrow apartments at Somer Station will become available on April 1 and are fully furnished for residents.
Robinson said Somer Station will provide the ability for entrepreneurs, tech start-ups and small businesses to live and work in a flexible work environment with other small businesses.
"The partnership between the Tomorrow Building and Society of Work further solidifies Chattanooga as a city for starters," Robinson said during a tour of the new complex. "We are excited to be on the forefront of this growth and look forward to offering more co-living and co-working spaces throughout the Southeast."
The Company Lab, which has been located next to the Society of Work in the Edney Building on 11th Street in downtown Chattanooga, is relocating its office to the new Somer Station where it will launch a new accelerator program targeted at growing startup and small businesses focused on sustainable mobility.
Contact Dave Flessner at dflessner@timesfreepress.com or 423-757-6340.