Jenni Bradley promotes to director of strategy and planning in the provider network management division for BlueCross BlueShield of Tennessee. Bradley oversees teams responsible for developing and maintaining relationships that support BlueCross provider networks in providing high-quality care to members. She also works on contracting efforts and coordinated strategies that encourage evidence-based treatment in practices and healthcare facilities across the state. Bradley joined the BlueCross provider innovations team in 2015 and has served in an interim director role for the past several months.
Penny Murray joins Chambliss, Bahner & Stophel P.C. as the new human resources director. With more than 23 years of experience in human resources, Murray is responsible for the firms' talent strategies including managing and implementing the firm's vision for talent, employee relations, and human capital management. In addition, she is committed to recruiting, retaining, and developing high-quality attorneys and support staff for Chambliss. Murray completed her master's degree in business administration at the University of Tennessee at Chattanooga, and received her bachelor's degree in business administration at Tennessee Technological University.
Erika Puzanov has joined CHI Memorial Infectious Disease Associates. Puzanov earned a bachelor's degree in nursing from East Tennessee State University in Johnson City and a master's degree in nursing, family and acute care nurse practitioner, from Southern Adventist University in Collegedale. She has 12 years of experience caring for patients in the emergency department and intensive care unit settings. At CHI Memorial Infectious Disease Associates, Puzanov will provide primary care services to patients with HIV.
LaFrederick Thirkill joins The Chattanooga Theatre Centre's board of directors as president. Hamilton County educator and community leader, Thirkill is the principal of Washington Alternative Learning Center. He has worked in the Hamilton County school system since 1998 and previously served as principal of Orchard Knob Elementary School, where he was recognized by the Hamilton County PTA as Elementary Principal of the Year in 2013 and Distinguished Administrator by the Hamilton County Education Association the same year.
Photo Gallery
EDGE on the move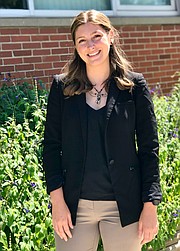 Shelley Armstrong is the new executive director for The Launch Pad. Armstrong is a graduate of Mercer University and joins The Launch Pad after a well-rounded background in nonprofit fundraising and management. Over the past 32 years, Armstrong served as director of income and later, senior regional director at the American Heart Association in Chattanooga. Armstrong then became director of special events and major gifts at the Chattanooga Food Bank, where she exceeded fiscal year goals by nearly 150%.
Sindy Reynolds is the new vice president for finance and operations for Cleveland State Community College. A Cleveland State alumna, Reynolds has served the college as bursar since 2014. She has worked in accounting, accounts payable and receivable, purchasing, fixed asset management and facilities and project management for more than 20 years. Reynolds began her career in higher education as coordinator of student accounts at Cleveland State and transferred to Roane State as bursar before returning to Cleveland State.
Stephen Adams joins Habitat for Humanity of Greater Chattanooga's board of directors. Adams is a registered patent attorney with Chambliss Bahner & Stophel P.C., practicing in intellectual property matters, trademarks, copy right preparation and prosecution as well as maintenance defense and enforcement. Ken Nichols is general manager of Crown Chrysler, Dodge Jeep, RAM and Fiat in Chattanooga. Crown most recently served as presenting sponsor of Habitat's successful "Raise the Roof" annual fundraiser and has built more than 10 houses in the dealerships' footprint.
Savannah May joins Grant, Konvalinka and Harrison P.C. as an associate. May is a native of Soddy-Daisy and attended Soddy Daisy High School. She graduated from the University of Tennessee at Chattanooga in 2017 with the highest honors, earning a bachelor of arts degree. May attended law school at the University of Tennessee in Knoxville, where she graduated in 2022 with the highest honors. May has worked at Grant, Konvalinka and Harrison since 2017 and has worn many hats during her time with the firm where she clerked throughout law school.
Kyle Bianco joins Friends of the Festival's growing board of directors. Bianco is an operations business planning manager for TVA. He was born and raised in Chattanooga, and Riverbend has always been a favorite summer activity, the release stated. He is a current member of the Erlanger Foundation's Corporate Connect Board Committee and a former member of the Baylor School Alumni Board.
Hannah Muller is the new director of community engagement and faith relations of Habitat for Humanity of Greater Chattanooga. Muller most recently served as volunteer engagement anager. Muller has a long history with the organization, serving as one of the leaders on the Jimmy and Rosalynn Carter Work Project when she was employed at Habitat's Nashville affiliate. In her role in Chattanooga, Hannah achieved a high level of success in the coordination of volunteer efforts on various Habitat projects.Muller is a graduate of Virginia Commonwealth University and served in various positions in the hospitality industry before making a career move to the non-profit world.