SEWANEE, Tenn. — From her perspective, Shelby Denning never thought of herself as — or even wanted to be — a pioneer. She was simply following a dream.
But for the past six months, Denning became just that, joining a minuscule fraternity of females who are trailblazing into the male-dominated profession of college football coach. The native Texan just completed her first season as receivers coach at the University of the South, more commonly known as Sewanee, making her one of only a handful of women working as on-field assistants with a position group.
"When I was hired and first got here, I could tell the players weren't so sure about me in the beginning," Denning said. "But being close to their age helped with communication, and I just tried to work to earn their respect.
"Looking back on it, I'm just very grateful for the opportunity because I realize that I'm getting to do something that seemed impossible just a few months ago. How cool is it to be on the field coaching? That's just where I've always wanted to be. I guess some of us are starting to break down those barriers."
The Tigers, who compete as members of NCAA Division III and the Southern Athletic Association, wrapped up their sixth year under head coach Travis Rundle in mid-November. But as the season draws to a close at higher levels with national championship games — the Football Championship Subdivision title matchup between North Dakota State and South Dakota State is Sunday, followed by Monday night's College Football Playoff final between Georgia and TCU — the landscape of the sport continues to change.
From the CFP field expanding in the 2024 season to conference realignment to NIL deals for players, college football is slowly evolving. With women such as Denning and Brown University offensive quality control coach Heather Marini — the only full-time female assistant in Division I — being hired as staff members, the changes include knocking down gender walls.
Growing up in Fort Worth, where her family — like so many in Texas — love watching football at all levels, Denning played soccer and was captain of the cheerleading squad. However, she found herself drawn more to the football field.
"If there's a game on anywhere, I'll have it on TV somewhere in the house, so she grew up watching football," said her dad, Mike. "When she was a cheerleader, every time we would look on the sideline, she would be inching closer to the field. And she would be yelling at the players when they messed up, like a coach.
"I honestly think the only reason she became a cheerleader was that was the only way she could get closer to the field and be around the game."
Photo Gallery
Sewanee football assistant coach Shelby Denning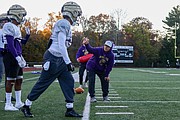 LONG WAY FROM HOME
As a student at Southwestern Assemblies of God University, near her hometown, Denning worked as the football team's media coordinator and helped in recruiting. She also worked with a nearby junior high school's offensive coordinator.
After graduating from SAGU, she applied to approximately 50 colleges across the nation that had advertised a variety of on-field job openings.
"I never even heard back from most of the schools, but the ones I did, I could tell they weren't interested in hiring me," Denning said. "One school up north even asked why a female wanted to coach football.
"But then I got a call from Coach Rundle, and he didn't treat me different because I'm female. He just talked to me about the job like I was any other interested coach."
Rundle wanted to find a young assistant who would bring energy, enthusiasm and a fresh perspective to the staff.
"When we started talking to candidates for the position, Shelby just killed it in her interview," Rundle said. "After her Zoom meeting with the rest of the staff, we discussed who we should hire and it was unanimous that she was the best choice.
"Later on, when I told my family that we were hiring a female as an assistant, I saw my daughter's face light up, and that let me know what kind of impact this could have. Shelby is so eager and hungry to learn, and she works hard at it every day. That's exactly what you want from any young assistant coach."
Once hired, Denning made the 12-hour move -- farther than she had ever been from home and family -- and was given a crash course in Sewanee's offensive playbook.
"I had about a week to learn the offense before preseason camp began, so that was hard," Denning said. "Add to that how scary it was being so far away from home for the first time, plus being nervous that I wouldn't fit in and it was very stressful.
"But once I got here, Coach Rundle and the other coaches did a great job of making me feel like a part of the staff. Most of the players took time to ask about me and get to know me, but some others didn't really look my way during the season, which is fair because I was learning along with the players as the season went along.
"I was honest with my position group and told them if there was anything we didn't know, we would ask and learn about it together."
'NEVER AFRAID TO TRY'
Tigers tight end John Luke Lasseter, a sophomore from Ashford, Alabama, was one of the players in Denning's position group. He admitted there was skepticism early on, but he also said Denning earned the trust and respect of the team.
"I think I was one of the first guys to reach out and try to get to know her early on," Lasseter said. "We were all trying to learn about each other and about the offense together, and I actually thought it was cool how we all sort of grew together.
"Whether you're a player or a coach, everyone at the college level has to prove themselves before they're accepted, and we saw that she picked up on things really fast and worked hard at her job."
When Sewanee coaches met recently with the school's athletic director, John Shackleford, to begin discussing plans for next season, Denning was informed that she would be welcomed back on staff. She said she plans to spend her first offseason studying the playbook and asking plenty of questions to continue expanding on her knowledge of the game to become an even better on-field coach.
"She knew it would be an uphill battle because she's a female, but she was never afraid to try, and that's inspiring," said Shelby's mom, Evelyn. "I don't think she understands that she's a role model now. I do, and that's why I'm so proud — the impact she has and could have on other young girls.
"When kids are growing up, they change their mind all the time about what they want to be when they grow up. But Shelby never changed her answer when people asked what she wanted to do. She has always said she wants to be a football coach."
Denning meeting that personal goal has been special for more than just the former cheerleader-turned-coach.
"The world we still live in is to tell young girls what they can't do," Evelyn said. "She thought she was going to have to settle for coaching another sport. But I'll never forget the first game we went to watch her coach at Sewanee.
"We were all walking from the cafeteria after breakfast, and one of the players (freshman offensive lineman Gavin Potter) said, 'Hey, Coach Denning,' as he passed by. I broke into tears when I heard one of the players address her as Coach because it meant so much, knowing our daughter is living her dream."
Contact Stephen Hargis at shargis@timesfreepress.com or 423-757-6293. Follow him on Twitter @StephenHargis.