It was a cold, rainy Monday when I paid a visit to Goodfellas Pizzeria. It was shortly after noon -- the height of the lunch hour. I knew they might have a couple of customers, but considering the winter weather and it being a Monday, I didn't think it would be very crowded. Was I ever wrong.
Goodfellas, a Lexington, Kentucky-based chain, opened in downtown Chattanooga in 2020, right as you-know-what hit the planet. Not the best time for any business to open. But maybe this was perfect timing, giving the pizzeria a couple of years to establish itself as the go-to pizza place in a town that has pizza parlors at every turn.
So in I went and looked around for someone to guide me in the right direction. No such luck. I was on my own, but figured out very quickly that this is a place where you do lot of the legwork yourself, from ordering to finding a table and getting your own drink. That done, I got in a line about eight people deep.
THE MENU
The restaurant is titled after the 1990 Martin Scorsese film of the same name, and the Goodfellas menu reflects that mob theme, with specialty pizzas like The Don, The Vinny and The Boss. Get the picture? There are no pasta dishes like many Italian restaurants have. But the menu does sport a handful of salads, a calzone, Goodfellas' famous meatball sub and build-your-own pizzas from a list of meats, veggies and cheese. Cannoli, of course, is on the dessert menu.
Photo Gallery
Goodfellas Pizzeria in Chattanooga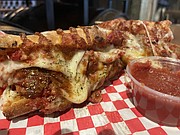 THE ORDER
I ordered a 12-inch Goodfella pizza, a meatball sub and, for good measure, a Diet Coke.
On Mondays, all 12-inch pizza are half price, taking my pizza from $17 to $8.50, a deal too hard to refuse. And here's another one: Every day from 11 a.m. to 3 p.m., the meatball subs come with a drink from the soda station for $10.
The restaurant claims to have New York-style pizza. Now, I don't claim to be an expert on New York pizza, but I have been there many times and have, on occasion, had its pizza. I've also been on one of the tours that takes you to some of New York's legendary houses of pizza. So I know a little bit about New York-style pizza, the No. 1 fact being you should be able to fold the slice in half lengthwise and eat it like a sandwich. The crusts are just soft enough to do that without being soggy.
When I tried to do this with Goodfellas' pizza, it didn't work. The crust was very good, but the edges were crispy and not conducive to folding, plus the toppings were too thick and spilled out onto my plate. There's nothing wrong with a crispy pizza crust and lots of toppings. It's just not like a New York-style pizza. That's all. Other than that, the Goodfella specialty pizza with pepperoni, Italian sausage, bacon and ground beef was very good -- much better than other chain pizzas I've had. And for $8.50 on this rainy Monday was a bargain, easily feeding two to three people.
The meatball sub is a signature item on Goodfellas' menu and takes a little extra time to make. I overheard the pizza cook saying it would take about 20 minutes. And it did. But it was worth the wait. The meatballs were perfect, the marinara sauce spiced just right, the bread outstanding and the cheese all gooey on top. Easily enough for two people or one really hungry wiseguy.
THE SPACE
Goodfellas takes up an entire end of the King Street building, so it's quite large. To break up the space, there's a wall of whiskey barrels, double stacked to separate a couple of the dining areas. In another section, you'll find pinball machines and more tables. There's also a large bar with its own seating. The kitchen is in the center of the restaurant and is open so you can watch the action as you wait in line. The original old brick lines walls adorned with mobster-themed art.
Seating choices range from large booths that will seat eight to 10 people to smaller tables for smaller crowds.
There's a large parking area outside the restaurant, but it will cost you around $5.50 for the privilege. I would suggest saving some money and finding street parking, or walking if you live or work nearby.
THE SERVICE
As mentioned, service is a marriage between diner and server. You place your order at the counter, take a number, get your own drink, find your own table and place your number on the table so the server can find you.
It took about 20 minutes, as promised, to get my pizza and meatball sub, but in that time I was able to catch up on some work.
THE VERDICT
A filling lunch came to $20.21 with plenty left over for another meal or two. It's this kind of deal, plus some good Italian comfort food, that makes this a popular place -- even on a rainy winter's Monday. Next time I'm downtown and the craving for pizza hits, I'll find my seat at Goodfellas again.
IF YOU GO
-- Where: Goodfellas Pizzeria, 1208 King St.
-- Hours: 11 a.m.-midnight Sunday-Wednesday, 11 a.m.-1 a.m. Thursday, 11-2 a.m. Friday-Saturday
-- Alcohol: Full bar
-- Online: goodfellaspizzeria.com
-- Phone: 423-497-5107
Contact Anne Braly at abraly@timesfreepress.com or annebraly.com.