SEWANEE, Tenn. -- The University of the South launched a new initiative this week, aimed at promoting frank discussions on racial issues and opening up new political possibilities.
Dozens of faculty members, administrators and students filed into a hall on campus Tuesday evening to mark the launch of the private school's new Truth, Racial Healing and Transformation Center.
The program, a version of which has been launched at dozens of universities around the nation, will not, for now at least, have a specific physical location at the school, known as Sewanee. It will be mainly programmatic in nature, said Sibby Anderson-Thompkins, the school's vice provost for diversity, equity, and inclusion.
By phone before the launch, Anderson-Thompkins said the program will encompass the small private liberal arts school's undergraduate side, its Episcopal seminary and, she hopes, the surrounding community.
Photo Gallery
Sewanee launches new racial reconciliation program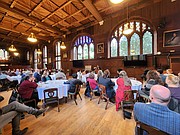 Among these programs, launching next week, are what the university calls racial healing circles -- intentional, facilitated group conversations on the dynamics of race that many people would rather leave undiscussed.
"Consistently, people who have gone through these racial healing circles talk about the positive impact for themselves regardless of race," Anderson-Thompkins said. "It's about getting to know each other. And moving away from preconceived notions that we have about people. It's about having real conversations -- and everybody has a story to tell."
Sewanee's own story has faced some scrutiny recently.
When the inaugural board of trustees founded Sewanee on the eve of the Civil War, it noted that "this Cumberland Plateau seems to have been formed by God for the benefit and the blessing of the valley of the Mississippi, and the cotton growing regions of the Southern states," said Sewanee historian Woody Register at the Tuesday launch event.
"In other words," Register told the assembled, "it was made for the people who owned or enslaved the people who cultivated and picked the cotton that had made the people who founded this university rich. And this was all as God willed -- according to them, at least."
Register is a founder of Sewanee's Roberson Project on Slavery, Race and Reconciliation. Formally launched in 2017 and named after the school's first tenured African American faculty member, the project seeks to tell a more frank historical story about the famously tranquil university's entanglements with the slave trade and segregation, among other racist social institutions.
For some, recent years have demonstrated the urgency of telling this story well.
In February 2020, Sewanee hired Reuben E. Brigety II to be its first Black vice chancellor. In the early days of the pandemic, Brigety received angry messages, some frustrated, others outright hostile. He'd understood this as part of his role as vice chancellor, he said in an address released February 2021, according to a Chattanooga Times Free Press report from the time.
"As unpleasant as all these gestures may be to receive, they are nothing compared to the phantoms who keep coming to my home under cover of darkness," Brigety said.
His home was repeatedly vandalized with broken bottles and threatening messages, he said. He did not speculate publicly about whether the acts were racially motivated, the Times Free Press reported.
About a month later, Sewanee students yelled racial epithets, including the N-word, at an opposing lacrosse team, a high profile incident attracting national media attention.
"So pronounced were the shouted slurs in the third quarter that the game officials on the field ordered that Sewanee fans be cleared before play could continue," Brigety wrote in a statement condemning the incident, according to a Times Free Press report.
Brigety resigned in December of 2021 to take a job in the Biden administration as U.S. Ambassador to South Africa.
As of 2021, the student body of Sewanee was 82% white, 5% Hispanic and 4% Black, according to the National Center for Education Statistics.
A few months before Brigety left, Sewanee hired Anderson-Thompkins to be its first chief diversity officer. Her hiring was in part a response to the recent incidents, she said, and in heading up a collection of several administrative departments, she has tried to make campus a more diverse and welcoming place.
The model for the Truth, Racial Healing and Transformation Center was mapped out by the American Association of Colleges and Universities, a membership group of higher education institutions. The concept, Anderson-Thompkins felt, aligned with her mission -- and the ongoing priorities of the Episcopal church.
Attendees gathered for light snacks as speakers took the podium.
Peter Gray, the university chaplain, described the racial healing circles, which will launch next week, as a humble practice with radical potential.
"We humans who are social creatures, who need relationships to thrive, are isolated from one another, made to be afraid of one another, " he said. "And because racism thrives in denial, and in polite silences, we are not usually socialized to speak about race."
The Truth, Racial Healing and Transformation Center will be headed by Tiffany Momon, who teaches history and co-heads the Roberson Project, and David Stark, a professor at the seminary.
"It is not a cleverly marketed program to simply 'check the box,' but a collaboration of scholars, community members, students and administrators seeking to empower people to repair the harm of racism," Momon said.
"Our center is not about virtue signaling, but about a diverse a coalition that facilitates authentic relationship-building across real and perceived differences," Stark said.
Contact Andrew Schwartz at aschwartz@timesfreepress.com or 423-757-6431.