Crews working on the state's $32 million interchange improvement project on Interstate 24 at South Broad and Market streets have been pouring concrete in a flourish in recent unseasonably warm weather as the project enters its third year with the finish line in sight.
"The project is 80% complete, still on schedule and on budget," Tennessee Department of Transportation spokeswoman Rae-Anne Bradley said Friday in an email.
The project's completion date is Aug. 31, and Bradley said crews have been busy building concrete ramps.
"This week, the contractor worked to backfill the retaining walls on the new exit from I-24 east to Broad Street," Bradley said. "They also worked on paving the Market Street on-ramp to I-24 east. Next week, the contractor is expected to complete these two work items and begin prep work to pave the U.S. 27 south ramp to the new Broad Street exit. Both of these ramps will tie into the new frontage road when complete."
The contractor on the project, Charleston, Tennessee-based Wright Brothers Construction -- which started the work in September 2020 -- was dogged by supply chain issues during the summer, especially with concrete.
In a project update posted Nov. 9 on Wright Brothers' social media page, the company described ongoing work to dramatically change traffic flow.
(READ MORE: $161 million low bid awarded for next phase of Chattanooga's I-75/I-24 'split' project)
"What was once awkward loops is becoming a new, single ramp, which serves exiting traffic from both I-24 east and U.S. 27 south," the company's post states.
Photo Gallery
I-24 project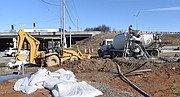 The statement was posted with accompanying drone footage of crews at work.
The project's purpose is to improve the safety and operation of the interstate, as well as provide improved access to South Broad and South Market streets to reach the city's bustling Southside and South Broad districts as well as U.S. Highway 27. When updated, the interchanges will accommodate current and future traffic demands, promote already booming economic growth and support area redevelopment, according to TDOT.
In 2022, the intersection of I-24/U.S. 27 was ranked at No. 29 on the American Transportation Research Institute's 100 worst freight bottlenecks in the U.S. The Interstate 75/I-24 interchange near the Georgia state line in Chattanooga -- known as the split -- ranked at No. 10.
The modifications were also needed because of high crash rates in the area where I-24's eastbound lanes and North Broad Street diverge, as well as from Market Street to the ramps for I-24's eastbound lanes, according to TDOT.
(READ MORE: Tennessee governor promotes 'Transportation Modernization Act' in Chattanooga)
Commuters headed east on I-24 toward Chattanooga as it rounds the Tennessee River's Moccasin Bend can see the new, concrete off-ramp to the right leading over Chestnut Street to South Broad Street. Running parallel to I-24, the new frontage road from there continues east to Market Street, where an on-ramp leads back onto the eastbound lanes of I-24 alongside Howard School, plan documents show.
PROJECT NOTES
Let to contract: June 6, 2020.
Contractor: Wright Brothers Construction Co. Inc.
Bid price: $31,994,789.
Estimated completion date: August 2023.
Source: Tennessee Department of Transportation
Contact Ben Benton at bbenton@timesfreepress.com or 423-757-6569.