After a personal and professional odyssey that took him from New York City to Florida to Chattanooga, Chris Hampton found his "better mousetrap" in a trailer.
The Carrollton, Georgia, native launched Rolling Video Games in 2009. In his Hixson facility, his staff turns 32-foot trailers into custom video-game arcades, each of which can accommodate at least six wide-screen televisions on one wall. On the wall opposite is seating, complete with speakers and motors that vibrate to match the game action.
Hampton said his trailers sell for $50,000 per and that more than 200 are in service nationwide.
"Took me a year to sell my first one," he said during an interview at his Hixson Pike production facility. "We can do three to five a month now, but I want to get that up to 10 if I can."
Photo Gallery
Rolling Video Games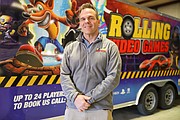 After growing up in Carrollton, Hampton said, he went to New York City to study theater. He said he got into photography along the way and, when he moved to Chattanooga in 1990 to be closer to family, he launched a photography business.
"Photos of babies at home were very big in New York back then," he recalled. "Then I noticed no one really did that here - babies at home, playtime portraits. We ran that business for about 10 years."
Hampton said he moved to Florida at about the same time the internet was getting traction. He said he opened a business building websites and met his future wife, Jen. He said that when they moved back to Chattanooga in 2000, they built their "pride and joy."
"Vaudeville Cafe," he called his Market Street restaurant. "Family-oriented, improv comedy, good Italian food. A lot of good people came through. That was a lot of fun, and I really miss it."
Hampton said Vaudeville Cafe closed in 2015, but he'd long since opened Rolling Video Games. He said his concept was a mashup of two others.
"I'd heard something on NPR about a guy in California who was doing parties in an old trailer he'd outfitted with (video game) consoles," he said. "Then I heard something else about a guy in Arizona who'd capitalized on that idea and was selling franchises.
"So between those two discoveries," he said, "I decided I'd try to build a better mousetrap."
Hampton's idea was to build and sell trailers outfitted with video games and maintain relationships with his customers - but not what he calls the typical relationship between a franchiser and a franchisee.
"I didn't like the idea of franchising," he said. "You've got to jump through a lot of hoops - got to buy their product, do things their way. It's pretty restrictive.
"People would much rather be independent," he said, adding that customers can also take advantage of centralized online booking at www.rollingvideogames.com.
Hampton said he has a how-to "template," of which his customers may avail themselves, but very few musts.
"One is that you use our logo," he said, "though you can attach your name to it - 'Chris's Rolling Video Games.' And don't embarrass the brand - be on time, or early (to a party), keep the trailer clean and be professional.
"It's pretty hard to mess up," he said. "You own the trailer, so you can book as many or as few parties as you want. You don't have to be a video-game or even a business expert. Just follow those few rules and you should be okay."
Chattanoogan Montrell Besley said he's owned an RVG trailer for nearly two years. In his first month, he said, he made enough to cover what he'd paid for his trailer.
"Those first 12 months were overwhelming," Besley said. "The need for service (in Chattanooga) was amazingly crazy. I had to get another phone because my personal line was blowing up (with bookings). During the week, I'd get off my day job, take off and go do an event - birthday parties, family reunions, church events.
"It's the easiest business anyone could get into," Besley adds.
Hampton said that while he's still trying to figure out virtual reality, he's making "gradual" changes - speeding up production, for instance, making a smaller, lighter party trailer that's easier to get around neighborhoods.
He said he's also offering financing that allows customers to put 25 percent down and pay off the balance in three to five years, but concedes that he can finance "only so many."
"There's a long list of people who want that," he said. "Our pockets aren't that deep - we rely on customers who get their own financing, and we offer them a discount.
"You can't start a business for $50,000," Hampton said. "People are just bananas about video games and America's a big place. With video games and events, you can't go wrong."
Contact Bob Gary at bgary@timesfreepress.com.