A century ago, Chattanooga became the first city in Tennessee to open a local Goodwill mission to help give people a job by recycling used and donated goods for resale.
On its 100th anniversary Wednesday, Goodwill Industries of Chattanooga is still repurposing used goods to offer a hand up, not a handout, to hundreds of workers at its 17 stores across the agency's 23-county service territory. In September, the local Goodwill will add its 18th store with a new outlet in Dalton, Georgia.
The mission and primary funding method for Goodwill remains as it did when a Methodist minister, the Rev. Edgar J. Helms, started the first Goodwill in Boston at the turn of the 19th century. But the Chattanooga Goodwill is also looking to broaden its service mode in its second century of service with workforce training and support at its new Opportunity Campus in the Bonny Oaks industrial park.
"This is an exciting time for our Goodwill, and we see some great opportunities as we begin another century of service," Gena Weldon, the president and CEO of Goodwill Industries of the Greater Chattanooga Area, said in an interview as workers continued to build out the new Goodwill campus facility. "With our expanded facility, we are looking for ways to partner to provide the training and workforce support to help more people."
(READ MORE: Goodwill stores have a message: Please stop donating trash)
The Goodwill model was built on the donations of used clothing and other household items that could be recycled and resold to generate work and money for those in need. In 1902, Helms began the mission by taking a burlap bag and going door-to-door in Boston's wealthiest districts asking for donations of clothing and household goods.
Goodwill differed from many charities of the day, emphasizing that donated goods could be sold for profit and that the money would be used to pay workers who would help refurbish those goods. Helms hired people in need — many of whom were considered unemployable — to do the repair work. Employees received $4 a day. When money was scarce, workers received $5 clothing vouchers.
Reduce, reuse
Chattanooga's Goodwill starts its workers at $10 an hour today, a wage rate that has been raised from the federal minimum of $7.25 an hour over the past three years. Weldon said the idea is to fight poverty not with charity but by giving people a chance to work and develop the trade skills and work experience to make a living, either at Goodwill or by graduating to other jobs.
In the process, Goodwill became an environmental pioneer and social innovator in the "reduce, reuse, repurpose" practice. Last year, Chattanooga's Goodwill kept more than 9.3 million pounds of discarded items out of local landfills, according to Goodwill's marketing officer, Cindy Todd.
Photo Gallery
Goodwill celebrates 100 years in Chattanooga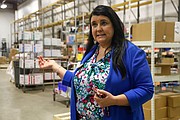 (READ MORE: Iconic Goodwill gets serious with online for thrifters)
Helms' burlap bags have been replaced with donation bins and stores, but the mission to change lives through the power of work has remained the same for Goodwill.
"What that means is that this organization for the past 100 years has been there for workforce development and telling people yes, rather than to say no for people who may have been incarcerated or not had the good fortune of being educated or may have some challenge that prevents them from working," Weldon said. "We try to help people get a job and provide the stability for them to keep a job because we know the power of work to change lives and communities."
Program participants at Goodwill often have barriers to finding sustainable employment. They might not have any experience working, they may have criminal records or they might be an older worker needing to advance their skills. The local stores provide a variety of jobs and, while working learning new skills and work habits, Goodwill works to find other jobs for many of its workers.
Felony record
Destiny Morrison, who now works as the assistant manager of Goodwill's store in Hixson, is among the thousands of Chattanoogans who have been helped by the organization through the years.
"Going to Goodwill definitely gave me a second chance and an opportunity that I didn't think I would get coming out of prison three years ago," said Morrison, who got hired by Goodwill when she came out of state prison at the age of 24. "Coming out of jail with a felony record, you don't have a lot of options. Goodwill was my saving grace because they believed in me enough to give me a second chance."
Morrison started working on the sales force and has since moved into management, helping other workers, including others who had been incarcerated.
(READ MORE: Chattanooga's Goodwill begins work on Opportunity Campus in Bonny Oaks Industrial Park)
"I've learned a lot about myself and the value of having a job," she said in an interview. "I've also learned how much I love working with others and being able to help other people in similar situations to mine."
Morrison is now enrolled in a college program studying business at the University of Phoenix while working at Goodwill. She said she hopes to have an associate's degree by this summer and her bachelor's degree next year.
Goodwill no longer tries to repair or restore used goods and clothing, but workers now try to process, reshelve and resell what is donated as quickly as possible, according to Goodwill Chief Operating Officer Jim Stailey.
The proceeds from the sales of such items fund the vast majority of the local Goodwll's $20 million-plus annual budget. The stores and support efforts by Goodwill give many of the 350 employees now working at Goodwill a chance they wouldn't otherwise have while giving consumers a lower-cost option for many slightly used clothes and household items.
Growing market
Goodwill is perhaps the best-known reseller of used goods in a market that continues to grow. The online resale marketplace ThredUp's 2022 resale report projects the secondhand market in the United States will more than double by 2026, exceeding $82 billion. As the price of new items gets higher and awareness of environmental effects increases, ThredUp said more consumers are stocking their closets with secondhand items.
In addition to workforce experiences and development training, Goodwill Chair Matthew Williams said the agency also helps participants prepare a resume and get the job, as well as be successful through ongoing coaching.
Last year, Goodwill opened a Job Connection center at its rebuilt store in East Brainerd. The center is available free for anyone to come in and access local job boards, use the computers and freshen up their resume and get help with interviewing skills.
"We offer a lot of what people need to find and get a job now, but our hope and intent is to expand that and have our team members there to help do the intake for anybody who needs services and support," Weldon said.
Such job assistance is also available now at Goodwill's Opportunity Campus where Goodwill is building out even more facilities to broaden job placement services and training. Last year, Chattanooga's Goodwill moved its home office from its previous headquarters on Dodds Avenue to a 77,000-square-foot space in the Bonny Oaks Industrial Park. Weldon said it should better serve those in need of job training programs.
Chattanooga Goodwill Industries bought the building in 2021 for nearly $4.2 million after Lifetouch closed the facility, which was built in 1990.
"This new Opportunity Campus gives us more space to meet people where they are and deliver on our mission. You will see us deepening our partnerships with like-minded community organizations and agencies, offering more opportunities to help people achieve success and expand upon our area of expertise," Weldon said in a news release.
Holistic approach
Todd said the training facilities at the Opportunity Center can provide the space to allow other agencies and services in the Chattanooga area to do their workforce development as well.
"We don't want to duplicate the work that is going on already, but we're looking to see what are the needs in our community that Goodwill can help provide," Todd said. "I think Goodwill is unique in that we can be that front line of meeting people where they are and helping them to connect them with what they need."
Goodwill works with a variety of other social service agencies and government assistance programs, but Weldon said she thinks Goodwill is different "because we try to take a holistic approach and look at all of the person's needs to try to address all of what they need and to not lose track of that person."
The Chattanooga Goodwill operates independently with its own board and is one of 155 local member agencies affiliated with Goodwill International, including five in Tennessee. Chattanooga Goodwill is accredited by the Commission on Accreditation of Rehabilitation Facilities and is a United Way of Greater Chattanooga agency.
FIND OUT MORE
Information about the Goodwill of Greater Chattanooga, donating and buying used goods and the location of its 17 stores is available at goodwillchatt.org or by calling 423-629-2501.
Contact Dave Flessner at dflessner@timesfreepress.com or 423-757-6340.