Brian Winton says he has always enjoyed working on remodeling projects and DIY home improvements around his house and for his friends.
As he was preparing to retire from FedEx five years ago, the Air Force veteran and long-time handyman saw first hand the need for such home maintenance and repairs when his mother broke her hip and needed to make some changes at her 2-story house. While searching for ways to get some help for his mom, he discovered TruBlue HouseCare, which bills itself as "your total house care manager" with "one call to one company."
Eager to start his own business, Winton seized on the business concept and bought the franchise for TruBlue HouseCare in Chattanooga in 2018. Winton, who is one of more than 80 such franchisees of the national brand, has grown the business into a family affair by bringing all three of his daughters into the business.
"It's great to be able to see and work with my daughters and my plan is to grow the business for them to run someday," Winton said in an interview at the company's office in the Mount Vernon Center on Hixson Pike.
Amber Ferguson heads the home and office cleaning and maid services; Sidney Alexander runs the company's Hixson office operations, handling bookkeeping, payroll, invoicing and marketing, and Peyton Winton, who is still a student studying business at Bryan College in Dayton, is working this summer handling a variety of tasks.
While many fathers will see their family during Father's Day on Sunday, Winton says he enjoys seeing his daughters — "and even better sometimes even my grand kids" — at the office when he goes to work each day.
Amber Ferguson joined the company in 2020 after previously working at an engineering firm and took on the role of leading the home cleaning and maid business that Winton added to the TruCare offering in 2020.
Photo Gallery
TruBlue House Care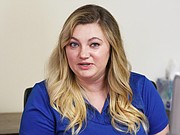 TruBlue in Chattanooga now does cleaning and maid services for about 200 properties every month, Ferguson said.
"We do a lot of long-term and vacation rentals," she said. "It's great to see the business grow and to be able to see my sisters and father a lot more."
By offering a range of repair and cleaning services, TruBlue distinguishes itself from most other contracting businesses specializing in either remodeling and repairs or cleaning and maintenance.
The company's motto — "One call. One company." — reflects its appeal to many landlords, seniors, storm victims or others needing both repairs and cleanup for their homes or businesses — either as a one-time event or an ongoing business. TruBlue in Chattanooga works with a variety of customers, including many real estate companies, restoration contractors and seniors needing repairs or cleaning.
"We truly do want to help people," Winton said.
Beyond the family members, Winton has about a half dozen workers and he says he wants to continue to grow the business over time and create opportunities for the next generation of his family.
To help handle that growth, Alexander joined the company in September 2021 as the office manager after previously working at BlueCross BlueShield of Tennessee.
"This was a new challenge and the business needed someone so I decided to take on the challenge," she said.
Peyton Winton is the youngest in the family and is currently studying business while on the volleyball team at Bryan. She is a type of apprentice worker, according to her father, but he hopes she stays with the business.
Ultimately, the 54-year-old Winton hopes his daughters will take over the company.
But as the current boss of the business he started, Winton jokingly refers to a famous quote from Willie Robertson at another family business, "Duck Dynasty," who claimed on the popular TV show "You can't fire your family when they screw up."
"Well, I'm not Willie," Winton quipped.
But the business and family relationship seems to be working out fine, both father Brian and his daughters all say.
"We definitely love hat we are doing and we all have different personalities and skills that probably helps the business grow," Alexander said.
Contact Dave Flessner at dflessner@timesfreepress.com or 423-757-6340.