When the COVID-19 pandemic shut down meetings, conventions and most travel in 2020, Chattanooga hotels took an unprecedented hit, with revenues plunging by nearly a third.
Rosh Amin says it "may have been crazy" to start building three new hotels in Hamilton County during that time. But as we come out of the pandemic, and the new inns open, the head of the Dynamic Group hotel chain says he is hopeful for the new properties, as well as a couple of others he plans to build this year in Cleveland, Tennessee and Tampa, Florida.
"The pandemic intimidated us, but we didn't lose confidence," Amin says while touring the new Towne Places hotel in East Ridge, just off of Interstate 75 at Frawley Road.
Amin's company has invested nearly $50 million to add new hotels in East Ridge, East Brainerd and Hixson that collectively have 309 hotel rooms. The new hotels are in addition to a half dozen other hotels now being planned or built across metro Chattanooga.
If all of the proposed projects are actually built, more than 1,000 additional hotel rooms could be added to the market in the next year, generated from more than $300 million in new hotel development.
"We've obviously never experienced such an immediate downturn as we saw during the pandemic, but Chattanooga is well positioned to attract visitors again and we have the type of outdoor and urban experiences and events to fill a lot of hotel rooms," says Barry White, president of the Chattanooga Tourism Co.
According to the Chattanooga Tourism Co., Chattanooga now has 138 hotels with a total of 11,750 hotel rooms. After a 32.5% drop in hotel revenues in 2020, Chattanooga's hoteliers enjoyed a 57.7% jump in revenues in 2021 and another 11.1% increase in business last year, according to STR, a global data and analytics company that tracks hotel revenues. In 2022, most of the revenue gain came from higher room rates, which rose 10.4% last year to an average of $112.17 per night by the end of the year.
The higher rates reflect higher costs for food, supplies and especially labor, which a study by Hotel Management last year calculated jumped for a typical full-service hotel by 26.8% due to higher wages, turnover costs and overtime.
Chattanooga's rebound in hotel revenues has been a bit stronger than most markets even after the pandemic slowdown was less dramatic for hotels in this region compared with most of the country. In April 2020, an F3 tornado temporarily displaced many homeowners and apartment dwellers in the East Brainerd area, filling many rooms during what would have otherwise been the worst time for the pandemic.
As an outdoor-oriented destination with an estimated 84% of hotel rooms filled with leisure travelers rather than business and conventioneers, Chattanooga also wasn't hit as hard as many cities dependent upon major conventions.
"We're a drive-to market, not as dependent upon air travel, and Chattanooga has historically done much better than most markets during downturns in travel," says Mitch Patel, the founder and CEO of Vision Hospitality, Chattanooga's biggest hotel company.
With 42 hotels in nine states, Patel says he has a good outlook on the travel and lodging business across the country. The veteran hotelier is most hopeful about business in his hometown of Chattanooga where his company has erected a dozen hotels in Hamilton County over the past 25 years and is beginning work on two more.
"We continue to fare better than most markets in Chattanooga," Patel says. "It may take some time to absorb some of the extra supply coming on the market with these new properties coming on the market here. But I'm optimistic about 2023 and beyond, especially for the long term in Chattanooga."
Photo Gallery
Chattanooga hotels rebound from pandemic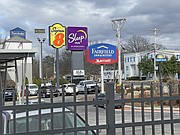 Hotels under development
Developers are planning, building or preparing to soon open more than 1,000 additional hotel rooms in the Chattanooga area. Among the projects on the drawing board or under construction are:
* a 245-room lodge, conference center, and spa at McLemore Cove along the eastern edge of Lookout Mountain. The lodge will be a Curio Collection Hotel by Hilton and is being financed with $188 million bond issue
* a $33 million hotel with 188 rooms at 1201 Carter Street under both the Home2 Suites and Tru by Hilton brands
* a $30 million Caption by Hyatt at 105 W. Main Street with a five-level, 123-room hotel developed by the 3H Group
* a $10 million expansion at the Chattanooga Choo Choo with 27 more hotel rooms and the renovation of 25 Pullman cars
* a $40 million Tapestry Collection by Hilton, including 140 hotel rooms in the vacant Chattanooga Bank building at Market and Eighth streets downtown
* a 123-unit La Quinta Inn & Suites hotel along with a two-level parking garage at Cowart and 13th streets downtown
* a 101-room Home2 Suites by Hilton in East Ridge on Camp Jordan Parkway
* a 90-room Towne Places hotel on Highway 153 in Hixson
Source: Chattanooga Tourism Co.
Hotel revenues rebound in Chattanooga
* 2019 - $251.5 million
* 2020 - $169.8 million
* 2021 - $267.8 million
* 2022 - $297.5 million
Source: STR
Convening in Chattanooga
The 10 largest conferences coming to Chattanooga in 2023 include:
* The Religious Conference Management Association - Jan. 24-27
* Tennessee Distributive Education Clubs of America - March 7-11
* Tennessee Future Business Leaders of America State Conference - April 2-5
* Tennessee SkillsUSA Annual Convention - April 15-19
* Baker Marketing Conference - July 13-16
* Tennessee Tow Truck Show - Sept. 26-Oct. 1
* Chattanooga Motorcar Festival - Oct. 13-14
* FreightWaves F3 Conference - Nov. 5-10
* Tennessee Baptist Convention - Nov. 12-15
* Indoor Climbing Expo - December 13-16
The largest sports events coming to Chattanooga in 2023 include:
* Erlanger Chattanooga Marathon Race Weekend - March 3-5
* Battleground Explosion Volleyball Tournament - March 18-19
* IRONMAN 70.3 Chattanooga Triathlon - May 21
* NCAA DII Softball Championships - May 25-31
* Scenic City Summer Showcase - June 22-25
* Sporting Events Association of America World Series - July 17-23
* IRONMAN Chattanooga Triathlon - Sept. 24
* Outboard Drag Boat Association World Championships - September 29 – October 1
* Head of the Hooch - Nov. 3-4
* NCAA DII Men's & Women's Soccer Championships - Dec. 7 & 9
Source: Tennessee Tourism Co.
READ MORE
* How Chattanooga's 21st Century Waterfront plan two decades ago helped unite downtown attractions with the riverfront
* Chattanooga-area legacy attractions offer experiences that high-tech entertainment cannot
* Chattanooga's eclectic mix of boutique hotels offer personalized accommodations in Scenic City style