Brainerd is back in the boys' state basketball tournament thanks to a backcourt that refused to back down.
After holding a precarious one-point halftime lead, the Panthers guard tandem of Boo Carter and Dennis Lewis Jr. took matters into their own hands in the third quarter, helping their team take command by as much as 15 before holding off a late rally to beat Gatlinburg-Pittman 71-66 in a Class 2A sectional at High-Jackson Gym Monday night.
"Boo and Dennis, man, that's a different monster back there for us," Brainerd coach Levar Brown said. "Those two kids are something else.
"All week at practice we talked about speeding the game up. We knew their guards were tough because they came in here and took us to overtime last year. Our guys accepted the challenge. Dennis didn't shoot the ball very well in the first half, but he was getting the looks he wanted. In the second half those looks were falling and he made some timely threes."
Winners of nine straight this season and 14 of their last 15 games, the Panthers (22-8) return to the state tournament for the second year in a row and third time in five years. Brainerd will play next Thursday at Middle Tennessee State University's Murphy Center against an opponent to be determined during this weekend's TSSAA bracket drawing.
Lewis scored 16 of his 19 points in the second half, combining with Carter to account for all but six of Brainerd's 22 points in the critical third quarter. Carter also finished with 19, including a pair of steals in the third that led to three-point plays during a 20-10 run during that period.
"I know my role on this team is to lead by scoring the ball," said Lewis, who connected on five 3-pointers. "I know I didn't have a very good first half so I had to turn it up in the second. I know when my shot is about to start falling. I get a feeling and I just knew in that second half that I was getting hot.
"We were doubted a lot this season so it feels good to know that our hard work is paying off, but we're definitely not finished."
The Panthers hit a cold streak, both from the free throw line -- missing their last four attempts -- and from the field, where Quintus Broadnax's layup with 44 seconds remaining was the first made field goal in more than three minutes of the fourth. That opened the door for the Highlanders (21-10) to make a late rally, cutting the deficit to five, with possession and a chance to pull closer.
Photo Gallery
Brainerd vs. Gatlinburg-Pittman on March 6, 2023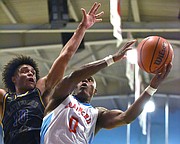 But a missed 3-pointer by Ty Glasper, who had connected on five treys and led all scorers with 27 points, allowed Brainerd to burn much of the final minute off the clock.
"Throughout the whole season we've preached the third quarter, just how important it is for us to win big games," said Panthers senior post Donivon Thomas, who finished with 12 points. "We've been able to take off in that quarter and build a little cushion and that was huge tonight.
"Boo and Dennis are our energy. Without them we wouldn't be where we are. The way they play, they make me want to step up my game on defense because I know if we can get stops, they're going to score."
Last season, after beating Gatlinburg-Pittman in overtime to reach the state tournament, Brainerd lost in the quarterfinals by one. Thomas and Lewis each emphasized after Monday's game how the experience from that loss has carried the team throughout its postseason run to this point.
"The chemistry with this group is phenomenal," Brown said. "Everybody accepts their role and embraces it.
"We're definitely excited to be going back to state. These kids have been together since middle school. They came here saying they were going to win a couple of state titles but they haven't done it. Yet."
Contact Stephen Hargis at shargis@timesfreepress.com or 423-757-6293.