To unlock another skill in Addie Porter's game, University of Tennessee at Chattanooga women's basketball coach Shawn Poppie got mental.
With one college season already behind her when Poppie took over last spring — as a freshman, she appeared in all 30 of UTC's games and started 11 — Porter had already shown she was talented enough to play on a Division I court. But as a former point guard himself who is in the Limestone College Hall of Fame, Poppie knew more was going to be needed, especially as he scanned the UTC roster and recognized there was no other point guard on it.
This was about more than getting the ball upcourt, making good passes or even running the offense.
Poppie is big on team culture, and he knows a point guard can function as an important extension of the head coach to help instill the traits and values that make up that culture. The leadership potential is even greater for a point guard who could be around for three seasons, like Porter, as a new head coach, like Poppie, builds his program.
Only problem was, Porter wasn't sure about stepping into the leadership role. She's a sophomore, right? There are seniors for that. But Poppie insisted that Porter be one of the leaders — if not the main leader — for the Mocs on the court.
"I think 90% of our conversations are about leadership and how to believe and how do you get this group to be better," Poppie said. "The other 10% is her individually, and she always looks at me a little crazy, like, 'Can we talk more about me, me, me in the sense of skill stuff?' — and that stuff takes care of itself because she's a warrior and she's led us, and then her skill set has followed."
Photo Gallery
UTC point guard Addie Porter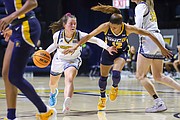 Porter has played 1,230 of a possible 1,295 minutes this season for the Mocs (20-12), who will make their first NCAA tournament appearance since 2017 when they face a No. 1 seed, Virginia Tech (27-4), at 5:30 p.m. Friday at Cassell Coliseum in Blacksburg, Virginia. Most of her per-game averages (8.0 points, 2.8 assists) aren't eye-popping, although at 5-foot-4, her 6.8 rebounds — which ranked fifth in the Southern Conference — are impressive.
It's her presence that has made such a difference for the team.
"Coach Poppie, I would say our relationship has definitely grown since he first got here, but with him being a point guard, he expects a lot out of me," Porter said. "He knows kind of what I go through, he went through the same thing, so I think it's also great that he was a point guard so he can help me even more, knowing why I'm going through the situations I'm in. So just learning and growing from him is something that I try to do every day.
"I would say it's less about the skill set of it, but more about the leadership of it. That's something that he's really put into my mind, something that I need to do for this team. Not necessarily the X's and O's of getting the ball here and there, but more, 'How do I lead this team? How do I make sure we're on the right path to success?'"
For much of the season, UTC being back in the NCAA tournament looked like it was a year away from being a year away. The momentum of a big win was usually followed by a crushing defeat. Even entering the SoCon tournament, the Mocs had lost two of their final three games.
But they'll be part of it all Friday, one of the final 64 teams remaining, having given themselves a chance.
And a lot of that stems from the relationship of their current point guard and a former point guard.
"I would say it's been easier knowing that he has that confidence in me," Porter said. "He's kind of made it a point to make everybody look at me, too, so I think that's helped and been huge, knowing that he's got my back and I've got his."
Added Poppie: "It's nice, because that's what I've been selling and it's held true, which allows her to buy in a little bit more and a little bit more. But we are where we are, in my opinion, because of her."
Contact Gene Henley at ghenley@timesfreepress.com.