Despite the addition of smarter safety features on new vehicles, more than 46,000 Americans died in traffic accidents in each of the past two years, or nearly 22% more than the pre-pandemic year in 2019, according to new estimates released by the National Safety Council.
Laura Chace, head of the Intelligent Transportation Society of America, said Tuesday those traffic death tolls were "unacceptable and preventable" if better data and technology had been deployed on the country's roads and highways.
In a visit to Chattanooga to review local mobility initiatives and studies, Chace told local transportation planners in an event Tuesday at the Edney Innovation Center that Smart City initiatives like what the University of Tennessee at Chattanooga has launched should help develop better and safer transportation in the future.
"We believe we can not only save lives but improve the quality of lives if we include new technologies in a way that supports each community," Chace said.
The National Safety Council's findings were released last week.
Photo Gallery
Building smarter cities for transportation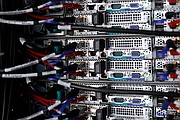 Chace, the president and CEO of the Intelligent Transportation Society of America, which has been promoting transportation technologies for three decades, said new technologies must go beyond the safety features in each vehicle and be deployed more broadly to better plan, adapt and respond to changing traffic and travel demands and options.
Chace said Chattanooga has emerged as a national leader with its Smart Corridor research of both vehicular and pedestrian traffic along M.L. King Boulevard.
The Center for Urban Informatics at the University of Tennessee at Chattanooga has put up cameras, sensors and weather and sounder detectors along a stretch of M.L. King Boulevard to gather data and study traffic patterns in the downtown area to develop better ways of timing traffic lights, moving people and cars quicker, and avoiding traffic accidents, where possible.
The Smart City "test bed" along M.L. King Boulevard watches and notes everything that happens, from cars passing through intersections to pedestrian and cyclist patterns. The road is a rich source of data and a good model for future Smart City work, Mina Sartipi, head of the Center for Urban Informatics and Progress at UTC, said in an interview at Tuesday's event.
Chattanooga's Smart City research on traffic patterns will be expanded over the next year to include 100 intersections in and around the downtown area, and the data collected from such research is also being made available for traffic and transportation researchers around the country, Sartipi said.
Chace said the United States "is really in this unique moment" with record levels of funding from the bipartisan infrastructure law. She urged that states and localities use some of their extra transportation funding for digital services, not just physical investments.
"The last 50 years were really filled with a lot of investments in concrete and steel, and we really believe that the next 50 years need to be filled with technology and physical infrastructure," Chace said. "The next 50 years are going to be built with code and algorithms. That should be powering decisions for transportation. We need to be marrying the physical and the digital investments together."
The infrastructure spending package and American Rescue Plan allocated $150 million a year over the next five years for technology, broadband and data connections for building and operating better traffic systems and moving goods and people more efficiently. That is still only a fraction of the $550 billion the new measures provide over fiscal years 2022 through 2026 in roads, bridges, mass transit and water infrastructure.
Chace said the focus by car manufacturers to produce battery-powered vehicles rather than traditional gas-powered cars and trucks should help decarbonize the transportation sector to help with global climate change. But Chace said more needs to be done to also boost shared ridership, more efficient traffic flow and even aerial drone delivery of products to limit growing traffic congestion in many cities.
"We absolutely support the move to electrification, but EV congestion is still congestion," she said. "We need to look for ways to incentivize other modes of transportation and to promote not only personal mobility but shared mobility as well."
Contact Dave Flessner at dflessner@timesfreepress.com or 423-757-6340.