At a status hearing Wednesday, an attorney for Angel Bumpass — the Chattanooga woman convicted in a murder committed when she was 13 — said talks with the prosecution have begun in efforts to resolve the case.
Bumpass was found guilty of first-degree premeditated murder at age 24, almost 10 years after the slaying of Franklin Bonner. She was sentenced to life in prison with the possibility of parole at 84.
Former Hamilton County Criminal Court Judge Tom Greenholtz, who presided over Bumpass' original trial, granted her a new trial a few weeks before his appointment to the Tennessee Criminal Court of Appeals last year.
If the case goes to another trial, and the trial results in an acquittal, it will automatically exonerate Bumpass of all charges, according to her attorney, William Massey.
Massey however, is trying to come to a resolution for his client without going to trial. Massey alluded to the possibility of a lesser charge that would result in time served, or a deal in which Bumpass would walk away with a clean record.
Photo Gallery
Angel Bumpass status hearing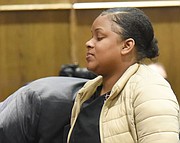 Hamilton County District Attorney General Coty Wamp, who has been working on the case with chief homicide prosector Michael Dowd, appeared in the courtroom Wednesday. She later declined to comment.
"The state won't comment on pending criminal prosecution in this case," Wamp told the Chattanooga Times Free Press via text Wednesday.
The Memphis-based attorney told the Chattanooga Times Free Press he intends to request testing of fingerprints not tested for the original trial.
Bonner, 68, was found by his wife lying on the floor duct taped to a kitchen table and chair. Bonner had duct tape around his hands, feet, arms, head, nose and mouth. A Hamilton County medical examiner later determined Bonner died of suffocation and ruled his death a homicide.
The case had gone cold for almost 10 years before his family approached former Hamilton County District Attorney General Neal Pinkston and asked him to revisit the case in 2018.
Bumpass, who had been arrested on a no-show on a speeding ticket, was a match to two of the fingerprints found on the tape to restrain Bonner and was charged with first-degree murder.
Her co-defendant, Mallory Vaughn, was acquitted of all charges after prosecutors did not present physical evidence that placed Vaughn at Bonner's residence.
After being granted a new trial, Bumpass was released on bond in November.
"I think this is the first court date where Angel has appeared since I've been representing her as a free person. So that was good in that regard," Massey said. "The other fingerprints are going to be looked at, too. They were looked at before, and some of them I believe came back to relatives of the deceased, and others were just not identified either, because there was no one in the system. So we're going to have them run those prints back through the system."
Since her November release on bond, Massey said she's holding strong.
"She's been in jail for three years," Massey said. "That's not easy, but she's a strong girl, and she's doing good."
(READ MORE: Chattanooga businessman posts bond for Angel Bumpass during Thursday hearing)
Bumpass has since been active on several social media platforms such as Facebook and TikTok, where she often updates supporters and followers on her case.
The case has gained international attention and has been the subject to two episodes of the A&E Network's crime docu-series "Accused: Guilty or Innocent?"
Contact La Shawn Pagán at lpagan@timesfreepress.com or 423-757-6476.