For Julie and Dave Harp, it was the sweeping views of the Tennessee River that sealed the deal.
"We were sold immediately," says Julie. "We loved it."
In 2017, the Harps decided Tennessee was the place to be, and began building their "forever home" in Jasper Highlands — a high-end mountaintop retirement community in Kimball overlooking the Tennessee River and Nickajack Lake.
The couple discovered the budding community years before that, while attending a trade show back in Chicago. They noticed a line of people buzzing in and out of another room and decided to investigate.
They discovered a show put on by Ideal Living Magazine, offering promotional materials for retirement communities throughout the country. Ideal Living partners with RetireTN, a state program designed to attract new retirees to senior communities across the Volunteer State.
It was at that show that the Harps picked up promotional material on Jasper Highlands. From that day forward, they kept their eyes on the new community and did their research on the developers, Thunder Enterprises. Years later, when their son-in-law was transferred to a job in Nashville, the decision to relocate to Tennessee was easy.
At the time they began building, there were fewer than 40 homes atop Jasper Mountain. Today, there are more than 200 homes, with another 100 under construction, with residents from all 50 states and nine foreign countries.
"There's just so much to do in the community," Julie says of the mountaintop village. "There's a lot of camaraderie. Everybody's come from somewhere else."
Then there was Tennessee itself.
"It was a combination," she recalls. "There was the lower cost of living. Property taxes are significantly lower than Chicago; being closer to family; significantly better climate; and it's prettier here than in Chicago. Put all that together and that's what drove us here."
The Harps are among a growing number of retirees relocating to Tennessee. Amid the pandemic in 2021, the state emerged as the top destination state for Americans retiring outside their home state, according to the Census Bureau.
Although Florida regained its title in 2022 as the top destination for retirees, the Chattanooga area continues to draw more residents to senior living communities, ranging from gated, mountaintop developments like Jasper Highlands or a growing number of independent and assisted-living senior housing complexes.
Tennessee appeal
Ask John "Thunder" Thornton, CEO of Thornton Enterprises, what it is about Tennessee that keeps attracting retirees to the state and he's got his answers ready: a mild climate, low cost of living, no state income tax, no toll roads, a state with a strong financial rating, and the elimination of the former Hall tax on interest and dividends.
"It's just wonderful," he says. "I can live anywhere in the world I want to live. I've lived in Hawaii and Jackson Hole; and I've been going out to Wyoming for 42 years now. But this is the greatest state in the country."
Thornton, along with company president Dane Bradshaw, first began work on Jasper Highlands more than decade ago in 2012. The community now has more than 26 miles of roads with multiple pools, hiking and biking trails, tennis and pickleball courts, a wellness center, two restaurants and a pavilion overlooking the river.
To date, nearly all of the 1,300 lots have been sold, with about 50 still available — spurring Thunder Enterprises to launch an even bigger mountaintop resort community atop nearby Aetna Mountain, known as River Gorge Ranch.
Lots at both locations range from $135,000 to $600,00 for about 1.5 acres. Together, the two communities are projected to bring more than $2 billion of housing investment in the biggest new residential development ever in Southeast Tennessee.
Lot sales for River Gorge Ranch began in May 2022. Since then, Thornton and Bradshaw say more than 250 lots have already been sold.
"From a trend standpoint, it used to be that you always had to have golf courses and build around the course," says Bradshaw. "Now, the trend over the years has become this nature-oriented community. People just like to enjoy the outdoor environment up there."
Thornton and Bradshaw say they were ready for the demand created during the pandemic. They "tripled down" on advertising, not knowing how long COVID would last.
What they did know was that people were stuck in front of their computers, with plenty of time to dream about retiring. Plus, with remote work growing in popularity, people had more freedom to move and explore without giving up their paychecks.
They say May of 2020 is when the market "broke loose."
"With the COVID lockdown, there was already an appreciation for rural, spacious living — but that appreciation went through the roof," says Bradshaw. "People just wanted to have their own space and start planning retirement and getting out of big cities."
Business is booming
Every day, more than 10,000 Americans turn 65 years old, helping to swell the number of seniors in America to new record highs. Census data predicts that by 2030, in a historical first, the United States will have more people over the age of 65 than children under 18.
By 2030, all baby boomers will be older than age 65. This will expand the size of the older population so that one in every five residents will be at retirement age.
"The aging of baby boomers means that within just a couple decades, older people are projected to outnumber children for the first time in U.S. history," says Jonathan Vespa, a demographer with the U.S. Census Bureau.
By 2034, the Census Bureau estimates there will be 77 million people 65 years and older compared to 76.5 million under the age of 18.
While Jasper Highlands and River Gorge are two high-end options for retirees (the communities aren't age-restricted, but tend to be ages 55 and up), several luxury independent living communities for seniors have been built in the Chattanooga region within the last five to 10 years.
These modern living quarters have created a new business model for the senior experience. Many operate and feel more like a resort rather than senior living — designed with an all-inclusive price tag that simplifies daily chores like cooking, cleaning and transportation, and offer community support and activities. Seniors can continue to live an active lifestyle, without the worry.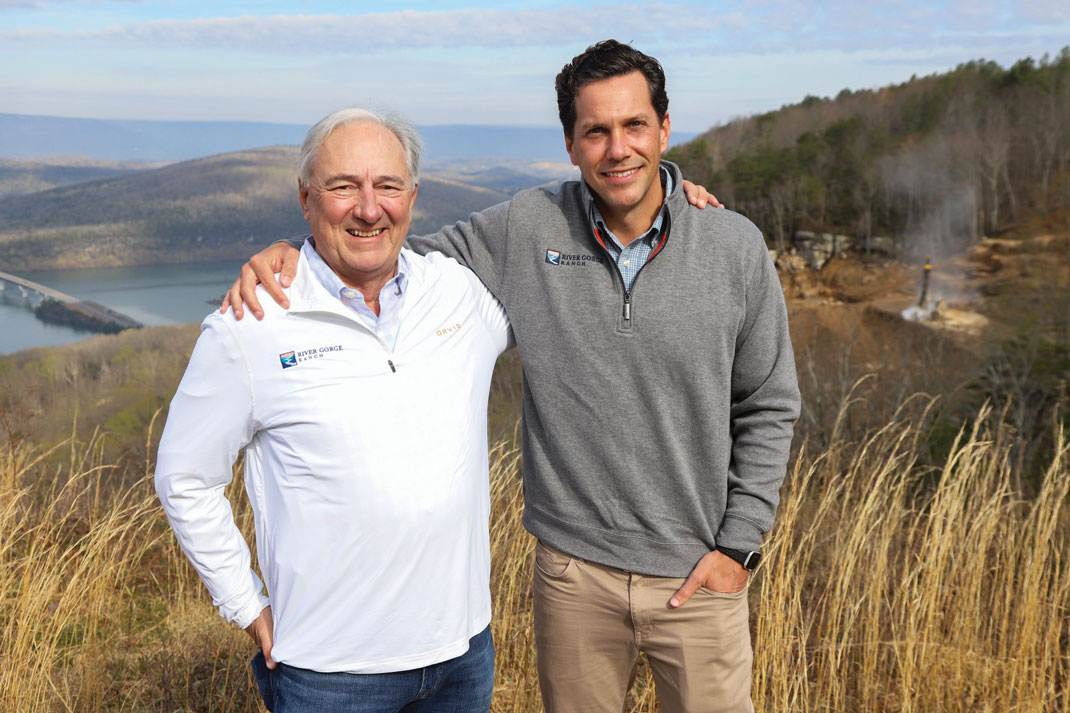 Photography by Olivia Ross / John "Thunder" Thornton and Dane Bradshaw tour the River Gorge property.
Senior living, modern style
Everlan of Hixson is one of several resort-style living options for seniors in the Chattanooga area. Similar to the Harps, Juanita Jezek knew she had found her new home the moment she walked through the front door.
Jezek moved to Chattanooga from Oklahoma after losing her husband of 66 years. Her family agreed it was time for her to come live close by.
Before Everlan, Jezek lived in an apartment on Chattanooga's Northshore, but the situation wasn't quite right, she recalls. Most of the tenants were much younger, and she felt as if there was nothing for her to do. But when she walked in the front doors at Everlan — it felt right.
"Everything was so light and airy and fresh and new," she remembers. "I thought 'This can be home.'"
Plus, she says, there's lots to do. She does all the exercise classes, takes tap dancing, will soon give Zumba a try, plays cards and enjoys her monthly book club. But the thing she likes best is the sense of community.
"Neighbors come by to say hello, or go to dinner," she says. "It's the people that make it really great."
Everlan resident John Wilson agrees. Before Everlan, he had started to suffer from loneliness. But the sense of community has helped relieve some of that.
Wilson moved back to Chattanooga from Tuscaloosa, Alabama after the birth of his first grandchild. Before moving to Everlan, he owned a townhome in East Ridge. But when, after major back surgery, he fell at home, laying on the floor for hours until help arrived — Wilson took the initiative to find a place that offered support.
Like the others, he too knew immediately when he walked in — this was the place. From the beginning, people spoke to him and made him feel welcome.
In his earlier years, he had served as the minister of music at his church, which always brought him joy. And the myriad activities and new friends at Everlan have helped provide a new sense of connection.
"This has kind of become my church," says Wilson. "It's the fellowship — I was pretty hungry for that. ... We love and take care of each other here."
Carol Fincher, executive director at Red Stone Estates, another independent living community in the Chattanooga area, says prospective tenants often don't feel old enough to live in a senior community. But once they walk through the front door, they begin to feel more accepting of the idea. Almost instantly, they can see how community living offers support and relief.
Fincher says her oldest tenant right now is 98 years old; and she has about eight residents who are in their 50s, the youngest of whom is 54 years old. Many are still working — some remotely, and some still going to offices. But they've decided home maintenance and daily chores have become too much.
Like many of the luxury senior apartments, Red Stone offers a variety of amenities — restaurant-style dining, housekeeping, transportation and roll-in shower options wide enough for wheelchair use.
"Independent living wasn't 'a thing' when we were growing up," says Fincher, a baby boomer herself. "People have a preconceived notion of what a retirement community is going to be.
"Most people would never expect for it to be so light and bright and open and clean."
Everlan of Hixson
Hixson
Restaurant-style dining; outdoor dining and fire table; housekeeping and maintenance; activity and wellness programming; transportation services; exercise room; salon; movie theater; putting green; pickle ball court; billiards; dog park; outdoor dining and fire table; herb garden
* Price range: Studio to 2BR / $2,810 to $4,800 monthly
Ashwood Square Retirement Community
Chattanooga
Restaurant-style dining; outdoor dining and fire table; housekeeping and maintenance; activity and wellness programming; transportation and valet parking; movie theater; computer center; salon; in-house pharmacy; library; no fee for pets; 24-hour fitness center
* Price range: Studio to 3BR / $3,518 to $5,769 monthly
Garden Plaza at Greenbrier Cove
Ooltewah
Restaurant-style dining; outdoor dining; housekeeping and maintenance; activity and wellness programming; transportation services and garage parking; fitness center; laundry services; billiards room; heated saltwater pool and hot tub; putting green and bocce ball court
* Price range: Studio to 2BR / $2,900 to $5,300 monthly
Red Stone Estates
Chattanooga
Restaurant-style dining; outdoor dining with fire table; housekeeping and maintenance; social activities and wellness programming; transportation services; salon; washer/dryer in all rooms; induction heat stoves; wheelchair accessible showers
* Price range: $1,495 (studio w/o services); Studio to 2BR / $1,995 to $3,595 monthly
READ MORE
* Chattanooga investment advisor says women face four main financial challenges as they look toward retirement
* Knowing the right questions to ask can save time and money when choosing a financial planner. Here are 5 tips to get started.
* Chattanooga money experts weigh in on the baby boomer retirement wave and share advice on reaching 'the golden years' in financial comfort