The Tennessee Volunteers will be hard-pressed to match last season's averages of 525.5 yards and 46.1 points that led all of college football, and it has nothing to do with the departures of Hendon Hooker, Jalin Hyatt, Cedric Tillman and Darnell Wright.
It has everything to do with fewer plays.
The NCAA announced April 21 that clocks will no longer stop following first downs except for the final two minutes of each half, which will apply at the Bowl Subdivision, Championship Subdivision and Division II levels. Sports Illustrated reported that the average FBS game last season contained 180 plays compared to 155 in NFL contests and that a running clock after first downs would peel off seven to nine plays.
"It's not going to change how the game is played for any offense or any style," Tennessee coach Josh Heupel said late Monday afternoon before his appearance at the Big Orange Caravan inside the Chattanooga Convention Center. "It shortens the game, so we'll see what type of changes it actually has on the number of possessions and that type of thing."
The Vols ran 945 plays during their 11-2 season that culminated with a 31-14 downing of Clemson in the Orange Bowl. Tennessee averaged 7.23 yards per play, which ranked second to Ohio State, but its total plays ranked 32nd in the country and 16th among teams that played 13 games.
South Carolina coach Shane Beamer, who was at the Convention Center last Tuesday as the featured speaker at the Friends of Scouting Luncheon, is taking somewhat of a wait-and-see approach as well. The Gamecocks ranked 84th nationally last season with 832 offensive plays.
"I don't think it's going to be too radical," Beamer said. "Most coaches pay attention to the clock, but you don't really get into the clock until the last couple of minutes of each half, which will not be affected. There have been studies, and the longest football games are the ones with the most incomplete passes and the most instant-replay reviews. You can't tell people to stop throwing the football, but it will be different.
Photo Gallery
Big Orange Caravan event in Chattanooga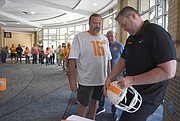 "We have the ability to go fast, but we'll also slow it down quite a bit. We're typically not running 90 plays a game. We're built differently from some other teams. It will be an adjustment for everyone, and we'll have to see how it all transpires for all of us."
Regardless of how much shorter each game takes or feels later this year, Heupel stressed that the objective will be identical.
"We want to score every time we've got the ball," Heupel said. "The number that we pay the most attention to is the record. At the end of the day, we've got to get to Atlanta and continue to grow as a program."
Miller in portal
Vols redshirt freshman safety Cameron Miller entered the NCAA transfer portal before Sunday's closing of the 15-day spring window.
Miller, a 6-foot-1, 206-pounder from Memphis, was Tennessee's highest-rated signee from within the state in the 2022 class. He was moved to the secondary before the start of last season and only saw action in the 63-6 decimation of Akron, but in last month's Orange & White game, Miller turned in a productive performance with six tackles, a sack and the game's lone interception.
Redshirt sophomore defensive end Amari McNeill entered the portal earlier in the spring window and recently committed to Colorado.
Odds and ends
Heupel on Hooker slipping into the third round: "Was he disappointed in that in some ways? Probably, but he's also extremely excited about going to Detroit. That's a team he spent a lot of time with." ... Two more Vols who were not drafted this past weekend have agreed to free-agent contracts, with punter Paxton Brooks signing with Indianapolis and defensive end LaTrell Bumphus with the New York Giants. ... Heupel on the lingering debate that is the SEC's eight- or nine-game league schedule moving forward: "I think it's important that you keep traditional rivalries and that you get a chance to play the games that mean a bunch to your fan base and to guys inside your locker room."
Contact David Paschall at dpaschall@timesfreepress.com.