When Anatolie Prepelita began his professional soccer career at 16 years old, he was only 5-foot-8.
Nine years later at 6-4, he towers above many on the field, where he has imposed his strength and skill on opponents as part of the back line for the top defensive team in the National Independent Soccer Association.
Four games into the league schedule, the Chattanooga Football Club has not allowed a goal, and Prepelita's prowess at center back has been a big part of that shutout success.
"The whole team has put in the work to our great start," Prepelita said. "As a center back, you have to be strong and have every type of defense. The last moment (of an opponent's attack) is so important for the center back, because if he loses the striker, it is most likely a goal. Every time I have to be the best on the second floor, like in the air challenges.
"I train a lot because I have to be in good shape to fight every striker, no matter if they are bigger or smaller than me."
Photo Gallery
Chattanooga FC defender Anatolie Prepelita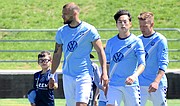 Prepelita was one of the best players in his home country of Moldova, playing for the national team from 2014-22 and gaining pro experience in the country's top league, and when Chattanooga FC signed him in the offseason, it addressed a major defensive need for the club, which lost 1-0 to the Michigan Stars in a physical NISA semifinal last October at Finley Stadium.
It also addressed a personal need for Prepelita, who — unlike most foreign players joining an American professional soccer club — did not have to obtain a work visa to join CFC due to Russia's invasion of Ukraine and the ongoing conflict in that country, which borders Moldova.
"This is a big catastrophe that is going on right now in Ukraine and Russia. A lot of people are losing their lives," Prepelita said. "I don't understand how the governments there don't see how your son or daughter could be staying at home and something bad can happen.
"We are neighbors of Ukraine, and the same thing could happen in our country. That's why I chose the opportunity to come to the United States, because it is safe here. My sister and brother-in-law have been here for a couple of years. I wanted to come here, too, with my family to show myself in soccer. I am confident in myself that I will show my best and only move forward."
Prepelita has succeeded in that regard so far as he and 6-foot-3 keeper Jean Antoine have worked cohesively with the rest of the back line to help lead the strong start for CFC, which has outscored NISA opponents 9-0 on the way to earning a league-best 10 points in the standings through a 3-0-1 start. CFC's next opportunity to add to its success comes at 3 p.m. Saturday, when the Savannah Clovers FC (1-2-1) visits Finley Stadium.
"Jean and I speak a lot," Prepelita said. "We have a very good relationship because that is important to working on the field together. I understand him not just with his words, but in the movement of our defense. When he sees me go up the field, he covers my back. When he has to go up to take a long ball, I will go in the back and cover for him in goal. He is a great keeper. We have had a great start that we are excited about."
Prepelita's assertiveness shows when he makes a great slide tackle or wins a challenge in the air. He also knows when he has to make a hard play to stop a high-percentage attack, even if it means drawing a yellow card.
He enjoyed a first in his pro soccer career this season when he scored off a header and assisted a Taylor Gray goal in CFC's 5-0 victory at Albion San Diego on April 16. He also made a penalty kick in a shootout loss to the USL Championship's Birmingham Legion FC in the third round of the U.S. Open Cup.
"Anatolie is a good soccer player," CFC coach Rod Underwood said. "He can play in all aspects of the game. That's how we look at all guys. Big or small. He is a learner and stays focused all the time. That is really important. He and Jean are doing a great job anchoring the back for us. We wanted to get better in the goal and on defense this year, and so far we have done that."
Prepelita is thankful to be surrounded by like-minded teammates and a strong community of soccer fans in the Scenic City.
"I like how we work every day to be better and better," Prepelita said. "To be here in Chattanooga and have a great club and fans means a lot to me. My family is from far away, and for them to come here for this game, for me and this city means everything to me. My family is proud of me. They give me power to go out there and show myself on the field."
Contact Patrick MacCoon at pmaccoon@timesfreepress.com.