After lagging behind the rest of the state for the better part of the past decade, the Chattanooga area is primed to become Tennessee's epicenter for college football prospects this fall.
The area produced eight Power Five signees in 2010, including seven with Southeastern Conference programs, but has not had more than five players sign with a Power Five team — one from the Atlantic Coast Conference, Big 12, Big Ten, Pac-12 or SEC — in any of the 12 signing classes since. The most impressive recent group came in 2020, when McCallie's Jay Hardy signed with Auburn, North Murray's Ladd McConkey with Georgia and Dalton's Jahmyr Gibbs with Georgia Tech.
Last February, only three area players signed with Football Bowl Subdivision programs, the upper tier of NCAA Division I, including two with Power Five teams.
But that relative dry spell for talent appears to be ending with an upcoming class that makes up half of the top 10 prospects in Tennessee, according to On3.com, which has Brainerd athlete Boo Carter listed as the state's No. 3 recruit overall, with McCallie receiver Marcellus Barnes at No. 5, followed by Baylor tight end Max LeBlanc (No. 6) and receiver Amari Jefferson (No. 7) and Bradley Central defensive back Marcus Goree Jr. (No. 8).
Four more area players are ranked among the state's top 30 prospects, according to On3, while the competing recruiting service Rivals.com has a total of 12 Chattanooga area players among its top 60, including Carter as the state's top overall recruit and four in its top 10.
"We've got at least three or four college coaches who stop by to visit us every single day," Brainerd coach Martels Carter said. "You'd be better off asking me to list who we haven't seen. Just in the last few weeks, I've had coaches from at least 20 Power Five programs and another 10 from smaller schools visit the school.
"Chattanooga has never seen anything like this. Ever."
Photo Gallery
Chattanooga area's top college football recruits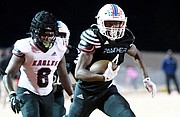 'A GREAT AREA'
Besides the five players listed among On3's top 10, every other major recruiting service also has McCallie defensive lineman Carson Gentle and Blue Tornado quarterback Jeremy St. Hilaire, Baylor quarterback Whit Muschamp and Red Raiders defensive back Joshua Hampton, Bradley Central defensive back Tito Williams and Bears quarterback Kaleb Martin and Red Bank defensive lineman Kobe Smith all ranked among the state's elite prospects.
Gentle and Goree are committed to the University of Tennessee, while Muschamp and St. Hilaire are committed to Vanderbilt, LeBlanc recently committed to Ohio State and Martin is committed to Miami (Ohio). The others on that list have not yet committed.
When he announced his commitment to UT in mid-February, Goree admitted he would begin helping recruit other area players to join him in Knoxville.
"For me it came down to Tennessee and Colorado," Goree said after committing to the Volunteers, adding that he was very impressed with new Colorado coach Deion Sanders.
"I wanted to play close to home so my family could come watch me play. Now I can start trying to recruit some more guys to join me."
North Georgia, which routinely produces some of the area's top prospects, has three players that will add more depth to the talent pool, led by Calhoun running back Caden Williams, who is listed as a three-star prospect by 247Sports.com and recently committed to Liberty University. Teammate Kristyane Gregory, a defensive lineman who's referred to as a "late bloomer" by Yellow Jackets coach Clay Stephenson, has experienced a rise in recruiting interest from Florida, Virginia Tech and Wake Forest, and Trion offensive lineman Ezra Adams is also gaining attention.
During the Big Orange Caravan's recent stop in the Scenic City, Vols football coach Josh Heupel was quick to acknowledge the unusually large amount of prep football talent in the Chattanooga area for the 2024 signing class.
"Chattanooga has had a long history of great players," said Heupel, who is entering his third season at UT. "You go all the way back to Reggie White, who's the best defensive lineman that ever played this game.
"This is a great area. It's been an area that's extremely important to Tennessee and our football team for a very long time. It's certainly important to myself and our staff. We've tried to recruit the entire state, but we've been very intentional in how we've recruited Chattanooga."
IT DOESN'T STOP
The surge in area talent is not just a one-year blip on the recruiting radar. The Chattanooga area also has five of the state's top 20 juniors, according to Rivals.com, including Baylor receiver/defensive back Cameron Sparks, who is rated Tennessee's No. 1 junior recruit.
Joining him as the highest-rated local recruits for the class of 2025 are Brainerd defensive back Martels Carter Jr., Red Bank athlete Daune Morris, Chattanooga Christian receiver A.J. Wallace and Bradley Central athlete J'Alan Terry.
Calhoun tight end Emaree Winston is ranked among ESPN's top 300 prospects nationally -- the No. 7 player at his position -- with more than 20 offers, including from Alabama, Auburn, Miami (Florida), Ohio State, Ole Miss, South Carolina and Tennessee.
"Boo and Martels Jr. are the catalysts," Coach Carter said. "Coaches have been coming to see them for a long time and then noticed other kids who are long and athletic, so there are a lot of other local kids who are reaping the benefit of having two of the top prospects in Tennessee right here.
"We have seven kids on our roster at Brainerd who already have offers."
Although he'll only be a junior this fall, Martels Carter Jr. already has offers from 36 schools.
Boo Carter, who is expected to make his commitment later this summer, has offers from 47 schools but has narrowed his list of finalists to Colorado, Michigan, Ohio State, Oregon and Tennessee.
As he weighs his college options, Carter — a consensus four-star recruit who was a Tennessee Titans Mr. Football semifinalist while playing at Chattanooga Christian last season -- is also awaiting a ruling from the TSSAA on a hardship request submitted by Brainerd that will determine whether he is eligible to play for the Panthers this season after transferring in November. That decision is scheduled to be made on June 9.
The TSSAA's transfer rule prohibits student-athletes from being eligible at any program within a 20-mile radius of their previous school unless a hardship request is granted. Brainerd is just 8.5 miles from the Chattanooga Christian campus.
"Boo Carter is just a playmaker on both sides of the ball," 247Sports.com recruiting analyst Ryan Callahan told the Times Free Press recently. "He's not the biggest player out there, but he has a tremendous skill set."
Contact Stephen Hargis at shargis@timesfreepress.com.
TAKING STOCK
A baker's dozen of the Chattanooga area's top football prospects in the class of 2024, ranked by the composite of recruiting service ratings, with high school, height and weight, position and college commitment or notable schools of interest.
1. Boo Carter, Brainerd, 5-10, 180, ATH, Colorado, Michigan, Ohio State, Oregon, Tennessee.
2. Marcellus Barnes, McCallie, 6-2, 180, WR, Baylor, Florida State, Georgia, Michigan State, Mississippi State, Ole Miss, Virginia Tech.
3. Max LeBlanc, Baylor, 6-3, 220, TE, committed to Ohio State.
4. Amari Jefferson, Baylor 6-1, 200, WR, Alabama, Georgia, Tennessee.
5. Marcus Goree Jr., Bradley Central, 6-0, 175, DB, committed to Tennessee.
6. Carson Gentle, McCallie, 6-4, 245, DL, committed to Tennessee.
7. Jeremy St. Hilaire, McCallie, 6-3, 215, QB, committed to Vanderbilt.
8. Whit Muschamp, Baylor, 6-1, 175, QB, committed to Vanderbilt.
9. Tito Williams, Bradley Central, 6-1, 180, DB, Duke, Ole Miss, Vanderbilt, West Virginia.
10. Kobe Smith, Red Bank, 6-2, 200, DL, Appalachian State, Cincinnati, Duke, Furman, Middle Tennessee State, Navy, Tulane, Vanderbilt.
11. Kaleb Martin, Bradley Central, 6-1, 180, QB, committed to Miami (Ohio).
12. Joshua Hampton, Baylor, 6-2, 180, DB, Colgate, Eastern Kentucky, Princeton, Wofford.
13. Caden Williams, Calhoun, 5-11, 205, RB, committed to Liberty.