Portofino's is right up there with a select group of restaurants that has been feeding Chattanooga for generations. In fact, it could be considered a food legend in the city of East Ridge. It's such a beloved restaurant — serving both Greek and Italian fare for 31 years — that chefs and owners Antonio Zakkas and Tony Giannourakis decided right away that they needed a bigger place with more modern facilities when they bought the restaurant from Angelo and Stella Douvris in 2017. Zakkas and Giannourakis, former owners of Gondolier Pizza in Cleveland, Tennessee, moved into a new, larger Portofino's in October 2022.
The look has changed, but not the menu.
Here's a look at Zakkas, a native of Rhodes Island, Greece, who had an interesting job before entering the restaurant business, and Giannourakis, originally from Toronto, Canada, and what it takes to keep one of Chattanooga's oldest eateries in the forefront of diners' minds.
Q: Describe your menu. Would you say it's a fusion between Greek and Italian?
Zakkas: It's really mostly Greek and Italian with some American items, such as chopped steak, fried shrimp, hamburgers and a cheesesteak sandwich.
Q: What's Portofino's secret for staying in business as long as it has?
Zakkas: Consistency, taste and taking care of our customers.
Photo Gallery
Meet Portofino's chefs-owners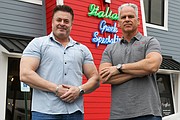 Q: Whom would you say is your mentor?
Giannourakis: My dad. He showed me how to make simple, yet amazing, recipes.
Q: Do you enjoy playing around with ingredients and coming up with new dishes? What's one of your latest creations that you've served at the restaurant?
Giannourakis: Yes, all the time, like our Greek lemon chicken soup. It's now a customer favorite.
Q: Complete this sentence: If I hadn't gone into the restaurant business, I would have been a ...
Zakkas: Pilot. In fact, I was a commercial pilot for five years.
Q: What do you like to do in your spare time?
Giannourakis: Cook, of course!
Q: Everyone knows Italian food, but how do the Greek dishes go over in your restaurant?
Zakkas: Of course, people in this area know Italian food better, but when they taste our Greek dishes — like our spanakopita, gyro plate or chicken souvlaki — they are hooked.
Q: What's the most popular item on your menu right now?
Zakkas: Our lasagna, gyro plate and Mediterranean grouper, along with our homemade bread.
Q: What's the one gadget in your kitchen that you couldn't live without?
Giannourakis: A good, sharp knife.
Q: What food is your guilty pleasure?
Zakkas: Chicken Alfredo pasta.
Q: What cookbook or website do you go to for inspiration, if any?
Zakkas: No book or website. Our inspiration comes from our grandmothers and mothers, like with our tzatziki sauce.
Tzatziki Sauce
This is the perfect dip for warm weather or as a sauce for burgers, grilled chicken, roasted lamb and meatballs.
1/2 cup finely grated cucumber
1 cup strained Greek yogurt (preferably Fage)
1 tablespoon lemon juice
1 tablespoon red wine vinegar
1 tablespoon extra-virgin olive oil
1 whole garlic glove grated (1 extra if you like garlic)
2 tablespoon granulated garlic
1/4 teaspoon sea salt
1/4 teaspoon white pepper
1 tablespoon chopped fresh dill
Squeeze out excess water after you grate cucumber.
Combine all ingredients in a bowl, and mix well. Serve chilled.
IF YOU GO
› Where: Portofinos, 6511 Ringgold Road
› Hours: 11 a.m.-10 p.m. seven days
› Price range: $5-$29
› Phone: 423-499-9696
› Online: portofinoschatt.com
Contact Anne Braly at abraly@timesfreepress.com or annebraly.com.