This story was updated on June 29 to include Virginia in the list of states that the Appalachian Trail goes through.
A bipartisan bill in the U.S. House seeks to designate the Benton MacKaye Trail, which winds through the the Appalachian Mountains of Tennessee, Georgia and North Carolina, as a National Scenic Trail.
If passed in the House and Senate and signed by the president, the trail would become the 12th National Scenic Trail in the U.S., which includes the Appalachian Trail, Florida National Scenic Trail and Natchez Trace National Scenic Trail in the South.
The 288-mile Benton MacKaye Trail traces an 82-mile path in Georgia and 206 miles more along the Tennessee/North Carolina border, including lands in the Cherokee National Forest in Tennessee, Chattahoochee-Oconee National Forest in Georgia and Nantahala National Forest in North Carolina, according to the Benton MacKaye Trail Association. Almost 100 miles of the trail is contained within the Great Smoky Mountains National Park.
The bill is being co-sponsored by Republicans Chuck Fleischmann and Scott DesJarlais of Tennessee and Chuck Edwards of North Carolina and Democrats Steve Cohen of Tennessee and Lucy McBath and David Scott of Georgia.
"The inherent qualities of the BMT make it worthy of such a designation," Ken Cissna, president of the Benton MacKaye Trail, said in a news release issued Monday. "The trail's emerald green forests, stunning vistas, rippling streams and rushing waterfalls exemplify the spectacular beauty found in the Southern Appalachian Mountains. If the bill passes, the BMT will be able to offer even better recreational opportunities to the tens of thousands of day hikers, backpackers and long-distance hikers who take advantage of the BMT every year," Cissna said.
Cissna hopes the bill's second trip through Congress reaches the end of the trail on the president's desk.
"We've been working on this for about two years. A bill was introduced in the House last year. The bill achieved substantial bipartisan support in Congress but was not passed," Cissna said. "This year's a whole new ballgame. The outpouring of public support has been fantastic, and we're making steady progress — the House bill is just the first step."
Benton MacKaye was a visionary forester known for his advocacy for the Appalachian Trail, according to the association. Today's route closely resembles MacKaye's proposed southern spur that extended the Appalachian Trail into north-central Georgia.
The 2022 legislative effort to get the designation marked the 100th anniversary of MacKaye's treatise, "An Appalachian Trail: A Project in Regional Planning." MacKaye's essay was the initial blueprint for the Appalachian Trail, according to Cissna.
Photo Gallery
Benton MacKaye Trail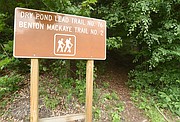 (READ MORE: Regional conservation association recognizes Chattanooga native for 'distinguished service')
Currently, the Benton MacKaye Trail and Appalachian Trail start at the same point on Springer Mountain in Georgia, and the two trails overlap at first, intersecting four times in the first 7 miles before going their separate ways at Long Creek Falls, according to association officials. Those portions are good choices for day hikes.
From Long Creek Falls, the Benton MacKaye Trail heads north to cross the Toccoa River on the iconic swinging bridge in Fannin County, Georgia, before turning west to traverse numerous summits ranging from 2,500 to 3,500 feet in elevation, passing Fall Branch Falls through the Cohutta Wilderness Area and Big Frog Wilderness Area.
The trail eventually crosses into Tennessee at the remote Double Spring Gap in Polk County, Tennessee, followed by dramatic crossings over the Ocoee and Hiwassee rivers, according to officials. The trail then ascends to the boundary ridge between Tennessee and North Carolina near Sandy Gap, where hikers get 360-degree views.
After tracing solo paths for 180 miles, the trail meets up with its sibling Appalachian Trail near Fontana Dam, then enters the Great Smoky Mountain National Park, sticking close to Fontana Lake. From there, it climbs to the top of Mount Sterling — the trail's highest point at 5,842 feet — and then descends to Big Creek in North Carolina, the trail's remote northern terminus about 5 miles south of Interstate 40.
(READ MORE: Get to know the Benton MacKaye Trail, which may soon become America's newest National Scenic Trail)
The Benton MacKaye Trail offers all that a National Scenic Trail should and more, association spokeswoman Joy Forehand said.
"You have the waterfalls, the scenic rivers, you have the beautiful overlooks; in other words, you have everything that makes it beautiful for somebody to hike on the trail," Forehand said Wednesday in a phone interview. "Obviously, it's going to be a boon to the communities, cities and towns along the trail. It'll help them economically."
This year's bill — HR 3863 — got earlier notice than the 2022 bill and has gone to the House Natural Resources Committee, Forehand said.
"It was introduced, announced, the same day it went to committee, which is great," she said. "Obviously, we need all the grassroots support we can get. That's so important. Senators and congressmen look at it and they go, 'Well, who's wanting this?' Well, there's a lot of people and a lot of support for it, especially in Tennessee."
NATIONAL SCENIC TRAILS
National Scenic Trails are primarily nonmotorized continuous trails, and most extend for 100 miles or more. The routes traverse beautiful terrain and connect communities, significant landmarks and public lands.
Appalachian Trail: 2,190 miles in Maine, New Hampshire, Vermont, Massachusetts, Connecticut, New York, New Jersey, Pennsylvania, Maryland, Virginia, West Virginia, Tennessee, North Carolina.
Arizona Scenic Trail: 800 miles in Arizona.
Continental Divide National Scenic Trail: 3,100 miles in Montana, Idaho, Wyoming, Colorado, New Mexico.
Florida National Scenic Trail: 1,300 miles in Florida.
Ice Age National Scenic Trail: 1,000 miles in Wisconsin.
Natchez Trace National Scenic Trail: 65 miles in Mississippi.
New England Trail: 215 miles in Connecticut and Massachusetts.
North Country National Scenic Trail: 4,600 miles in Michigan, Minnesota, North Dakota, New York, Ohio, Pennsylvania, Wisconsin.
Pacific Crest National Scenic Trail: 2,650 miles in California, Oregon, Washington.
Pacific Northwest National Scenic Trail: 1,200 miles in Idaho, Montana, Washington.
Potomac Heritage National Scenic Trail: 710 miles in Washington, D.C., Maryland, Pennsylvania, Virginia.
Source: National Park Service
Contact Ben Benton at bbenton@timesfreepress.com or 423-757-6569.