Amid an increase in calls, Hamilton County Emergency Medical Services has added a 17th ambulance.
Mayor Weston Wamp, who was sworn in last year, said one of the first conversations he had with EMS Director John Miller was about chronically low pay in his department, which was causing difficulty hiring personnel. The county has since increased compensation for EMS employees by an average of 13%.
"We made it a priority during budget season," Wamp said during a news conference Friday morning. "The County Commission never flinched in our desire to increase EMS pay at a significant level."
(READ MORE: Hamilton County considers first increase in EMS billing rates since 2012)
Medic 17 will be dispatched out of the station at Enterprise South Industrial Park, which also houses Medic 3, until the county finds a permanent home, according to a news release from the county mayor's office. It went into service Oct. 18. The location gives it quick access to state Route 153, Highway 75, Bonny Oaks Drive and the Hixson area, Miller said during the news conference.
Miller hopes the additional ambulance will help lower emergency response times. Last year, the agency's response time countywide was 10 minutes, short of the national goal of eight minutes, Miller said. In the two weeks since it's been on the road, Miller said the 17th ambulance has already had an effect, bringing response times down to about nine minutes, 45 seconds.
Photo Gallery
Hamilton County EMS launches 17th ambulance service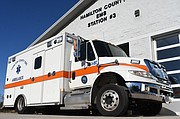 Miller said the county's ambulance service ran about 53,700 emergency calls in 2022, greater than, for example, the approximately 34,000 calls it responded to in 2015. The agency has responded to 1,500 more calls in 2023 compared to the same period last year.
Wamp said population growth could be driving that increased call volume, but some of it is the result of an aging baby boomer population.
Before the pay increase, positions would remain open for months, and the agency would receive only a handful of applicants, Miller said. When the new pay plan went into effect, the county immediately had 38 applicants, Miller said, and the agency has hired about 23 people since July 31.
"This is the first time we've been fully staffed in about 10 years," Miller said.
After the 13% pay increase, paramedic compensation is now about $58,800, Miller said.
(READ MORE: Hamilton County considers $3 million property purchase for new EMS training center)
"It puts them at a pretty fair market value, especially compared to some of the hospital services," he said. "We're having to compete with hospitals, also. Hospitals can't get (registered nurses), so they're hiring paramedics. That's another competitor of ours."
In May, county commissioners approved the first increase in ambulance billing rates since 2012, which was designed to help stave off rising costs and retain employees.
Hamilton County EMS started in 1988, Miller said, making it a relatively young service compared to the Chattanooga Police and Fire departments. At the time, the agency had two ambulances covering unincorporated parts of the county — one for each side of the Tennessee River. That number gradually increased as the service started providing coverage to the smaller municipalities in Hamilton County.
"We still have plans in the future to add a couple more trucks," Miller said in an interview. "We know we're still behind a little bit, and that's something we'll work through this next budget year."
Contact David Floyd at dfloyd@timesfreepress.com or 423-757-6249.