This December, the Chattanooga Housing Authority plans to apply for a $50 million federal grant that would assist with one-for-one replacements of 629 public housing units in the Westside neighborhood.
In the meantime, the agency intends to survey 75% of the residents at College Hill Courts and Gateway Towers to determine how many people want to stay in the community once officials finish the project, which comes after sharp criticism last week from Chattanooga City Council Chair Raquetta Dotley, of East Lake.
Dotley represents that area and said the housing authority has not done enough to get an updated count of the number of people who want to remain in the Westside. The housing authority has said all residents will have the right to return to the community as new housing goes up, but they will also be able to receive a housing voucher if they prefer to move elsewhere.
Hana Ramirez, project manager with the Chattanooga Housing Authority, said in an interview that the agency started going door-to-door Friday morning to ask residents if they want to live in a new apartment in the neighborhood once construction is complete. They're also asking residents if they're interested in working towards homeownership and if they want to remain on-site during construction.
If they don't want to remain in the neighborhood during construction, officials are asking residents if they would prefer to move to another housing authority complex or accept a housing voucher. On Monday, the housing authority hosted an information session at College Hill Courts to provide residents with an overview of the plans for the Westside neighborhood. It also served as an opportunity for them to fill out the survey.
Photo Gallery
Westside information session at College Hill Courts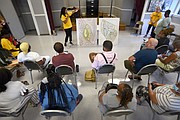 Regina Robinson, the president of the College Hill Courts resident council, was among the attendees and has lived in the community for about three and a half years.
"It's absolutely great," she said about the city's plans for the Westside. "It needed a facelift years ago, and I'm glad to see it done while I'm here. I'm sorry to say I wasn't a big fan of College Hill until I got here."
Robinson was out early Saturday morning conducting surveys.
"Most of them want to stay because they've been here so long," she said about her neighbors. "We have a lot of residents that have been here 40, 45, 50 years. They've raised their kids and grandkids."
On the question of homeownership, not many older residents want to take on the burden of a 30-year mortgage, she added. Their home is in the Westside.
The City Council is one of a few boards that will consider a special tax district in the coming weeks for a nearby billion-dollar development called The Bend, which would also play a key role in enabling the housing authority to receive federal grant funding for the Westside project.
New property tax revenue generated in that district would cover half of the public utilities needed for development at the former Alstom site, a 120-acre property that runs along the downtown riverfront. Officials would also be able to leverage that revenue to secure the $50 million Choice Neighborhoods Grant, which could in turn unlock $100 million worth of housing tax credits for the Westside.
The deadline for the grant is Dec. 11, and the authority intends to submit its application Dec. 8.
(READ MORE: Chattanooga group fears One Westside plan will spur displacement of African Americans)
Ramirez said tenants have so far completed 180 surveys, and the housing authority is aiming to complete the remainder Tuesday. Officials intend to have 327 households at College Hill Courts complete the survey and 67 at Gateway Towers. The data will help officials refine the process by which they move tenants into new apartments, which will occur as new buildings go up over the course of multiple phases. That information will be presented to the City Council.
(READ MORE: Special tax zone proposed to spur redevelopment of The Bend and Chattanooga's Westside)
In a 2020 survey, the housing authority asked Westside residents, "If College Hill and/or Gateway is redeveloped and relocation is deemed necessary, what type of subsidized unit would you prefer to be relocated to?"
Nearly 30% of the 420 people asked said they would need more information before stating a preference for temporary housing. About 34% said they would like to move to privately owned housing elsewhere in Chattanooga with a Section 8 voucher, 27% said they wanted to move directly to a new public housing in the Westside neighborhood, and 10% said they would move to another housing authority complex.
Two-thirds of respondents said they would like to return to the redeveloped site if they have to be temporarily relocated during construction.
Contact David Floyd at dfloyd@timesfreepress.com or 423-757-6249.