Meagan Dare was raised on the buzz of tattoo guns and the "biker dude" atmosphere of her father's traditional street shop. She moved from Blue Ridge, Georgia, to Chattanooga two years ago, deciding to bring her second-generation tattooing to the Scenic City. When her East Ridge shop Lunar Tattoo Studio opened in June, she aimed to leave behind the late-night walk-ins and death metal music that contributed to her father's tattoo-industry burnout in the early 2000s.
"Our main focus is to create a really comfortable and inviting experience and break that traditional norm of tattooing being intimidating," Dare said.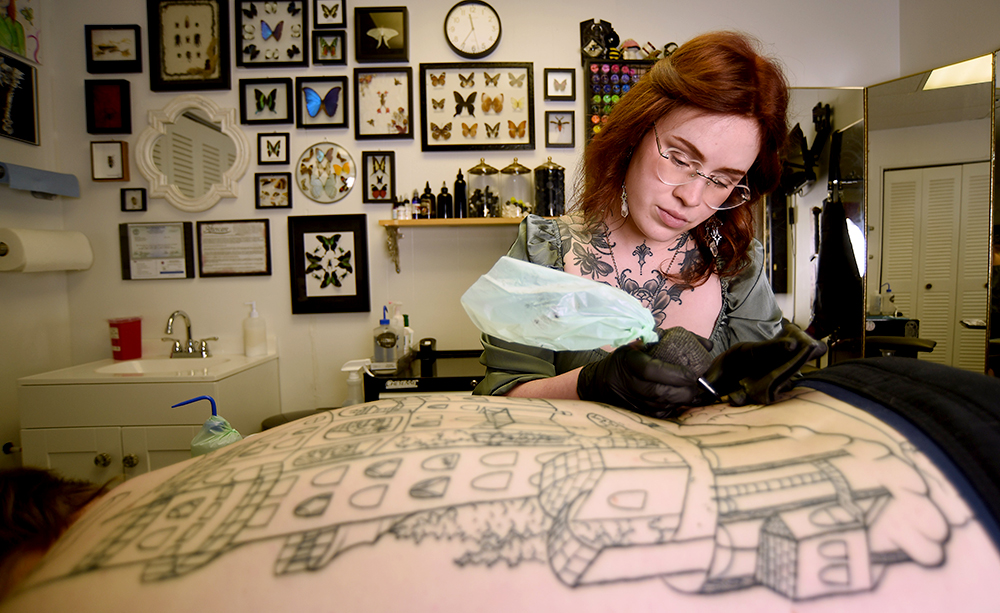 Staff photo by Matt Hamilton / Tattoo artist Meagan Dare works on a tattoo at Lunar Tattoo Studio in East Ridge.

Tattooing as Performance Art
Dare said that social media is the main source for her clientele. While some customers find out about her through word of mouth, Dare feels that the way artists have to display their portfolios on social media to spread their work has linked tattoo art and content creation. When she doesn't post for a while, she notices that fewer customers reach out.
"With the rise of social media, everything now that we do is a spectator sport. This is a performance art, almost," Dare said.
Dare specializes in black and gray, referring to herself as a black-work illustrative artist. She hopes to have a color artist on board soon to complement her studio's black-work focus. Dare gets booked for four to six months at a time, but her counterpart takes walk-ins.
While Dare's books will not be open again until February, she hosts movie nights at the studio and offers custom flash tattoos to those who are interested in a walk-in appointment with her.
Kahelena Giltner spent two sessions with Dare to complete a chest piece of her astrological moons connected by outstretched hands and leaves. Giltner said that Dare made her feel at home while she was getting tattooed and that Dare took the time to bond with her throughout the session.
"She was definitely born with a gift to be an artist," she said of Dare.
A Personalized Experience
No stranger to the traditional 12-hour shop shifts and walk-ins, Tennessee native Eunice Lunsford began her career as a piercing and tattoo apprentice in a male-dominated shop at 20 years old. The late hours and long commute wore on Lunsford, but it was the COVID-19 pandemic that pushed her to open her own "fun chick place": Empress Tattoo in Chattanooga. Lunsford moved to town in 2018 and recently celebrated the three-year anniversary of her shop's opening in August.
Lunsford runs her piercing and tattoo shop out of an ornate, hundred-year-old house on South Willow Street. She originally started renting a room on the second floor as her studio and has expanded to the entire building over the last three years, adding a jewelry studio, a piercing studio, individual studios for her tattoo artists and a space she rents out to other women-owned businesses. Her studio is home to four artists and an apprentice, specializing in neotraditional, American traditional, traditional, and fine-line tattooing.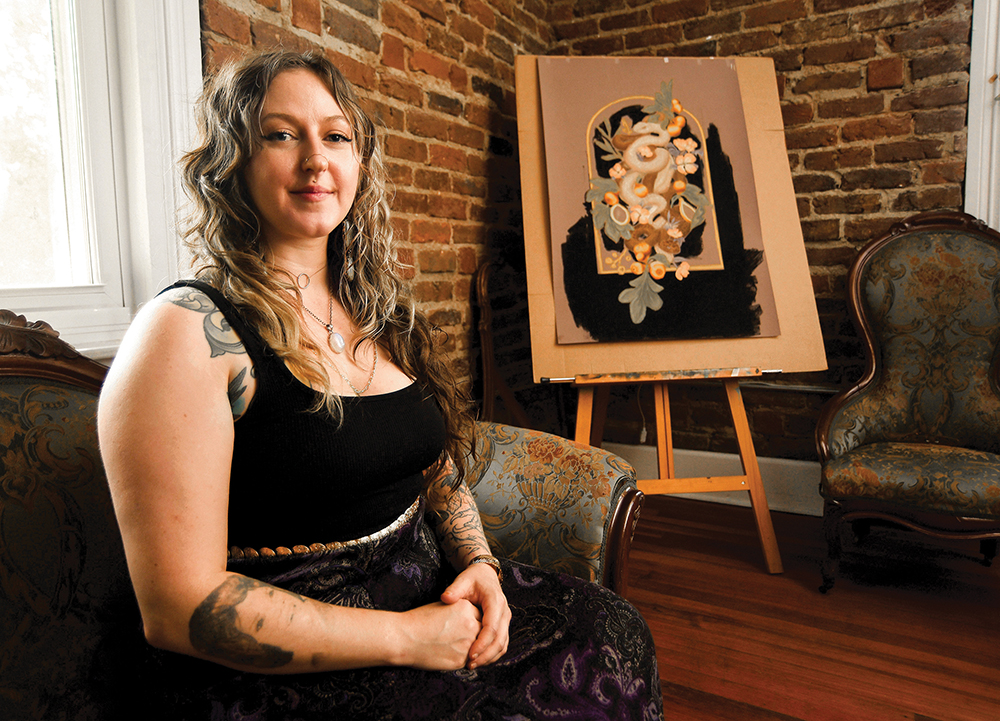 Staff photo by Matt Hamilton / Tattoo artist Eunice Lunsford at Empress Tattoo Shop

Botanical and witchy subject matter is Lunsford's jam. With the name Empress coming from the tarot card, Lunsford said she loves anything having to do with crystals, herbs and any other medicinal matter.
Much as Dare hopes to stray from the biker atmosphere, Lunsford said that focusing on client services and making the environment more welcoming for women is what Empress is all about.
Empress offers private rooms where customers get tattooed throughout the house. Lunsford's customers are greeted with a hot drink and can specify whether they would like a low-stimulus experience with less talking from the artist, if they want to tune out and wear their headphones or if they prefer another form of personalized tattooing experience.
Executing the Vision
Navy veteran John Cothran Sr. has been tattooing in Chattanooga for 25 years, since he moved here from Florida. He recently celebrated the 18th anniversary of owning his shop American Ink in East Ridge.
Cothran enjoys working with his customers to bring their ideas to life with his art. Even when a customer brings in a design from another artist, he said he is happy to replicate what they would like even if it isn't his design.
"The closer I achieve that drawing to what you want, the happier I am," he said.
If a customer brings in a design that Cothran doesn't think is composed well, he said that he will be honest with the client to let them know that he thinks he could improve the design. He said he values transparency, and he will also tell a client if he thinks a design request is beyond his capabilities.
Cothran does not put his style in one box and said that he works to be well-rounded and to develop experience in as many styles as he can for his customers. It is important to Cothran that his shop is owner-operated beyond shop responsibilities, so he works on the main tattoo appointments booked through the shop.
Community Voices
Sam Surprise has many tattoos, but her favorite is a butterfly with singer Post Malone's head on it. She said she loves Malone as a human being and knew she had to have the design tattooed when she saw it on her artist's profile.
"I love all of my tattoos, and I like to keep myself in the mindset of not regretting what I get done on me," Surprise said. "If I truly loved it in that moment, then that's what I like to think about."
Mallory Coty's tattoos represent the places she has been, both physically and mentally, she said. She particularly adores a tattoo of three dobermans on her arm.
"I am genuinely more of a soft person, but I like tattoos that are the opposite," she said. "Something intimidating is my form of pepper spray."
Staff photo by Matt Hamilton / Johanna Fredrickson shows off some of her many tattoos.

Johanna Fredrickson frequents the Chattanooga tattoo scene and has received three tattoos from Cothran: a black beetle, a fairy from Pan's Labyrinth and a troll from Brian Froud's troll book as a cover-up of a previous tattoo. She said that Cothran was knowledgeable about cover-ups and placement and won't give a client something that will end up looking bad later on.
Her love for tattoos comes from a childhood spent admiring her mother's rose tattoo. When Fredrickson was in her late 20s, she got her very own rose tattoo and hasn't stopped since, now covered in intricate designs. She prefers large pieces like full sleeves.
"I plan to continue a lifelong affair with ink until my skin is too saggy to tattoo anymore," she said. "I find the body to be one of the best canvases in life, and it's one way that I can express myself that feels very fulfilling."