The top four reasons parents choose private schooling for their children, according to the Council for American Private Education, are: the learning environment, better education and college preparation, smaller class size resulting in more individual attention and a curriculum that adheres to their religious beliefs and values.
A Washington Post poll of parents found that they were concerned that public schools focused too much on prepping for standardized testing. Parents revealed that they chose private education because they believed that their child's special interests and abilities would be better served with the addition of unique programs not traditionally found in public education.
Such programs are increasingly important as parents look for a stimulating educational environment that will give them the most return for their tuition bucks. Area private schools are expanding athletic and arts programs, adding career-enhancing elective courses and even rethinking the environment in which courses are taught in order to prepare well-rounded graduates for successful careers. Here's a look at some of these programs.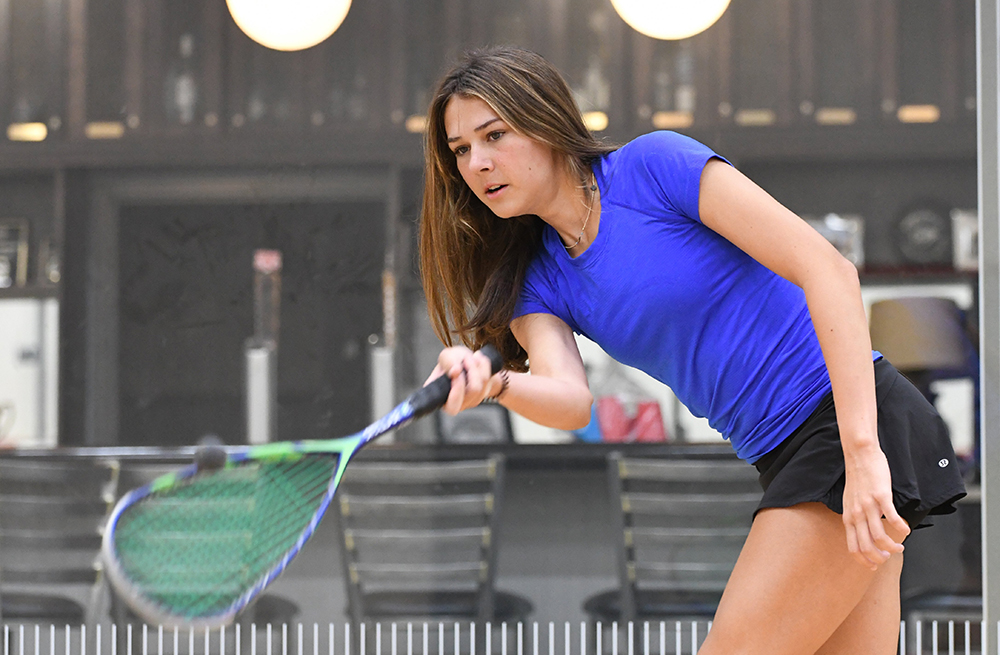 Staff Photo by Robin Rudd / GPS student Merritt Bryan plays squash with her coach Ben Sharplin.

Girls' Preparatory School (GPS): First Girls' Squash Team in the State
Merritt Bryan notched her name in GPS sports history this past winter when she became the first GPS squash player to ever win a match.
GPS formed its first varsity squash team in the 2022-23 academic year, becoming the first high school girls team in the state. The new team is coached by Dan Sharplin, who also coaches the McCallie School team and is the pro at the Scenic City Squash Club.
Sharplin was approached by Margaret and Sophie Cover, twin daughters of GPS Head of School Megan Cover, about starting a team. They put out the word, and 18 students showed up at the first practice — half of them members of the soccer team looking for a way to keep fit during their off-season. Of the 18, only the twins had played before. And one of those soccer players was Bryan.
"I didn't know what it was, but so many people said it was fun. And I have good hand-eye coordination, so I went to that practice," she says. And she was hooked.
"I was very surprised and excited," says Sharplin of the turnout. "We had a lot of good athletes on that team. They had good chemistry. I was surprised how quickly they learned the rules, and by the end of the first night, they were all playing pretty well."
Bryan, 16, a rising junior, says that about a month into practices, they played their first match at Westminster School in Atlanta.
"I didn't know what to expect coming out of the gate, playing an experienced team," admits Bryan. In fact, she didn't even realize she'd gotten the first win. "Squash is more individual than any sport I've played. You play on a team, but your accomplishments are more personal."
Among their matches, Sharplin says that the new team also played the McCallie middle school boys and Montgomery Bell School team in Nashville, and they went to a tournament in St. Louis.
Other Opportunities at GPS:
Bowling team (placed second in the state last year)
Climbing team
First girls' lacrosse team in the area in 2005
Girls' Outdoor Leadership Education program being added this school year
Tucker River Fellows, a select student group to study the environmental impact of the Tennessee River
Terpsichord modern dance company, as well as two additional dance ensembles
Tango string quartet
GPS Garden (students grow food for the Chattanooga Area Food Bank)
Partnerships in the Community (coordinates volunteer efforts)
Fletcher Bright Fellowship for Inspiring Artistic and Community Engagement, given to a senior in the arts
Photo contributed By Rebecca Kidd-Russell / McCallie school / Graphic design teacher Will Givens works with students.

McCallie School: Design That Speaks for Itself
What's the first glance at a restaurant sign tell you? Fine-dining or casual? Family fun or upscale date night? Pricey or budget-friendly?
The communication of ideas using "the four building blocks of design" is the heart of a new graphic design class at McCallie, says teacher Will Givens. The importance of quickly and efficiently conveying a thought gives new meaning to "instant messaging."
Graphic Design
Although the term graphic design covers everything from advertising illustration to graphic novels, Givens says all are based on these four building blocks.
They are: 1. composition (arrangement of space), 2. typography (the way words look, the personality of the design), 3. color and 4. image (how to use images to create an idea).
Class begins with projects covering each building block. When studying typography, for example, students might be asked to create an advertisement, such as a poster from the past.
For their composition project, students studied the traffic safety posters of famed Swiss graphic designer Josef Muller-Brockmann.
"The guys got to choose any afternoon course at McCallie and create a poster using composition to convey motion, depth or perspective," Givens described.
Givens says that not all students are art majors or even interested in design when they enroll. "Every student is required to take two semesters of art electives. In this class, we have guys who enjoy art, and we also might get a defensive lineman who doesn't have a prior interest but has an opening in his schedule and needs an elective."
Givens enjoys seeing such an eclectic group form a community within the class to discuss their ideas, get feedback and offer suggestions for improvement in each other's designs.
He knows that not all students who pass through his classroom will go on to professional graphic-design careers — although a few have told him that the class did inspire that decision — but all will find that the ability to succinctly express their ideas is beneficial, whatever career they choose.
"I tell them, 'Every single one of you is going to make choices. Everyone is going to have to pitch an idea at some point in their lives. The way you do that matters. If you create a presentation that looks professional, cutting-edge — if you hit that note using the right design — you have a higher chance of success,'" Givens says. "Our goal is that they be successful when they leave McCallie and contribute to the communities in which they live."
Other Opportunities at McCallie
Varsity boys' squash (a new eight-court facility is under construction)
Rock-climbing team
Mountain-biking club
Outdoor program
Independent science research
Habitat for Humanity chapter
Photography class
Classical guitar class
Classical guitar ensemble
Rowing team
McCallie Handbells
Center for Animation, Video and Entertainment, with cyclorama studio, editing and color-grading suite, audio recording facility and computers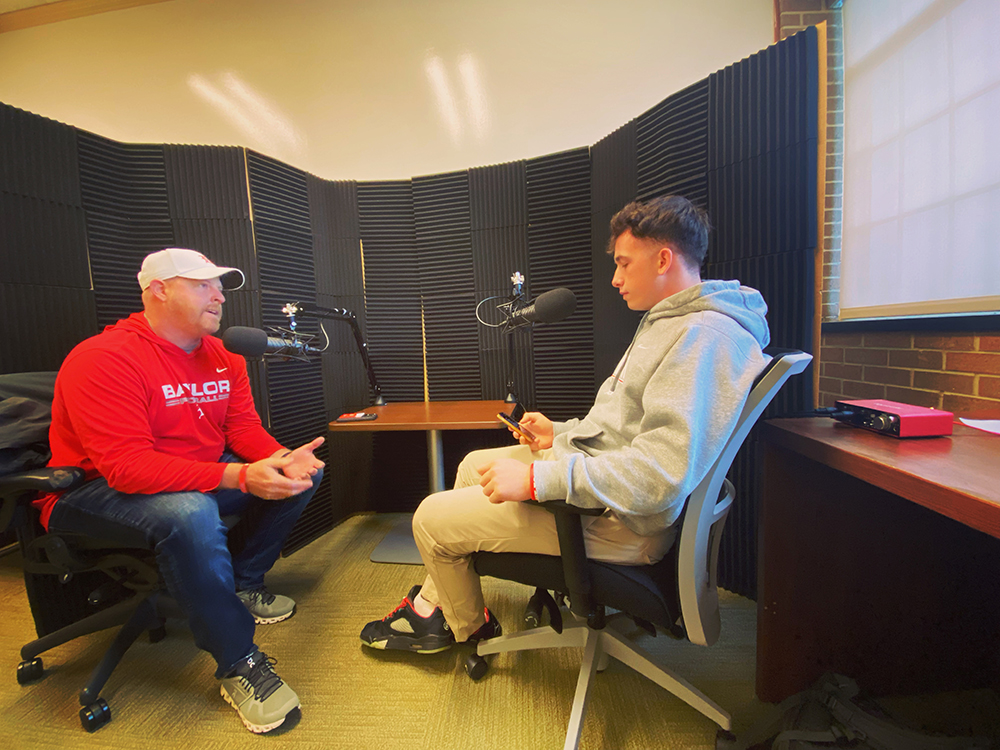 Photo contributed by Mike Kelly / Baylor School / Baylor football coach Erik Kimrey is interviewed by rising senior Nelson McKnight.

Baylor School: New Podcast Gives Students a Voice
Baylor student Abigail Bailey was just trying to fill an elective slot in her schedule when she enrolled in Mike Kelly's audio-journalism class two years ago. She thought it might possibly have some benefit for her planned college major of creative entertainment, film and TV writing.
"It opened a new world of media to me. I really got into it and worked for QuadPod for two years," says the 18-year-old, who will be a freshman at Belmont University this fall.
QuadPod is Baylor's monthly campus podcast that grew into an audio-journalism class three years ago. Students learn to pitch and create a story, hone interview skills, mix sound and edit their work.
Kelly says his vision for QuadPod was that it be a vehicle for student voices on campus. "I wanted students to be in control," he says.
The first week of each month, eight to 10 QuadPod high school team members meet to pitch stories and dream up episodes. Then they are given a week to get their interviews, followed by a week of editing. The last week of the month, they write the podcast script, record and add music and then put all the pieces together.
Podcast topics have promoted campus events, discussed campus and community news and included interviews with alumni and city leaders. Students are even building an oral history archive of exit interviews made with retiring Baylor faculty and staff.
Each podcast reporter is issued a Zoom H2n microphone for which they are responsible. The team also has two field recorders and two studio mics. Kelly created a studio within his school office using foam to soundproof the space.
"We host through Anchor, and the host distributes to Apple, Spotify and other platforms. We send new episodes to the community through our SoundCloud page," he says. "I feel like the work they put into it shows on the other side."
Bailey says the class and QuadPod did, in fact, help her prepare for college.
"We had to do a personal project. I wrote, directed and produced a pod play called '8 Minutes.' It was a series of overlapping voices and their thoughts about the last eight minutes of the world," she says. "Getting exposed to [podcasting], it became a passion of mine to work for QuadPod. I got to interview people I didn't really know well — maybe wouldn't have talked to at all — if not for this opportunity."
Tune In to QuadPod
baylorschool.org/student-life/quadpod-podcast
Other Opportunities at Baylor
Robotics, including The Ohm Raiders competitive team
Verve dance troupe
The Winter Players, a traveling troupe of drama students who visit community-service sites
Theater opportunities (drama, musicals, tech crew and set design)
Community-service program established 27 years ago that features a grant-writing component, after-school tutoring and an annual trip to Kingston, Jamaica
Walkabout outdoors program, which includes paddleboarding, hiking and outdoor trips to India and Panama
After-school music and art
Organic gardening on campus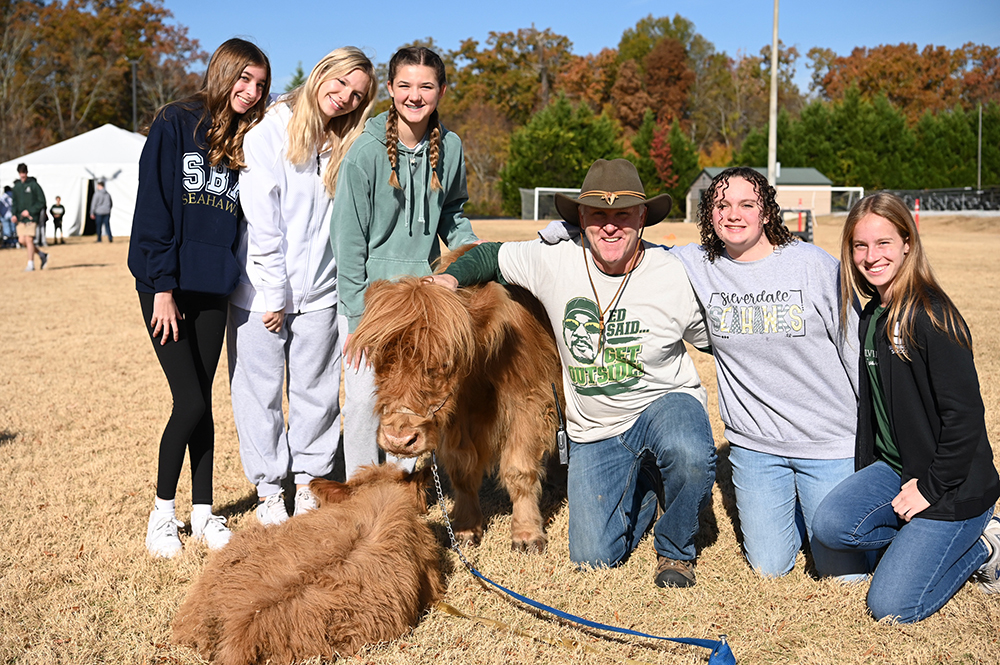 Contributed photo / Al Rogers, in hat, introduces Silverdale Baptist Academy students to Sunday, a Highland cow from Bagbys Critter Corral, and her baby, Paisley, sleeping on the ground. Bagbys partners with the school to bring Highland cattle, sheep, goats, rabbits, alpacas and other animals for students to learn about. Rogers also takes a class to Bagbys to learn animal husbandry.

Silverdale Baptist Academy: No Child Left Inside
Few schools list rain boots on their back-to-school supply list, but Silverdale Baptist Academy does. Thanks to its innovative Silverdale Outdoor Adventure & Recreation (SOAR) program, education isn't confined within concrete block walls of the classroom but spills outside to the creek and woods surrounding campus, rain or shine.
SOAR started eight years ago to get kids back outdoors, to show them skills to handle themselves outside while instilling an appreciation for and stewardship of God's beauty around them.
"As Christians, we should use what God has given us, but use it wisely to sustain the outdoor world," says Al Rogers, who directs SOAR along with Kim Bates.
The outdoor program is designed with components for preschoolers to high school seniors, as well as helping teachers learn to incorporate the great outdoors into their lesson plans — even if it's just bringing students outdoors to read on a beautiful day.
Preschoolers splash in the creek while learning about flowers, trees and other wildlife around them. Art students might find inspiration by the creek or woods for a drawing. Science classes come out to collect water samples for testing. Upper-school students can try fly-fishing, bass fishing, rock climbing, canoeing in the retaining pond, mountain biking and hiking at Enterprise South Park.
Rogers said that students learned to make split-rail fences and built one on campus. "They thought that was the coolest," he says.
All ages learn to start plants from seeds, plant and harvest food — some of that food is used in the school cafeteria. Rogers says there are now 38 garden beds on campus, all inspected annually, some themed to books that classes are reading.
"We hold a themed Creation Festival each year," says Rogers. "The first year, it was a BioBlitz when we tried to name bugs, plants, everything around us in a short time by taking a picture. We had bird specialists and entomologists on campus to help. Last year was an Appalachian festival with canners, musicians, quilters, animals and such."
SOAR partners with TWRA (Tennessee Wildlife Resources Agency) and area environmental groups to bring speakers to campus. Raptors, raccoons, snakes, pigs and possums have all made visits with guests who inform students what the critters eat, where they live and what to do if they encounter one.
Rogers says that when students expressed an interest in bass fishing, he brought TWRA agents to talk to them about the sport. From that, a bass-fishing team formed, and three years later, they won the state championship.
When the 2017 solar eclipse occurred, Rogers turned the event into a party instead of something to fear. Blankets were spread on the football field, a playlist of songs about the sun and moon blasted from the sound system and students were served — what else? — Moon Pies. Rogers ordered 1,300 sets of special eyewear so students could safely view the eclipse.
He has taught bear safety, knife safety, cooking over a campfire, how to build a fire and other survival skills.
When a deer was hit and killed by a car on Bonny Oaks Drive, Rogers turned it into a teaching opportunity. Within 30 minutes of the collision, he had permission from TWRA to take that fresh kill and dissect it in a science lab.
"The animal did not go to waste. It became a teaching tool to learn anatomy. The kids loved it," he says. "I believe better grades are a result of immersion learning."
Other benefits of outdoor learning, he says: It promotes better health; breathing fresh air benefits the immune system, decreases stress levels and can improve memory. As an example of the latter, he explains, "If you are learning a language, touch a tree, then learn the name for it. You are more likely to remember the word from experience."
Rising senior Isabell Steele enjoyed riding dirt bikes and playing soccer before participating in SOAR. Now she's on the school fishing team, has discovered that she likes cooking over a fire and says she's learned how to survive if she ever is lost in the woods. In fact, immersing herself in SOAR classes has caused her to rethink her career.
"I am considering majoring in agricultural engineering or becoming a park ranger," the 17-year-old says.
Other Opportunities at Silverdale:
* Fly-fishing club
* Mountain-biking club
* Rock-climbing club
* Sporting clays club
* His Company, an award-winning dance troupe
* Silverdale Conservatory, providing after-school private voice and instrumental music lessons in campus studios
* High school praise band (student musicians leading worship in middle and high school chapels; past winners of ACSI Southeastern Regional Praise Band Workshop and Competition)
* Forensic science class
* High school robotics team
* High school STEAM Team (placed third at the Association of Christian Schools International/Grand Canyon University's International Christian STEM competition in on-site design challenge in Arizona)
* Share Your Christmas volunteers for more than a decade
* Providing Christmas gifts for all students at Bess T. Shepherd Elementary School, and before that, Orchard Knob Elementary School since 2010
* Offer Impact and Bridging instructional programs for students needing a specialized learning environment