If you don't hear music when you're at Maria Cardillo Yacovone's house, something weird's going on.
"Usually, there's always music on," says Yacovone, sitting inside her large St. Elmo home. "People remind me that I never stop humming or whistling. They say, 'What are you whistling?' and I didn't even realize I was doing it."
Her inability to go through the day without music is one of the reasons Yacovone started hosting concerts in her backyard — also home to West 44th Street Art Center — a couple of years ago.
"It's a concert where you can bring your kids, throw a blanket out, grab a picnic basket and bring your beverages," she says. "I just love to hear live music. Music feeds the soul."
House concerts have gained popularity nationwide over the past 15 or so years, with a distinctive rise over the past seven or eight years in Chattanooga.
House concerts are exactly what their name says. Live music plays to an audience in someone's living room or backyard or wherever you can fit one or more guitars, keyboards, even cellos, small amps, microphones and singers. Sometimes, you just need to fit a guitar and singer.
Jeff Hollis and his wife Ashley are such huge music fans that they'll travel across country to see a concert. In 2017, for instance, they flew to Seattle to see U2 in CenturyLink (now Lumen) Field. It was the same year they started Hollis House Live, a regular series of concerts at their home in Ooltewah.
"It's really our favorite way to hear music," he says. "We love to listen to the stories, and we encourage our audience and the artists to interact and ask questions. These artists have opened up, and it's kind of cool to hear the stories behind the songs."
It's also cool to have a job. In 2022, the Chattanooga Music Census — taken on behalf of the Chattanooga Tourism Co. — surveyed professionals and semi-professionals in the regional music landscape about various issues relating to a career in music. Seventy-five percent of the respondents said they make their primary income out of something other than music. Only 26 percent play more than three gigs a month.
House concerts can fill the gap. The shows can't sell tickets, because that would mean a business license is needed. Instead, the homeowner takes donations from the audience. A musician can make a decent amount of money playing someone's living room, says local guitarist and songwriter Richard Daigle, who hosts concerts at his home on the North Shore.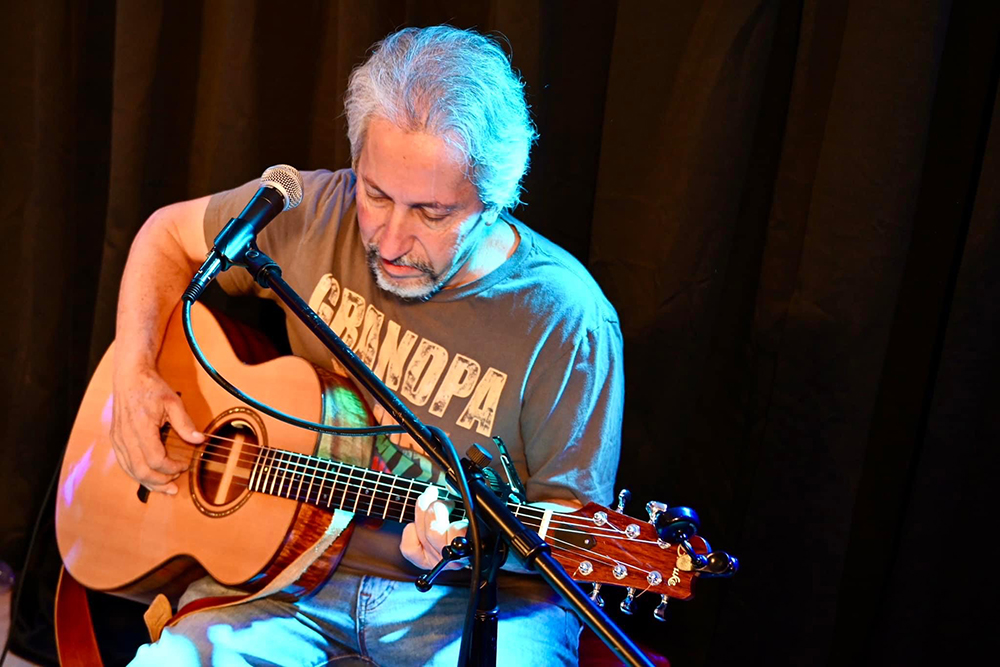 Photo contributed by Richard Daigle / Along with playing his own gigs, guitarist and songwriter Richard Daigle hosts concerts by other musicians at his home on the North Shore.

He generally asks for donations of $25 per person, which can add up to an excellent payday — or paynight — for a musician. He uses social media to get the word out about upcoming shows, which usually attract about 20 to 25 people.
"When I do a house show, I'll announce it in advance so I've got enough people to where it's worthwhile to make it happen for the musician. Our shows can pay really well," he says. "A lot of musicians you talk to will say, 'Hey, those shows are the best. I'd rather do that.'"
Like many local musicians, Daigle says he generally plays bars, restaurants and clubs, but he has played many house concerts and says it's more than just money that makes a house performance special.
"There's certainly a more intimate crowd, especially when you're playing original songs. You really want people to listen to the lyrics and hear the story and laugh if it's funny and cry if it's sad," he says. "If you play at a restaurant or a bar, people are not there primarily for the music. They may be munching on a burger and putting some beers down."
Food is part of the concerts he hosts at his home too, Daigle admits, but he considers it an added attraction, not the main course. Having grown up in Gretna, Louisiana, just across the river from New Orleans, he's an expert at making gumbo and serves it at all his house shows.
"I'm a Cajun guy. I know what I'm doing when I cook gumbo," he says with a hearty laugh.
Blend it all together, and a concert at his house is a winning trifecta, Daigle thinks. The audience gets the intimate connection with the artist and the music, the musician gets an audience that truly listens and a welcome bit of money and everyone gets gumbo.
"I'm like, 'C'mon on, what do you want? This is a great deal,'" he says.