Mario Tax and Hannia Picon are introducing a unique culinary combination to Red Bank — traditional Costa Rican and sushi.
Their restaurant, Sabor Modern Latino & Sushi, isn't about fusion. Rather, it's about bringing Chattanooga the dishes that the pair knows and loves.
Tax grew up in Guatemala, and Picon in Costa Rica. The couple met while working at a large, buffet-style restaurant in Florida.
(READ MORE: Customers react to closing of Chattanooga's oldest eatery, Zarzour's Café)
Tax was a part owner, and Picon worked in the kitchen and assisted with the waitstaff. Now, as a married couple with two children, they've made the move to Chattanooga and opened Sabor.
Photo Gallery
Sabor Modern Latino & Sushi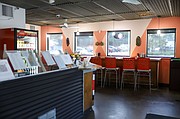 The menu of Latin food and sushi may seem unconventional, but to Tax and Picon, it's a natural fit.
"She always makes amazing food — tasty, great flavor," Tax said of his wife's culinary creations during a phone interview. "For me, I've always done sushi. My first job was as a sushi chef. Then later, in Miami, I did sushi. Basically, all my life — it's just something I like to do. ... So I said, 'Why not combine the two?'"
Back in Florida, they knew they were ready for a change, but it was just a matter of waiting for the right opportunity. A friend of Tax's, who was living in Knoxville, suggested they explore opening a business in Tennessee.
When the space at 1800 Dayton Blvd. became available, all the pieces fell into place: Tennessee's favorable business climate, a high-visibility location and good neighborhood schools for their children.
(READ MORE: Restaurant Scene: Lookout and Signal mountains both go Mediterranean)
When customers dine at Sabor, it's important that they understand the menu isn't Mexican, Picon said. Some words may be similar, like "chalupas," but they differ from the Mexican versions, which can be surprising to diners.
"When we say 'tacos,' people think Mexican," said Tax. "So we've started saying 'tico tacos.' This is the Costa Rican version — corn tortillas filled with meat and cheese, rolled and fried. On top, we add a cabbage salad, pico and a pink sauce made with mayonnaise and ketchup."
Sabor is open seven days a week from 8 a.m. to 9 p.m., serving breakfast, lunch and dinner in a casual atmosphere. Customers order a la carte at the counter, with items starting at $3.50.
For breakfast, empanadas are available, as well as "gallo pinto" — a mix of rice, beans, eggs, sweet plantains, sour cream, a corn tortilla or slice of bread, and served with a side of queso fresco. They also offer traditional American breakfast dishes like French toast, waffles and pancakes.
Gallo pinto is probably the top traditional breakfast in Costa Rica, Picon said — and so far, it's become one of the most popular menu items in Chattanooga, as well.
(READ MORE: How Chattanooga's murals attract, create and promote business)
As for the sushi, Tax says their offerings are classic fare — the kinds of combinations most sushi enthusiasts are familiar with. A few menu items are Tax's personal creations, such as the summer, Las Vegas and Hulk rolls. The Las Vegas features cream cheese, shrimp, imitation crab and is then deep-fried and drizzled with eel sauce. The summer includes cream cheese, avocado, sweet crab and is topped with shira evi, or tiny shrimp. And the Hulk is made with spicy crab, chicken tempura, avocado and jalapeño.
For now, Sabor has three staff members: Tax, Picon and Tax's brother, Joel. Picon's mother is visiting Chattanooga for several weeks to assist with the children while the couple settles into their new business.
"We're a family business — not a big business," Picon said. "Who knows? We'll see how it goes. If the business grows, we're open to hiring more."
Contact Jennifer McNally at jmcnally@timesfreepress.com or 423-757-6416.