A burst of thundershowers forced Moon River Music Festival attendees to evacuate Coolidge Park on Saturday but the sky cleared up in time to let the music play on.
The festival was evacuated around 3:20 p.m. as thunder and lightning joined the dark storm clouds that festivalgoers had been eyeing on the horizon. A few minutes later, the rain started to fall.
"I thought the fact I brought this would mean it wouldn't rain!" said one woman, holding her blue plastic poncho.
(READ MORE: How to park, bike or walk to Chattanooga's Moon River Music Festival this weekend)
People huddled under the Walnut Street Bridge or took shelter on the backside of businesses along Frazier Avenue. Some headed to get food or drinks to wait out the storm, and a long line formed at a tent selling beer outside Brewhaus — where vendors bragged of $6 beers, as opposed to the $11 or $12 cans sold inside the festival.
"It is what it is, you can make lemonade," Will Vance, who traveled with friends from Hammond, Louisiana, to attend Moon River, said while standing under the bridge as rain poured down. "Getting an Uber or getting anywhere right now is not happening. So better ride it out, let it clear up."
Gates reopened at 4:30 p.m., to cheers from a line that began forming down River Street once the rain cleared.
Photo Gallery
Moon River Music Festival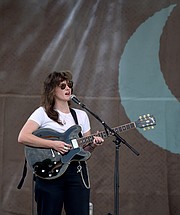 The festival released a revised schedule on social media, showing a delayed start for a performance by singer-songwriter Aoife O'Donovan and leaving off a set from country band Shane Smith & the Saints. Though some grumbled about possibly missing the band, attendees said they were glad the storm didn't cancel the rest of Saturday's shows, especially since a storm on the second day of last year's festival forced a shutdown and a last-minute relocation to Memorial Auditorium.
(READ MORE: Relocated Moon River show in Chattanooga a 'once-in-a-lifetime' series of events)
Some attendees said they'd bought tickets in part to see Caamp, a folk band set to headline Saturday's shows before canceling Wednesday. The band announced on social media that all of its remaining shows this year would be canceled due to health issues, prompting some ticketholders on social media to try to sell their passes.
In place of Caamp, Christian rock band Needtobreathe was tapped to cap off the festival's first day.
"I mean, I'm disappointed, but I get it," Gabi Lawrey said while waiting for a set at the Poplar stage. "I don't know Needtobreathe, but I'll stick around to see them."
(READ MORE: Needtobreathe to replace Caamp as Saturday headliner for Chattanooga's Moon River festival)
Lawrey and her friend, Lincoln Rahn, drove about 13 hours from Lincoln, Nebraska, to attend Moon River. When she saw the festival's lineup on an Instagram ad, Lawrey said she hurried to text Rahn after seeing Hozier, an Irish singer-songwriter known for his song "Take Me to Church," would be performing.
"We've never been to Tennessee before," Rahn said. "And there were a bunch of other bands where I feel like I know one or two songs playing ... Flipturn, The 502s, Noah Cyrus."
Several other attendees said Hozier's performance was their No. 1 reason for buying tickets.
The festival sold out at around 10,000 tickets, though organizers haven't disclosed exactly how big the crowd is.
Moon River, with a focus on folk, appears to draw more out-of-towners than Riverbend, Chattanooga's flagship live music festival that takes place earlier in the summer across the river at Ross' Landing.
Gina Duncan, from Marietta, Georgia, said it was her first music festival. She's a huge fan of Johnnyswim, a folk and soul duo performing Saturday with Drew Holcomb & the Neighbors as Goodbye Road.
"It's been a while since we've been to Chattanooga, too," Duncan said, sitting on a blanket by the Poplar stage. "So maybe we'll be able to hang around town."
The festival is family-friendly enough to bring children, said Tara Samples, from Memphis. She, her husband, Matt, and older daughter, Amelia, were attending both days, and the family's younger children would join them on the second say, she said. They've gotten tickets to the festival every year since 2019, Samples said.
(READ MORE: How Moon River became Chattanooga's most popular boutique festival)
Sarina and Leon Parker came to the festival from West Virginia, drawn by Hozier and a desire to travel more for live music. They sat on a blanket under a tree to avoid the heat before the rain started and said they planned to move out onto the lawns by the stage when the sun went down.
Children and adults alike used the Coolidge Park fountain to cool off while the weather was warm. Water refill stations let festivalgoers fill up their own water bottles, and drinks bought inside the gates came in reusable plastic cups that could be returned at stations around the park.
A booth near the fountain, from harm reduction group This Must Be the Place, passed out free nasal Naloxone kits, which can reverse an opioid overdose.
"It's our true hope that not one milligram of these have to be used at this festival," said William Perry, working at the booth. "But minutes and seconds matter, so it's great to have people in the crowd who have these."
Above the festival, a few groups listened to the music from the Walnut Street Bridge. Temporary fencing was placed on parts of the bridge, so onlookers couldn't stand right up against the railing and look down, but those on the bridge said they had a fine view anyway.
"It sounds pretty good up here," said Dillon Thompson, from Birmingham, Alabama.
Contact Ellen Gerst at egerst@timesfreepress.com or 423-757-6319.