The University of Tennessee at Chattanooga's freshman class is the largest in school history, the university says.
UTC welcomed 2,359 new freshmen this fall, which broke the record previously set in 2019 and marked a 5.8% increase from last fall.
Overall, the total enrollment at UTC is 11,380 — 9,982 undergraduates and 1,398 graduate students. That's up slightly from 2022, but it remains below pre-pandemic levels.
(READ MORE: University of Tennessee System will guarantee admission to top high school graduates starting next fall)
In a previous interview with the Chattanooga Times Free Press, Brett Fuchs, the associate dean of students, said university officials were excited about what the then-unofficial enrollment numbers looked like.
Photo Gallery
UTC welcomes its largest freshman class ever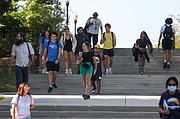 "Our residence halls are full, which is usually a good sign that we're going to have a good number of students here and back," Fuchs said in a phone call in August. "Those numbers are looking really good for us, so we're excited."
UTC also saw a 12.9% increase in new graduate students, and transfer students increased by 4.7% from last year. The university's freshman-to-sophomore retention rate this fall of 74.3% is higher than any pre-COVID-19 year.
Over the past few weeks, the UT system has implemented several changes in the hopes of attracting more students from Tennessee. Tennessee residents make up 89% of undergraduates and 73% of graduate students at UTC this fall.
In August, the UT system raised the qualifying household income threshold for UT Promise, a scholarship program that guarantees free tuition and fees for qualifying undergraduate students attending a UT campus. And last week, the board of trustees approved a new policy that guarantees top seniors at Tennessee high schools admission to any UT campus they apply to.
"We think it's going to result in increases in Tennesseans coming to our campuses," UT President Randy Boyd said in a video call with the Times Free Press before the board's vote. "We also think it's going to help us better reflect the diversity within our state."
(READ MORE: University of Tennessee encourages students to apply for expanded free tuition program)
Other UT campuses have not announced their fall enrollment numbers yet, but Knoxville campus officials anticipated record enrollment ahead of the school year. East Tennessee State University also welcomed its largest freshman class in school history this fall, and Tennessee Tech University announced a total enrollment of more than 10,000 students for the first time in three years.
Contact Shannon Coan at scoan@timesfreepress.com or 423-757-6396.