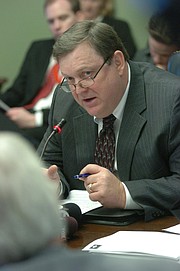 The rules have been reduced.
If the University of Tennessee at Chattanooga basketball team stops its opponent from scoring on a trip, John Shulman is going to let his horses run and then gun.
Mocs coach John Shulman has altered his offensive approach from previous seasons as the 2010-11 campaign draws closer by the day.
Instead of acting like an offensive coordinator in a football game and calling a play on each trip, he's trusting a skilled squad to score on their own.
"It's more open this year," point guard Keegan Bell said. "It's not passes A-B-C like last year when we were so methodical. We have so many more different options, especially off the break."
Shulman and the staff have spent part of the preseason implementing his playbook so the guys know what to do and where to go when he does signal in a call from the bench.
They had their most offense-orientated practice to date on Wednesday which included 20 minutes of five-on-none, 30 minutes of five-on-five in the half-court, and another 20 minutes of a simulated scrimmage.
The Mocs polished their plays. But mostly, they just played with orders getting pegged to the defense.
"Get a stop and go score it," Shulman said. "We have restrictions, but not nearly as many. We're trying to go back to our first-year here."
The shift of Shulman's approach to the Mocs offense pleases point guard Keegan Bell and is the result of having a team with what Shulman calls "basketball-smarts."
Georgetown transfer Omar Wattad and former UNLV guard Troy Cage -- who played minimally last year -- are key additions who should increase the offensive numbers.
"We're a little less athletic, but we have guys with a high basketball IQ and who are basketball players before athletes," Shulman said. "I don't think we'll have a problem scoring."
Which lead Shulman to follow with, "I don't know if we can defend. We'll find out Sunday."
That's when the Mocs will face somebody other than themselves -- Ole Miss in a closed scrimmage.