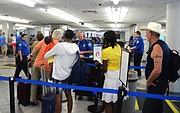 Champy's fans can soon have their own chicken on a bun.
An ad that's been plastered on the left-field wall at the Chattanooga Lookouts' AT&T Field since opening day shows a tattoo of a chicken leg with "Champy's Chicken" above and below it. But no one noticed that the tattoo is on a man's backside until this week, when the "inside joke" became a national news story.
Soon Champy's customers will be able to buy their own temporary tattoo version of the sign, said restaurant co-owner Crissy Champion.
"We're just loving it," Champion said. "We in no way wanted to offend anybody. It's not noticeable from the ad."
It took until this week, during the Lookouts' last homestand that ended Tuesday, for anyone to say anything, said team president and general manager Rich Mozingo. They traced the ad's origins to a Twitter photo, he said.
Though the Lookouts' season attendance is up to more than 240,000 this season from last, no one seemed to decipher the body part bearing the tattoo, Mozingo said.
"No one said a word all year," he said. "We absolutely knew it was a tattoo when we put it up there."
Just not the locale.
Champion said the unidentified customer added the tattoo two weeks after the restaurant opened in 2009. The restaurant gave him $200 in store credit for his dedication.
"It just kind of started out as an inside joke," Champion said. "It was nothing serious."
The early support bolstered the local couple's morale as they struggled with their first restaurant, she said. Now they have two other sites and are opening one in Alabaster, Ala.
"He went and got the chicken tattoo on his butt cheek, and we said it's not crispy enough," Champion said. "So he went back and got it crispier. In my opinion, he's got the best butt in town."The man submitted his own photo for the ad, she noted.
The response to the ad has been mostly positive and inspired the Champions to commission 1,000 temporary replicas of the tattoo. They're planning to sell them for $1 apiece.