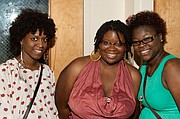 WHITWELL, Tenn. - Republican Gov. Bill Haslam held a ceremonial signing of legislation Monday that cut Tennessee's state sales tax on groceries by one-quarter cent on July 1, even as Democrats continued to argue that the reductions should be deeper and occur more quickly.
"This is a significant day for Tennessee," Haslam said during a presentation at Smith Brothers Grocery in Whitwell. "This is one tax that almost every Tennessean pays."
He acknowledged that, while cutting the tax from 5.5 percent to 5.25 percent -- as well as plans in 2013 to take it down to 5 percent -- "won't help everybody a lot, it will help everyone some, and that's an important first step."
The quarter-cent reduction will save a consumer 25 cents on a $100 grocery bill, affecting millions of consumers across the state. Each quarter-cent reduction costs the state about $21.3 million in annual revenue and, when it goes to a half cent, the revenue reduction rises to $42.6 million.
Ultimately, the cut will shave 10 percent off the tax.
However, some consumers weren't highly impressed with the cut on Monday.
"Well, it's starting in the right direction," said Wilma Trussler, of Monteagle, Tenn., as she finished shopping at the Walmart in Kimball, Tenn., "but I think it'll have to be more before we feel it."
At least "something is going down," she said.
Other tax cuts set in motion by the GOP-led General Assembly this year include phasing out the state's inheritance tax over the next three years, affecting about 860 families annually at a projected cost to the state of about $104 million.
The state's gift tax will be entirely eliminated July 1 at a loss of about $15 million in revenue. Haslam plans ceremonial signings of those bills later this week.
State Sen. Eric Stewart, D-Belvidere, who represents Marion County and attended Monday's ceremony, said he supported cutting all three taxes. But, he noted, "my priorities would have first been let's do the sales tax on food first and walk a little slower on the inheritance tax."
State Rep. David Alexander, R-Winchester, who shepherded the sales tax cut through the House, told about 60 people at the event that "we are here today to get a little less revenue, which is a little unusual."
Earlier in the day, Haslam met with Chattanooga Times Free Press reporters, editors and editorial writers and called the 10 percent sales tax cut on groceries "pretty significant. ... I'll take that, cutting any tax that much."
He also defended the elimination of the inheritance tax.
"Does it bring the state money? ... Or does it cost us money? I'm convinced that it costs us money," he said. "I know a whole lot of people that got to a certain stage in life and said, 'I'm not going to live in Tennessee. It costs too much. It costs too much to die here.'"
As for the gift tax, he said, only Tennessee and Connecticut have such levies.
Doing away with both taxes provides an opportunity to bring more revenue into the state through investments, Haslam said.
Tennessee has one of the nation's highest sales taxes on food, and some groups rate the state's tax structure as too regressive, saying poor and low- to middle-income residents pay more in taxes as a percentage of their income than wealthier people.
"We have a tax base that I think, quite frankly, is working pretty well for Tennessee," Haslam said.
While he said he wishes there was no state sales tax on food, which is the case in several states, it is "probably not a number that's going to make somebody decide not to be in Tennessee."
Asked about squaring tax cuts with planned tuition increases between 3 to 8 percent at public colleges and universities, Haslam said state funding for higher education has been decreasing for years. In the 2012-13 Tennessee budget, higher education saw continued across-the-board cuts, but Haslam noted the state is giving funding to institutions as a reward for graduating students more quickly.
"It was a net wash," Haslam said. "This year for the first time in a long time the state didn't cut operating dollars to the schools, and we also gave them considerable capital money" for construction.
House Democratic Leader Craig Fitzhugh, D-Ripley, said he doesn't begrudge the tax cuts but said there was a way to get higher education more money to offset tuition increases.
Before passing the budget this spring, Fitzhugh said, Republicans refused to convene a meeting of the State Funding Board to recognize what is now at least $200 million in current budget revenue over and beyond revised estimates. Democrats wanted some of the money to go to higher education.