Photo Gallery
Russell named area's top manager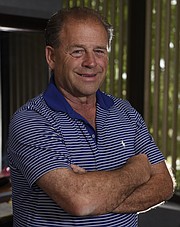 The dark lord doesn't know where he comes from, or how old he is, or how he was made. Maybe his birth was traditional. Or maybe someone created him in a test tube, combining two, three, maybe four species to create the ultimate evil.
On Saturday afternoon, he scanned through an "Alien Encounters" booklet on his Nexus 7 tablet, looking for beings from the "Star Wars" universe that looked similar to him: red skin, yellow teeth, charred bones jutting out of his face. But at the moment he wasn't too concerned with his origins.
"This looks like it could be interesting," the dark lord drawled in a Southern accent as he joined a crowd of about 100 people looking at a Plexiglas cube inside Track 29.
Two men had just set up their wheeled robots and prepared for a Robot Wars tournament under fluorescent lights. The master of ceremonies, a man with frizzy blond hair draped past his shoulders, called for attention.
"Anytime you see this man right here," emcee Kelly Lockhart said, pointing at a bald man dressed all in black, "you have to chant, 'Evil!'"
Jason Brown, owner of Evil Robots Inc., raised his hand, and the crowd hollered. Even the dark lord joined in: "Evil! Evil! Evil!"
Earlier Saturday, the dark lord spent about two hours painting his body red, applying black makeup to accentuate his wrinkles and gluing pieces of pointy fake bone to his chin, cheeks and forehead.
Then he joined the throng at the Chattanooga Choo Choo at Chattacon 38, a speculative fiction convention that opened Friday night and runs through this afternoon. The convention is targeted at fans of science fiction, fantasy, horror and superhero stories, among other forms of fiction. Candace Davis, the spokeswoman for the Chattanooga Area Convention & Visitors Bureau, said in a news release that event organizers expected about 1,300 people from all over the Southeast to attend.
Monday through Friday, the dark lord's name is Robert Blevins. He is a 44-year-old divorced electrician who lives in Hixson. He said he grew up at the Bonny Oaks orphanage as well as in at least eight foster homes across Georgia and Tennessee. He doesn't talk to his family much.
Blevins started going to conventions like this one about seven years ago. A friend told him he could see some cool costumes and meet people who share his interest in role-playing games like Dungeons & Dragons.
"This is a cool way to let loose," Blevins said. "Be somebody you're not. Let the child come out."
Blevins was one of the convention's most decorated attendees. As he bounced among booths hawking everything from books to handmade scarves in the Choo Choo's Imperial Ballroom, a couple in their 50s dressed as characters from the "Wheel of Time" asked Blevins to pose for a picture. He crouched, squeezed his face into a tight grimace and powered up a green light saber. The weapon actually belonged to Kit Fisto, a Jedi master during the waning years of the Galactic Republic.
"I'm a bad guy fighting the good guys," Blevins said to this couple, as well as about 10 other people who asked for his picture Saturday. "But I use the good guys' methods. Adds salt to the wound."
About two hours after watching the dueling robots in the Plexiglass cube, Blevins was back at Track 29. This time he lined up back to back against a middle-aged bald man wearing a T-shirt with "Science" scrawled across the front. The men each took five slow strides away before turning to face each other in a game called "A Friendly Snowball Fight to the Death."
They fired plastic white balls at each other. They each missed.
Blevins threw another ball. It floated toward the other man, finally falling on his inner thigh.
The man was eliminated, and the dark lord advanced to the game's next round.