Photo Gallery
July 16 shooting: Five months later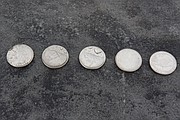 The 24-year-old gunman who carried out the July 16 attacks in Chattanooga was inspired by a foreign terrorist organization, according to the FBI.
FBI Director James Comey's carefully worded statement Wednesday cleared the way for the men wounded and killed in the attack to be awarded Purple Hearts, and within hours of his comments the U.S. Navy announced the five men who died and the Marine who was injured will be given the honor.
"To my mind, there is no doubt the Chattanooga shooter was inspired and motivated by foreign terrorist organization propaganda," Comey said during a morning news conference in New York City.
The Purple Heart is a combat award, but it can be given to members of the armed forces who are killed or wounded in domestic attacks - if the attacks were inspired by foreign terrorist organizations.
Secretary of the Navy Ray Mabus said in a statement the FBI's determination allowed the Navy to immediately move forward with awarding the Purple Hearts.
The announcements came one after another Wednesday, on the five-month anniversary of the attack.
"It's a long time coming, but well deserved," said Wayne Rich, a local retired Marine Corps colonel.
Mohammad Youssef Abdulazeez opened fire on two military sites in Chattanooga on July 16, beginning at a military recruiting center on Lee Highway - where he wounded Marine Sgt. DeMonte Cheeley- and ending at the U.S. Naval and Marine Reserve Center on Amnicola Highway.
Staff Sgt. David Wyatt, Sgt. Carson Holmquist, Gunnery Sgt. Thomas Sullivan, Lance Cpl. Squire Wells were killed at the reserve center. Petty Officer 2nd Class Randall Smith was mortally wounded there.
Lt. Cmdr. Tim White, who is the commanding officer at the reserve center, said he "wholeheartedly" agrees with the FBI's finding and is glad to see the men will be honored with Purple Hearts.
"I had the chance to work alongside Petty Officer Smith and he was an amazing man," White said. "He did everything with excellence leading up to and on the 16th of July. He and the Marines sacrificed for this country so that others might live."
Comey did not say what evidence led the FBI to conclude Abdulazeez was motivated by propaganda from a foreign terrorist organization, and he did not say with which terrorist organization Abdulazeez was connected.
"It's often difficult to untangle which particular source - there is competing foreign terrorist poison out there," Comey said.
Joyce McCants, a spokeswoman for the FBI in Knoxville, did not return multiple requests for comment Wednesday.
Abdulazeez, who grew up in Chattanooga and graduated from the University of Tennessee at Chattanooga, spent several months living with an uncle in Jordan in 2014 and reached out online to at least one leader who is popular with Muslim extremists.
In August, Vice President Joe Biden called Abdulazeez a "perverted jihadist" at a memorial service in Chattanooga, and earlier this month President Barack Obama referred to Chattanooga in a speech about terrorism.
A spokesperson for Abdulazeez's family declined to comment Wednesday.
U.S. Rep. Chuck Fleischmann, who has pushed for the men who died to be awarded Purple Hearts since shortly after the attack, said today's announcement ensures the men will not be forgotten.
"These young men exemplify the best of our nation," he said, "and their service will always be remembered."
Contact staff writer Shelly Bradbury at 423-757-6525 or sbradbury@timesfreepress.com with tips or story ideas.