Photo Gallery
July 16 shooting: Five months later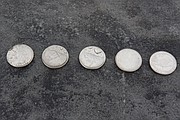 Staff Sgt. David Wyatt used to sweat so much when he played sports his fellow Marines dubbed him "The Slimer" after the blobby green character in the 1984 movie "Ghostbusters."
So for Christmas in 2013 - right after Staff Sgt. Christopher Estep moved to Chattanooga - he gave Wyatt a Slimer hat. It looked just like the "Ghostbusters" character, complete with little green arms that flopped over the edges.
Photo Gallery
Marines, widows lay wreaths at July 16 memorial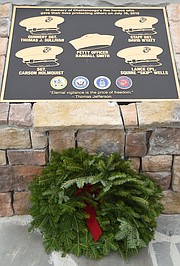 Wyatt loved it, Estep said.
"He laughed," he said. "He was all about jokes."
Wyatt was killed on July 16 along with four other men - Sgt. Carson Holmquist, Gunnery Sgt. Thomas Sullivan, Lance Cpl. Squire Wells and Petty Officer 2nd Class Randall Smith - when 24-year-old Mohammad Youssef Abdulazeez attacked two military sites in Chattanooga.
"As we're getting closer to the holiday season, it's starting to hit home that they're no longer with us anymore," Estep said. New people have filled the men's spots in the unit.
Today marks the five-month anniversary of the July 16 shooting, and the day comes on the heels of similar attacks in San Bernardino, Calif., and in Paris - attacks that prompted President Barack Obama to address the nation to vow the United States will overcome terrorism.
Obama named Chattanooga in that Dec. 6 Oval Office address, even though investigators with the Federal Bureau of Investigation have yet to call the July 16 attack "terrorism."
The FBI has not released any new details about the shooting since the first few days after the attack, but the agency is expected to put out a statement with new information this week.
Whether or not the FBI calls the attack terrorism, the method Abdulazeez used on July 16 fits with a pattern of attacks inspired by the Islamic State, said Michael McCaul, chairman of the House Homeland Security Committee.
"The Chattanooga case seemed to follow the model of what ISIS is trying to do in their messaging, which is 'Come to Syria or kill where you are,'" he said.
He said Chattanooga and San Bernardino underscore the difficulties that federal agencies face when attempting to intercept or discover Internet communications between ISIS and its recruits.
"The target is different in San Bernardino, but these are all interconnected because they connect to ISIS," he said. "I think people are already starting to forget Chattanooga - and that is concerning. It was so tragic and involved five members of our military, which is precisely the target that ISIS is looking to hit in the homeland."
But no one is forgetting July 16 in Chattanooga.
In the months since the attack, Bassam Issa, a local Muslim leader, has seen an uptick in requests for him to speak with the community about Islam, opportunities he uses to explain the faith and emphasize that the vast majority of Muslims are peaceful.
"The people of Chattanooga are progressive; they understand and they don't want the terrorists to win," he said. "We need to keep things in context, be vigilant and not scared."
A week ago, Marines and widows of the men who died gathered at the memorial on Lee Highway to lay wreaths for the fallen. People still stop by the memorial on a regular basis to pay their respects.
Melvin Harris stood at the memorial on Tuesday with his wife of 58 years and took a moment to remember.
"We feel obligated to come," said Melvin Harrison, a Chattanooga native. "They gave for us. The least we can do is support their families and show care and love for these guys."
Contact staff writer Shelly Bradbury at 423-757-6525 or sbradbury@timesfreepress.com with tips or story ideas.