I fell down, bullets were hitting around us. When I got hit, I really wasn't worried about it. I knew that the people I was with would help me.
The sound of rifle fire. The look in the gunman's eyes. An unspoken plea for help. A jammed weapon.
These are moments six police officers who rushed to stop the July 16 terrorist attack will never forget. Moments they can't wipe from their memory; moments when time slowed to a crawl and they thought they may not make it out alive as they tried to stop 24-year-old Mohammad Youssef Abdulazeez's rampage.
Photo Gallery
Officers recall deadly July 16 attack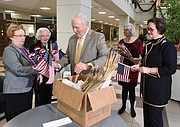 The officers descended on the U.S. Naval and Marine Reserve Center on Amnicola Highway from all over the city that day. On Monday, they spoke with the Times Free Press about their experience, after the police department released the names of the men who killed Abdulazeez and officially ruled they were justified in using deadly force.
Just before 11 a.m. on July 16, Officer Sean O'Brien got the call of a shooter while parked at the Police Services Center on Amnicola Highway. He took off north, toward the military recruiting center on Lee Highway where Abdulazeez began his attack.
But as he reached the Coca-Cola plant on Amnicola Highway, Abdulazeez sped past O'Brien in a rented Mustang convertible, headed south toward the reserve. O'Brien did a U-turn and followed. Abdulazeez initially drove past the entrance to the reserve, then swung around, pulled in and crashed through the green gate.
He jumped from the Mustang and started shooting immediately. He disappeared from sight. Worried the convertible was rigged to explode, O'Brien pulled to a stop about 70 yards back and retrieved his police rifle.
As he did, Officers Grover Wilson, Jeff Lancaster, Keven Flanagan, Lucas Timmons and Dennis Pedigo arrived. Together, they moved toward the sound of rifle fire. The gunshots came from a fenced motorpool behind the main brick building.
Wilson and Lancaster rounded the brick building on the side closest to Amnicola Highway and took cover behind an air conditioning unit around back, between the building and the motorpool's fence. The other four officers were close behind, but Abdulazeez suddenly opened fire.
"As we approached, the gunshots sounded like they were a distance away," Timmons said. "And then all of the sudden the gunshots were right there in front of us. As that sound changed, I thought, 'I might not be going home to see my family tonight.'"
As Abdulazeez began to shoot, the group on the side of the building scattered, looking for cover. Timmons moved left, closer to the building. Flanagan went right, ducking behind the only car in the parking lot.
"When I moved for cover, I saw one of the servicemen, and he literally looked straight through me," Flanagan said, speaking slowly. "He had a facial expression like, 'Please help.' His hands - he was just in shock."
Flanagan panned left and spotted Abdulazeez, running at them on the far side of the fenced motorpool, firing. He and others opened fire.
Pedigo and O'Brien were caught in the open, and Pedigo went down, shot in the leg.
"I fell down, bullets were hitting around us," Pedigo said. "When I got hit, I really wasn't worried about it. I knew that the people I was with would help me. That they were going to take care of what was going on. I just knew I was in no man's land and was trying to find a place to get cover."
O'Brien and another officer, Detective Jennifer McCoy, pulled Pedigo out of the line of fire as rifle fire resonated. Time seemed to slow down. O'Brien heard two rounds whiz past his left ear. He made eye contact with Abdulazeez, and he'll never forget it.
"That smug face," O'Brien said.
As Abdulazeez shot at Pedigo, Flanagan, O'Brien and Timmons - who were still bunched on the side of the reserve building parallel to Amnicola Highway - he was also running away from those officers and toward Wilson and Lancaster, tucked behind the air conditioning unit on the rear of the building.
They jumped out and shot at him, aiming through the motorpool's fence. Wilson's rifle jammed; he unjammed it, put in a new magazine and kept firing.
Abdulazeez was essentially caught between the two groups of officers.
"Somewhere in there, he went down as he came in front of us," Wilson said.
Lancaster and Wilson ran into the fenced motorpool area to make sure Abdulazeez was dead. They passed Staff Sgt. David Wyatt and Gunnery Sgt. Thomas Sullivan, who were already gone. Sgt. Carson Holmquist and Lance Cpl. Squire Wells also died in the attack. Petty Officer 2nd Class Randall Smith was mortally wounded.
The whole exchange lasted between three and five minutes.
But five months later, the officers - all veterans with at least eight years experience on the force - are still dealing with that day.
"For me, it makes everything else seem less important," Timmons said. "When you hear calls come out on the radio, you think, 'Well, that's not a big deal at all.' Any other situation seems like a piece of cake."
The police department ensured that all the first responders that day - not just the men who fired - have been supported through a series of carefully crafted sessions to help them deal with the day's trauma. Through the Critical Incident Stress Debrief process, the officers who fired on July 16 met with other officers who'd fired their own weapons in similar situations.
"It does help," Wilson said. "You realize we all have the same responses, the same emotions, the same concerns. It makes you feel normal again, or as normal as you can feel."
The officers don't want to be called heroes, Chief Fred Fletcher said Monday.
"As true as they are heroes, they also hate hearing that word applied to them," he said. "They know that they were a half-dozen of literally hundreds of first responders from a variety of agencies, and across the Chattanooga Police Department, who would do exactly what they did that day."
Five months after the attack, O'Brien looks at his coworkers differently - with more pride.
He still chokes up when he thinks about the men who died that day.
"Ultimately, our thoughts," he said, and then paused to collect himself. "Our thoughts are with the families. Especially this time of year."
Contact staff writer Shelly Bradbury at 423-757-6525 or sbradbury@timesfreepress.com with tips or story ideas.