Photo Gallery
'Nightmare for our city'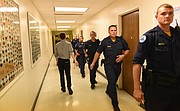 It was a tragic day in Chattanooga.
Four Marines died here yesterday, possibly at the hands of a terrorist.
They died in Chattanooga, Tenn., not in Beirut, not in Kabul, but in their military recruiting office off Amnicola Highway.
They died, reportedly, at the hands of a man who has lived here all or much of his life - Mohammad Youssef Abdulazeez. Abdulazeez died from gunshot wounds while clashing with police.
There were two attacks on military centers in separate parts of Chattanooga on Thursday. Witnesses said a single shooter, a white man driving a silver Ford Mustang convertible, began firing shots at 10:45 a.m. at the Lee Highway Army Recruiting Center.