Photo Gallery
Puzzling out answers, pouring out grief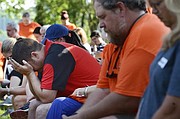 Photo Gallery
'Nightmare for our city'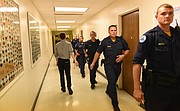 Photo Gallery
Haunted House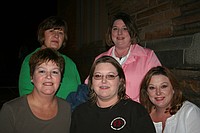 The annual EMOBA Haunted House is busy scaring people for 2 weeks out of the year...
We have been attacked by a terrorist.
Here in Chattanooga. Where we live and raise our families. Where we work and worship. Where we believe in the life lessons that our parents taught.
We are not alone.
Cities across the country and across the globe have been assaulted, too. Their prayers are now our prayers, their fears, our fears.
In the days ahead, we will look for answers. Knowledge normally leads to understanding, but how do you comprehend the incomprehensible?
We are still short on details beyond the fact that our attacker - whom I will not name - was evil. He killed four Marines, he was 24 years old and he allegedly was born in Kuwait.
Simple math shows that about the time he was born, brave Americans were engaged in a war to protect Kuwait from being invaded by Iraq. Marines, with their boots in the dust, risked everything to protect the reported birthplace of this killer. Without that intervention in that region at that time, this mass murderer, who the Kuwaiti government claims was born in Jordan, almost assuredly would have been been born under the cruel rule of Saddam Hussein.
We have spent billions of dollars and too many American lives protecting people in the Middle East, including many who want to destroy us.
Simply put, we should either get serious about winning the war on terror decisively abroad, or let's pull back and start protecting our borders at home.
We have invested far too much in blood and treasure for far too long to have the war wash back into our homeland. Again.
The Chattanooga Marine killer was raised here, and I, for one, do not want to hear stories that try to humanize a man who did such a horrific thing.
They say he was a high school wrestler, an irony since we are now wrestling with the aftermath of his cowardly carnage. On Thursday, we were Mayberry with an Aquarium, and now we are a battleground.
Mostly, though, we are wrestling with our emotions.
There's hate in the mix, and it's fierce and understandable. There's also anger and sadness.
There's bitterness tempered with pride in our military and the hope for better days.
That hope is what I choose to grasp. It's the hope expressed in vigils and prayers. It's also the hope that makes the fight winnable, as long as we are willing to arm ourselves for the conflict.
Our weapon can be as dramatic as joining the military, or as simple as thanking a police officer. Our weapon can be prayer. Our weapon can - and should - be your vote and your voice demanding that we get more than lip service from our leaders about this tragedy.
I don't want to talk about this killer's worship habits or his upbringing. Who cares?
I don't want to hear this crime linked to religion. No faith - or flag for that matter - should be blamed for the acts of an evil person intent on inflicting hate at all costs.
I also don't want to hear this turn into a call to arms about gun control. If this idiot had not had a gun he would have figured another way to terrorize us.
Terrorism has hit us at home this week, and it's horrible.
And as we search and pray for answers, we need to make sure we are asking the right question: How do we make sure this never, ever happens again?
Contact Jay Greeson at jgreeson@timesfreepress.com and follow him on Twitter at @ jgreesontfp.
Photo Gallery
'Nightmare for our city'