Photo Gallery
Haunted House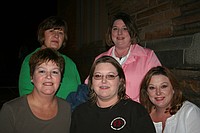 The annual EMOBA Haunted House is busy scaring people for 2 weeks out of the year...
The Washington Post has reported that investigators have recovered a pistol that may have been privately-owned and used by one of the Marines killed in a brazan attack on Chattanooga military installations last Thursday.
Marines are not authorized to carry private firearms at the military installation, and are generally prohibited from carrying firearms of any kind on U.S. bases, though there is growing support to arm servicemembers following the attacks of July 16.