Schools Superintendent Rick Smith said everyone should be encouraged by Hamilton County's increasing graduation rate, but work needs to be done by all to boost it even higher.
The GradNation Summit held Monday focused on this topic, as education stakeholders from across the city met to brainstorm ideas to help more students walk across the graduation stage.
"We know what we know about Chattanooga and the way we get things done in this community is through partnerships," Smith told attendees at First Presbyterian Church downtown. The event was hosted by the Hamilton County Department of Education and the United Way of Greater Chattanooga.
America's Promise Alliance, an organization dedicated to increasing national graduation rates, helped plan the event and is hosting 100 more GradNation Summits across the country. The Promise Alliance's goal is to raise the national graduation rate to 90 percent by 2020. The Hamilton County graduation rate this year was 85.1 percent, above the national average of 81.4 percent.
Educators and community members sat in the church's wooden pews, listening to national and local speakers and participating in brainstorming sessions.
Vicki Kirk, deputy commissioner of the Tennessee Department of Education, told the audience that mentoring students is one of the concrete ways to keep them from falling behind and not reaching graduation. Several students who participated in a panel discussion echoed her comments, citing teachers and school administrators as a driving force in them finishing school.
Joanna Fox, senior policy analyst and program developer for Everyone Graduates, a research program of Johns Hopkins University, said Hamilton County Schools would have to graduate an additional 600 students each year to reach a 90 percent graduation rate. She outlined the many obstacles preventing children from graduation, focusing on poverty, discipline disparities and the lack or delay of school-based interventions.
Photo Gallery
Community gathers for GradNation Summit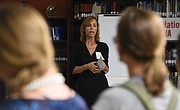 "Brains, programs and resources from the outside can help," Fox said. " Dropping out is a process and it is not something that just happens one day."
Participants brainstormed in breakout sessions about obstacles that prevent students from graduating and how they can be overcome.
One area of focus was kindergarten. More than 50 percent of students in Hamilton County begin elementary school without pre-k. And data show those children are much more likely to drop out of school, according to Kirk Kelly, director of testing and accountability for the school system.
A cluster of people sat in a circle talking about this topic, sharing experiences and asking each other questions.
"We need more parent education," a preschool teacher said.
"I remember dropping off my child to kindergarten and the class being so rowdy and unprepared to learn," one dad said.
"Transportation and funding is the obstacle," another teacher commented.
"It's time we coordinate all the resources in this city," a nonprofit worker added.
Tekelia Kelly, an education technology consultant, said she heard about the summit through her daughter and knew she wanted to attend.
"This is a powerhouse of every kind of resource we need," she said. "This communication will be a hub that we will channel out to the community."
At the end of the day, Smith challenged everyone to participate in the partnership between the school district and the United Way to develop an action plan to increase graduation rates.
"We're the pioneers. We are the ones who have to get out and figure out to expand this conversation into the community," Smith said. " And we [need to] get serious about helping kids regardless of their ZIP code and race. And once we get there we can really create some life changing and community changing things."
The GradNation Summit continues today with elementary school teachers focusing on literacy.
Contact staff writer Kendi Anderson at kendi.anderson@timesfreepress .com or 423-757-6592.