Violence is a breach in the natural order of things; to suffer violence feels like a rupture, like having something proper and holy torn apart.
The etymology of the word comes from the Latin "violare," which also gives us "violation." Theft. Rape. Murder. Abuse. Starvation, poverty and pollution. They are all forms of violence, all acts that violate and dishonor the dignity of the human body and spirit.
"God is life and everything that does violence to life is against God," the French Resistance activist Jacques Lusseyran said.
"Violence tears the fabric of life," peace scholar Michael Nagler declared.
Photo Gallery
A day of tribute, remembrance for the fallen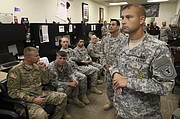 Thursday, Mohammad Youssef Abdulazeez's violence tore apart the fabric of life in Chattanooga.
Ever