Photo Gallery
Haunted House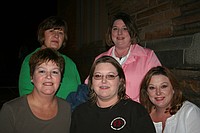 The annual EMOBA Haunted House is busy scaring people for 2 weeks out of the year...
After Pfc. Aaron Noyes jumped the fence to escape the active shooter at the U.S. Naval and Marine Reserve Center on Amnicola Highway last Thursday, he ran through the Tennessee Riverpark, scooped up a small boy and carried him out of harm's way.
"When I saw the kids, all I could think about was my little brother," he said.
The